Comfort and Joy
Standing at her keyboard with 50 little faces looking up at her, USC Thornton DMA candidate Grace Lee (MM '12) talked about the song she was going to play next. "Take My Hand," written years ago, had ended a long songwriting hiatus and brought comfort to her during a rough patch in her life. Lee wanted it to bring similar solace and hope to these kids. The children, who had arrived by bus that morning from an IDP (internally displaced person) settlement, were Yazidis, a Kurdish religious minority who experienced persecution and genocide at the hands of ISIS in Iraq.
After the translator repeated her story in Kurmanji, Lee began to play. As she made eye contact with the children, she began to cry. "Part of me was sad for what they had gone through — some of them had shared stories about running away to the mountains. I mean my heart aches for them," she said. "But another part of me was incredibly humbled and so grateful for that opportunity to share my music and love with the kids."
Lee wasn't the only one in tears. One of the kids was crying too.
"Music is the universal language — you hear that a lot," Lee said. "I believed in it, but I don't think I had ever truly experienced it until then. It was life changing for me."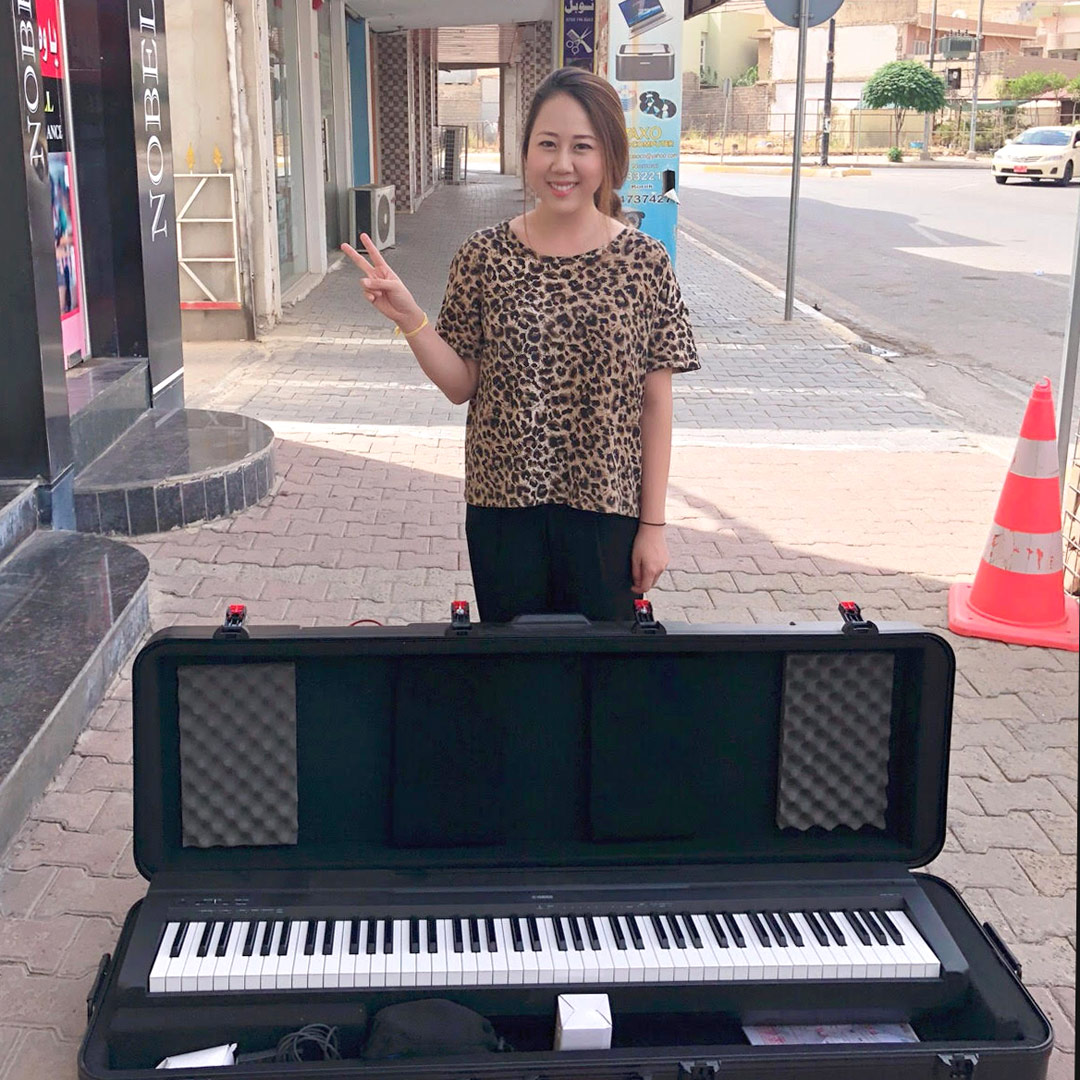 Summer of Freedom
Lee had chosen to spend part of her last summer of freedom, after passing her qualifying exams for the DMA in Keyboard Studies and before her final recital, doing service outside the country. She joined an educational team with Habibi International, playing music for two groups of 50 Iraqi children on a keyboard donated by Yamaha America Corp. (thanks to Jun Fujimoto at Yamaha and Michael Chan Willamson, manager of Keyboard Concepts in Pasadena) and left with the organization that works for the settlement for the kids to continue to enjoy.
Bernadene Blaha, Lee's piano professor throughout both her degrees at Thornton, said this trip not only applied Lee's training, but also demonstrated a brave spirit of service. "I will never forget preparing Grace for her final doctoral exams and hearing her announce that she intended to take music to an IDP settlement in Iraq," Blaha said. "I was completely astounded and speechless at her courage and unrelenting commitment to this project. And yet I should not have been surprised to observe how she combined her studies at Thornton in piano performance, pedagogy, songwriting and sacred music for this purpose. In her words, 'giving back.' In my words, 'the essence of Grace.'"
Despite the language barrier, Lee taught the kids classic children's songs like "Twinkle, Twinkle, Little Star," "The Wheels on the Bus" and "He's Got the Whole World in His Hands." "They loved the Hokey Pokey!" she said of one of the dance songs. She was also able to teach the children who expressed additional interest in the keyboard how to play short melodies.
Her performances of original pieces, children's songs, pop music, classical and movie soundtracks were yet another treat for the kids whose homes were nothing but crowded subdivisions in a warehouse-like building with no electricity or comforts like air conditioning despite the 110-degree heat.
"The first time I played the keyboard, the kids didn't know what to do. They were talking and not paying complete attention," Lee said. In one of her Popular Music performance classes at Thornton, Lee had learned about making eye contact to connect with an audience. She put that lesson to use because she wanted each child to feel special.
"I wasn't there to show off my technique. I wanted to connect with each of them and deliver a message of hope," Lee said. "They got better on the second day. And on the third day, when I played one of my own songs, many were dead silent, just listening to the music. In such a short time, I saw so many changes."
Months after the trip, Lee is still processing her experience. "I was there for such a short period of time. I felt like I didn't even make a dent," she said. "But reflecting on my time there, I feel encouraged that a seed might have been planted for these kids. You can't see the fruit right away."
Inspiration All Around
While studying for her qualifying exams last spring, Lee got the idea to do an outreach trip. As she reviewed all of her DMA coursework, she also thought back on a course she had taken as a Thornton master's student, Nick Strimple's The Holocaust and the Creative Impulse.
"I was fascinated and touched by these musicians in the concentration camps. They were oppressed, but they were still creating and performing," Lee said. "It made me ponder about the power of music."
Their stories got her through the stress of qualifying exams. "I realized the problems I have are first world problems, and this is not life or death. It is really a blessing I'm getting my degree." It was only after signing on with Habibi International that she learned that the kids she would visit in Iraq were part of a group that had experienced genocide. "To me, this was an intriguing correlation," she said.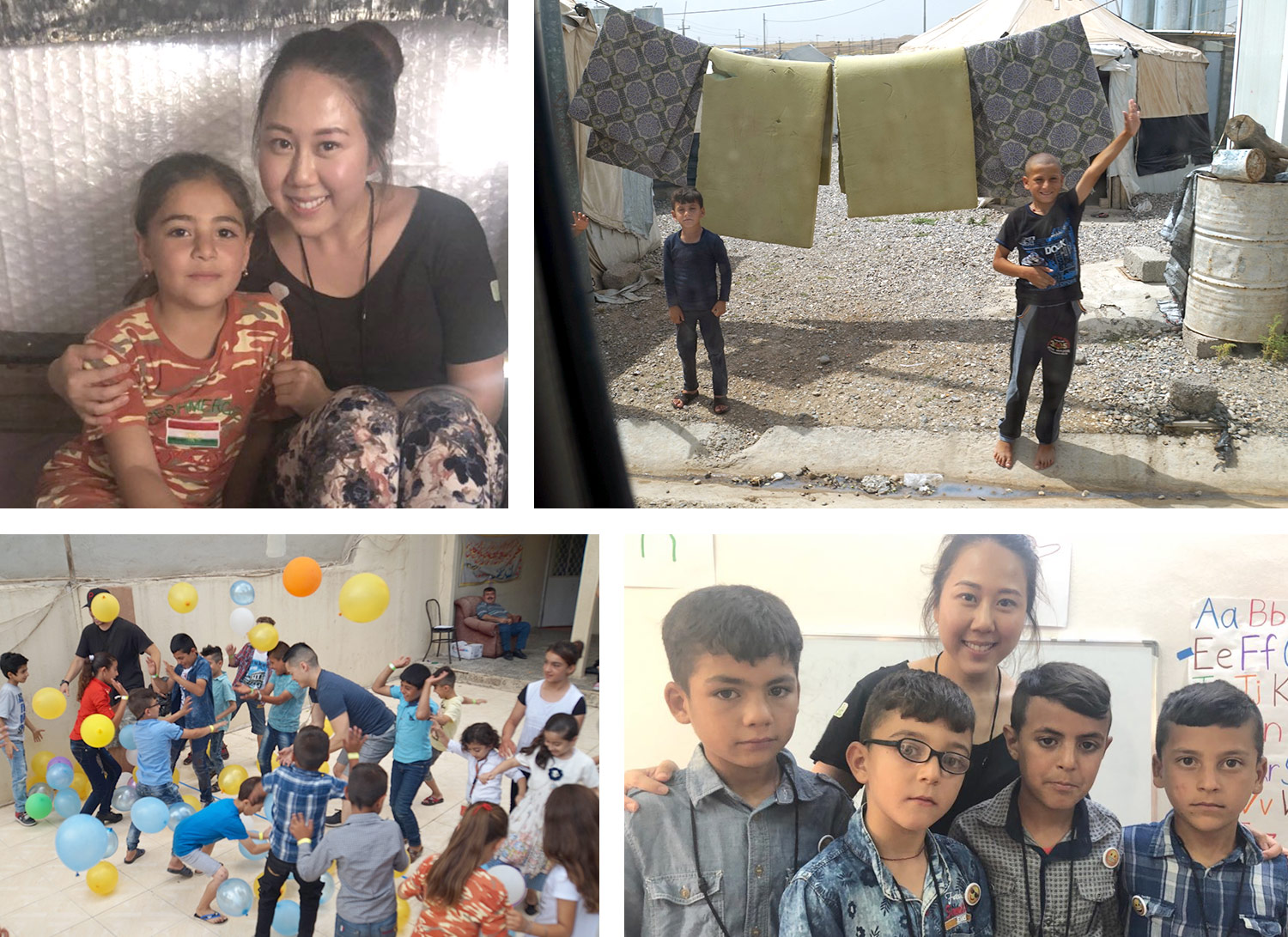 As she looks to her future in the music world, Lee would like to explore pop music, perhaps writing for film, commercials or television. The songwriting classes she took at Thornton sparked a greater interest in pop. Her original songs tend to blend genres: classical, pop and film music. Through her experience teaching young children and undergraduates at Thornton, she knows she wants to continue that endeavor too. Plus, she is already at work on songs for a lullaby album.
She had the idea for the album when she was a child. "I always listened to music to fall asleep. It made me relaxed and less scared of the dark," said the Los Angeles native, who started piano lessons at 4 and songwriting at 5. "It was my dream to write a lullaby album of my own when I grew up, something I could give to my own child."
With the growing popularity of mindfulness and meditation, Lee now envisions the album for adults. "My heart goes out for people who have anxiety and depression," she said. "I'm hoping to write a collection of pieces that can help people relax, pray, meditate, sleep and bring them hope.
"I always wanted my music to be of hope and encouragement for people, and my experience with the kids in Iraq was so eye-opening. It showed me this is possible."
Never miss a story
Subscribe to USC Thornton's e-newsletter
Subscribe