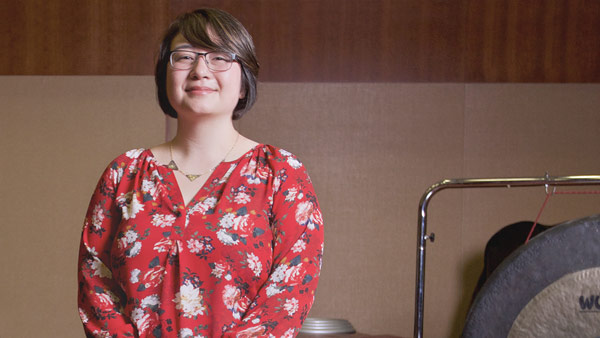 Community Music Spotlight: Laura Reynolds
Laura Reynolds, who graduated from USC Thornton in 2007 with a degree in French horn performance, was midway through a performance master's degree at a music conservatory when she took a career U-turn. "It wasn't as satisfying to me as my work in the community as USC had been," she said.
At USC Thornton, she had been heavily involved in arts outreach, playing in a horn quartet that visited hospitals and schools and acting as a mentor to the brass program at the 32nd Street School across from campus. During her senior year, she was an intern for Susan Helfter, who directs the USC Thornton Community Engagement Program, which provides service-learning opportunities for more than 100 music majors who fan out to thousands of children in the neighborhoods adjacent to USC's two campuses.
"We were always thinking about creative ways to share music with communities," Reynolds said.
Wanting to have that experience again, she left the conservatory, enrolled in a summer business school program at Stanford University and took a community engagement job with the San Francisco Boys Chorus.

Wanting to get back into orchestral music again, she then became Family Programs Manager with the Seattle Symphony. After three years of growing the orchestra's programs for families, she was promoted to the organization's Director of Education and Community Engagement, where she leads a staff of 20. The department includes 2 full-time managers, a full-time program associate, 2 part-time Discovery Coordinators and 12-15 part-time Teaching Artists, who can be music educators, music therapists or performance majors.
Her days are spent thinking about and implementing ways an orchestra can be a catalyst for social change. "We ask ourselves 'what is the role of an orchestra in a community?'" she said. "The underlying response is that music can heal and bring about lasting change within a community," Reynolds said.
The symphony had a half-century history of arts and education concerts, but in recent years has expanded its community work dramatically, partnering with more than 70 social service agencies in the Seattle area, nonprofits that serve youth, cultural groups, health care organizations, military/veterans, seniors and social service agencies. These long-term partnerships build bridges to diverse populations that get involved making music in a variety of ways with symphony members. (More about Seattle Symphony's community engagement efforts here.)
Community engagement is a growing movement among orchestras. "Lots of symphonies all over are doing amazing things," Reynolds said. Jobs organizing and overseeing community engagement programs are on the upswing, and are a good fit for musicians with an undergraduate performance degree and specialized training in service-oriented work.
USC Thornton's new Master of Music in Community Music is tailor-made for the work Reynolds does. "As someone who hires people, this program would be really exciting for me to see on a résumé," she said. "If I saw a candidate with this degree, it would put them on the top of the pile. It's hard to find people with performance backgrounds who also have experience in community engagement."
The Master of Music in Community Music is one of five new professional master's degrees being unveiled by USC Thornton. It was created to meet a demand: Community music is a growing career option for musicians looking to move beyond the classroom or concert stage. The four-semester, 30-32 credit degree program begins in fall 2018, with some courses available during summer sessions. A bachelor's degree in music performance or music education is required, but candidates do not need to take the GRE.
Reynolds has found that this job choice does not mean the end of her playing days. There are three symphony staff members who play French horn, she said, and many of the symphony's administrative staff members play other instruments. "We get together after work, over a beer, and read chamber music."
Studying instrumental performance as an undergraduate was critical for her current career possible, she noted. "I'm so thankful I studied music, and so thankful I studied horn. I use things I learned in the music history classes and my ear training classes nearly every day."
---
Click here to learn more about USC Thornton's new Master of Music degree in Community Music — or explore all of our new Professional Master's Degrees.

Never miss a story
Subscribe to USC Thornton's e-newsletter
Subscribe