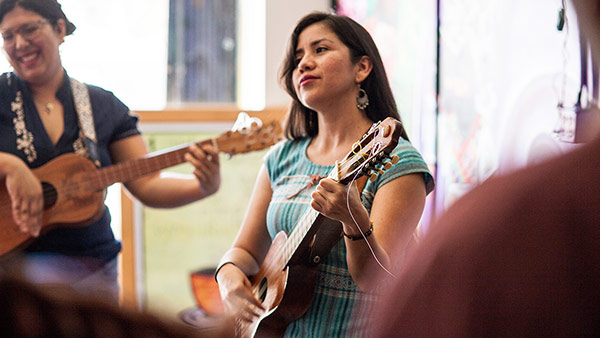 Creating a space for arts and autonomy
By Daniel Anderson & Julia Poe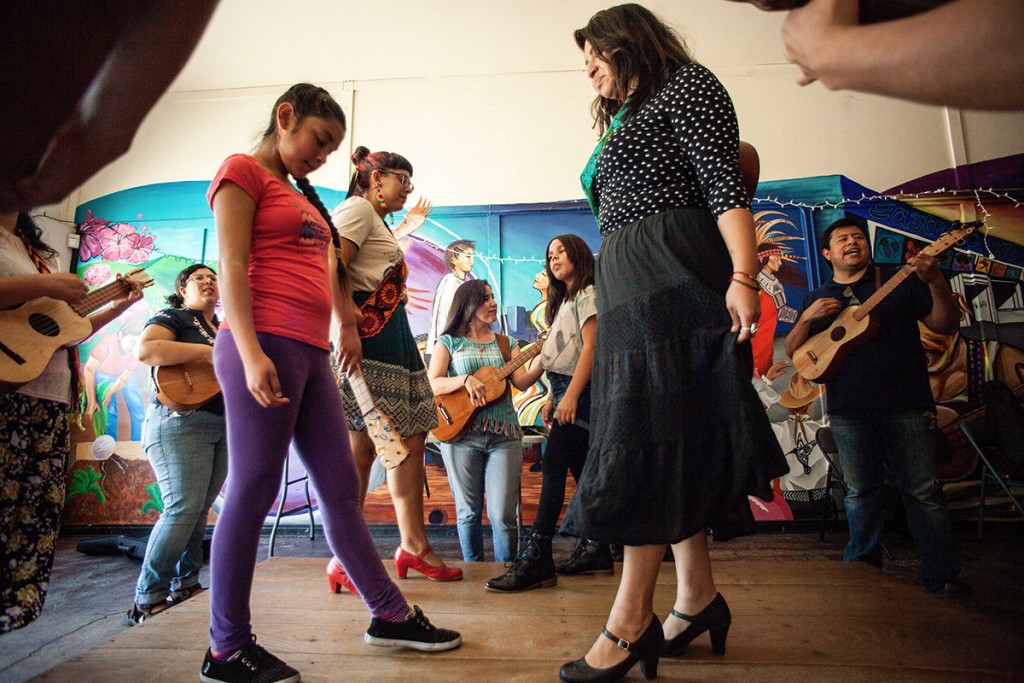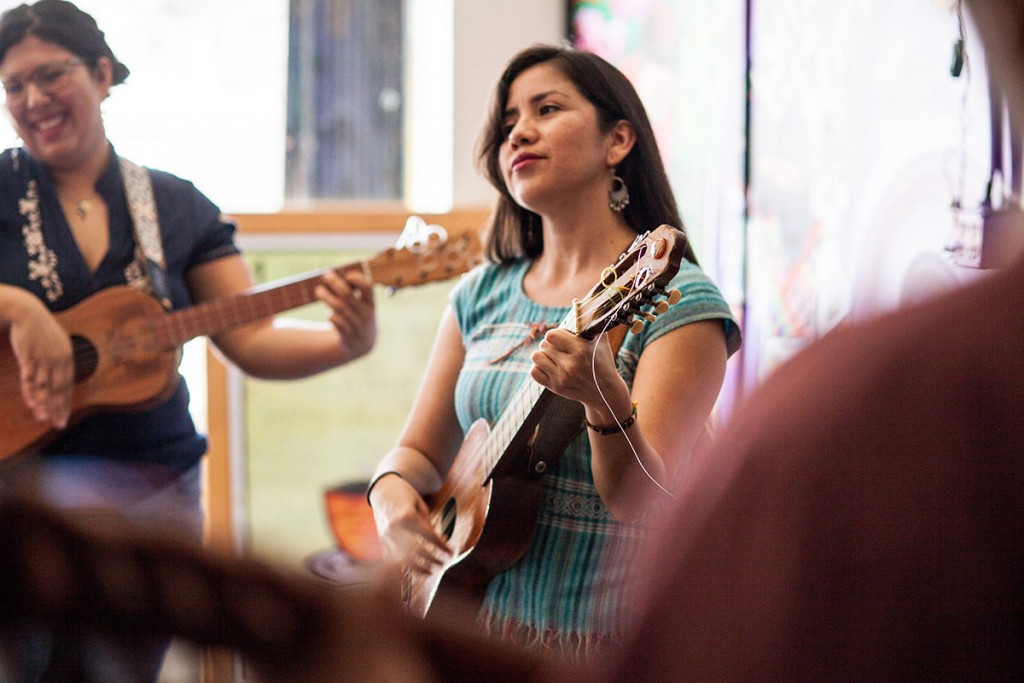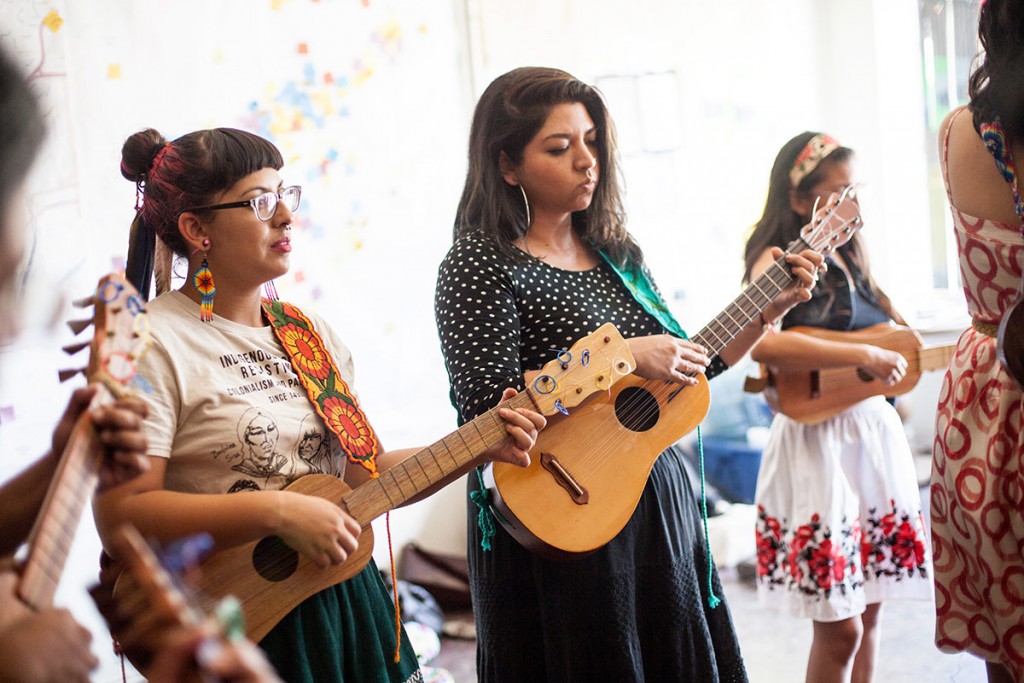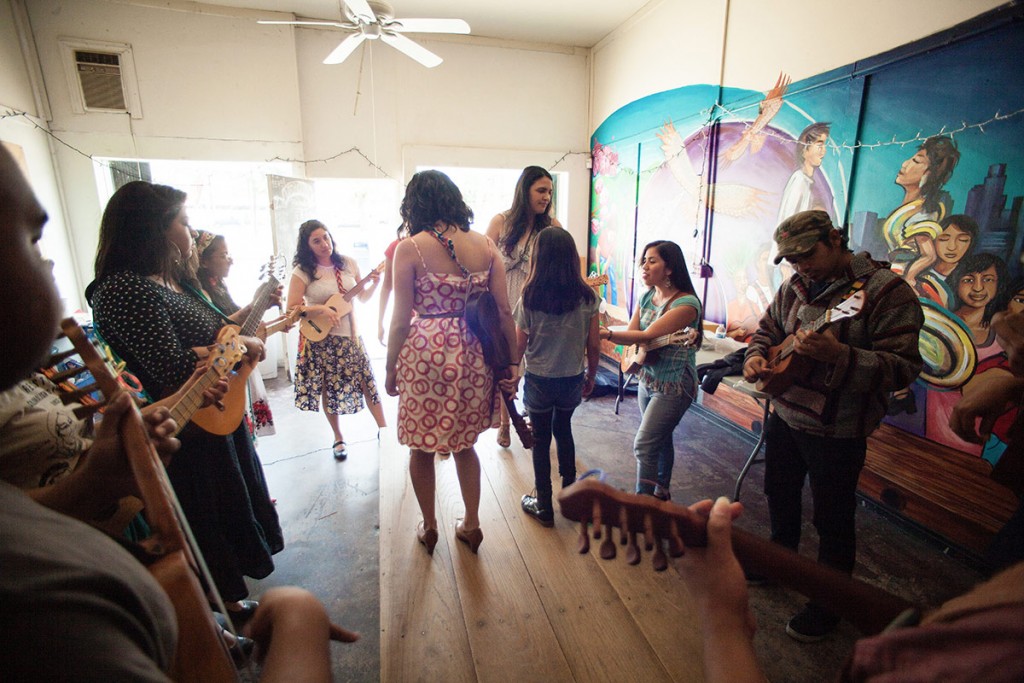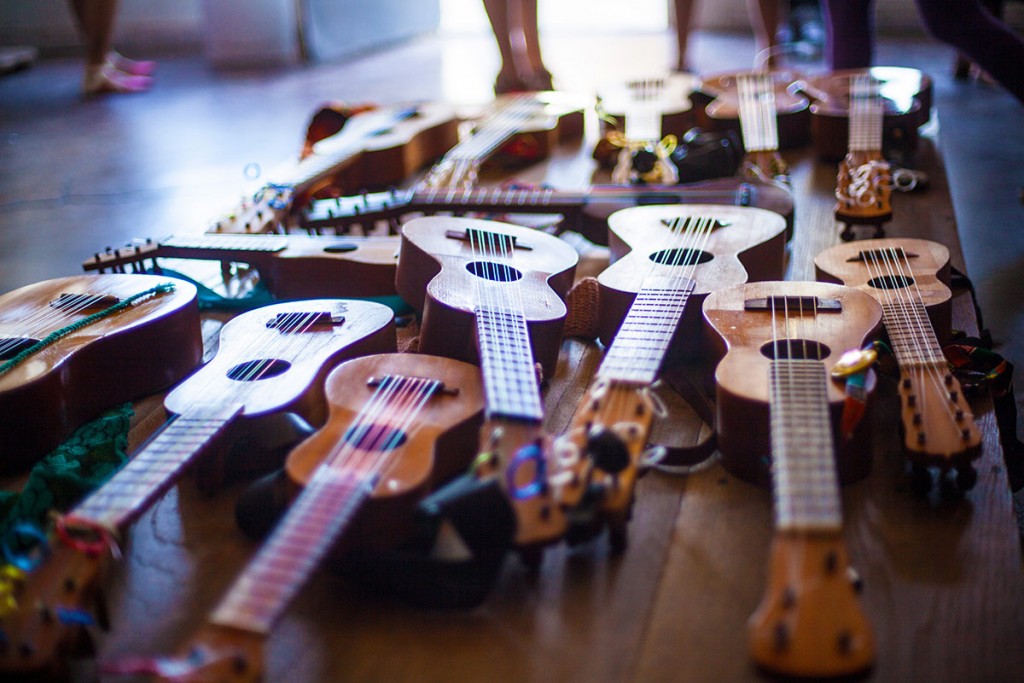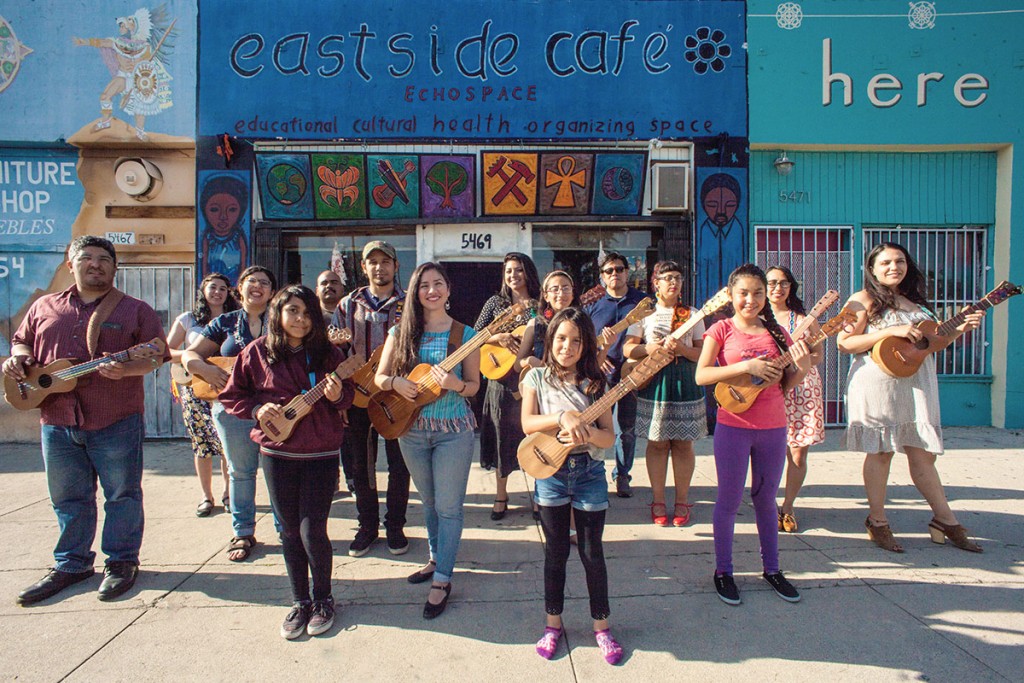 For USC Thornton graduate student Angela Flores, every weekend begins the same way. Early Saturday morning, she opens up the Eastside Café and welcomes an enthusiastic crowd of local residents to their weekly music lesson. She leads the group in a Son Jarocho Fandango, a traditional jam session from Southern Veracruz, Mexico, that's focused on rhythm and guitar.
These morning gatherings not only bring joy to Flores, but they provide a musical sanctuary for the East Los Angeles neighborhood of El Sereno, where gentrification is looming and resources for art, education and community-building are few and far between.
Surprisingly, the Eastside Café isn't actually a coffee shop, but a community gathering space, hosting everything from ESL classes to jiu jitsu, meetings, exhibitions and, of course, music.
Such is the beauty of the café, founded in 2002 by artist-activist community members including the Flores family, and supported by volunteers. "It's the only space for art for blocks," Flores said. Through her work with USC's Arts Leadership program, she is helping to ensure that the café thrives into the years ahead.
A Community at Work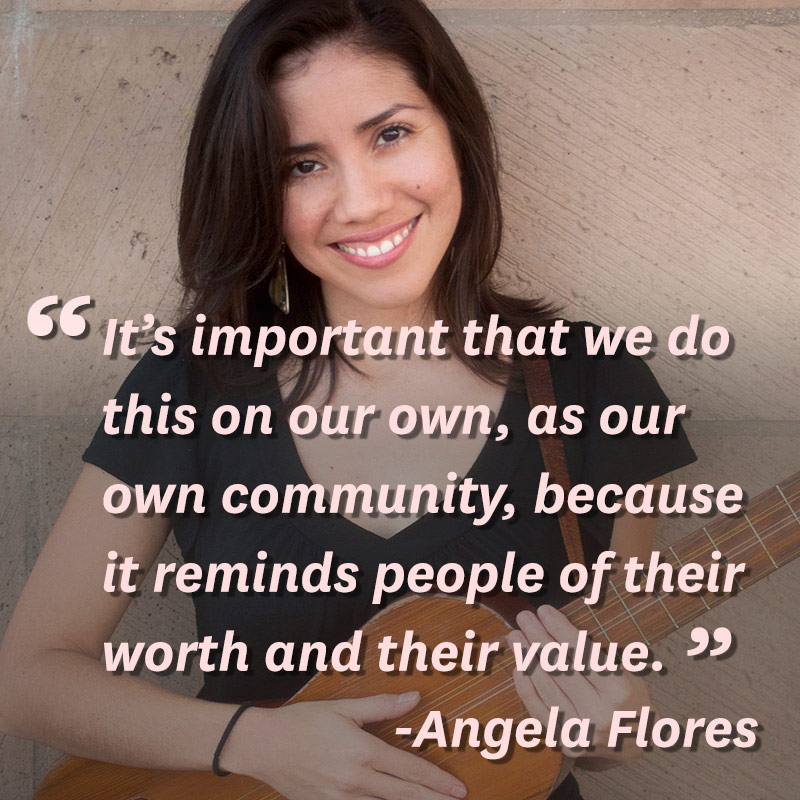 (Photo/Rafael Cardenas)
"Autonomy is the core, the root of all of this," Flores said, noting that the café receives no resources from the government, corporations or people outside the neighborhood. "It's important that we do this on our own, as our own community, because it reminds people of their worth and their value. It shows our community that we can do this ourselves, and we can find strength in ourselves."
Flores is intensely proud of her family's Chicano heritage. Her father, who has long advocated for indigenous rights, was inspired by the ideals of the Zapatista movement, which was founded on the notion of a "participatory democratic space" where community members work together to solve problems and improve their livelihoods.
Even in the family's earliest days in El Sereno, they attracted attention from the community by hosting discussions about politics and social change. These living room meetings evolved into larger cultural gatherings and, thus, the Eastside Café was born.
Over the years, as the collective's ambitions broadened and its logistics became more complex, Flores began to realize that she needed guidance and training. She enrolled in USC Thornton's Arts Leadership program, a two-year graduate course that equips students with the skills necessary to develop and promote innovative arts initiatives in a rapidly changing cultural landscape.
"Flores' project is unique because it's something she has been closely tied to for so long," said Ken Foster, director of the program. "So far, we've seen her grow in both how she approaches the issues that her community is facing, and in her goals looking into the future."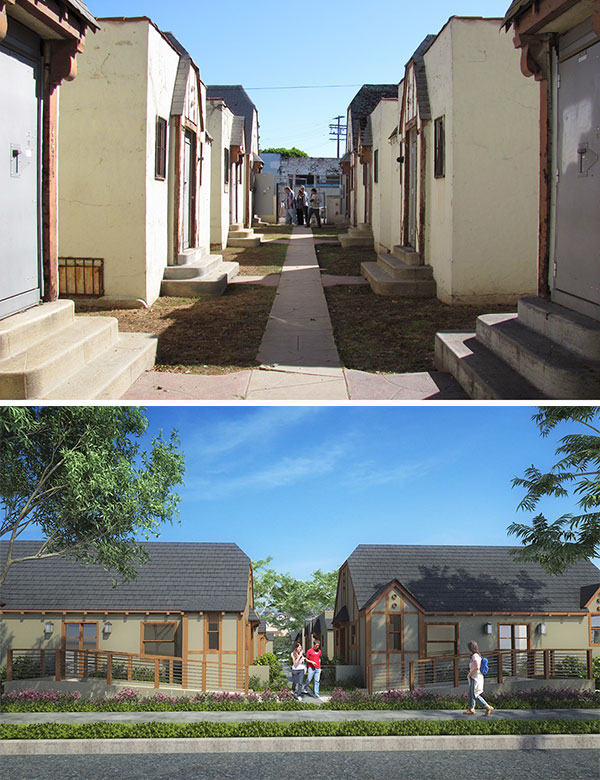 Top: The bungalows that the San Jarocho collective hopes to revitalize are currently abandoned and dilapidated (Photo by Michael Becerra/Elefante Collective). Bottom: An architect's rendering of what the collective hopes the bungalows will eventually become.
A Growing Community
At the forefront of the community project's ambitions is an exciting, albeit challenging, opportunity to expand the café's footprint. Some 40 years ago, several neighborhood bungalows were acquired by Caltrans as part of a project to expand the 710 Freeway. Decades later, the highway's expansion has stalled and the bungalows remain shuttered — but perhaps not for long.
Flores is part of another group, the Bungalows Collective, that is working to acquire the units, which are situated around the corner from the café. The group plans to reimagine them as a multipurpose facility that will serve a wider audience of El Sereno residents. With the additional space, Flores believes that café could truly flourish as a gathering place for the entire community.
"We want this to be a place that truly listens to what the community needs and responds to that," Flores said.
The collective already has raised almost $20,000 to acquire and renovate the bungalows and continues to fundraise while waiting for the property to become available. Once that happens, the hard work truly begins.
"It's been a long, long work in progress," Flores said. "It has taken so long to get to where we are, but where we are… is something to be proud of. When I look forward, I only see this growing from here."
Never miss a story
Subscribe to USC Thornton's e-newsletter
Subscribe