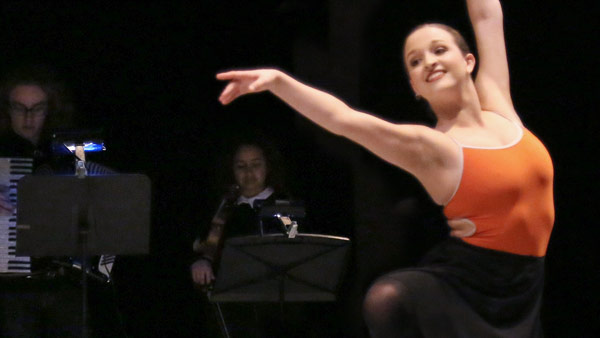 Finding Sound in Motion
The term "sophomoric" was put to rest last week. The first-ever collaborative performance between composition students at the USC Thornton School of Music and choreographers at the USC Glorya Kaufman School of Dance — all sophomores – was thrilling, inventive, mind-expanding and sophisticated beyond the performers' years.
On March 8 and 9, before overflow crowds in the performance studio at the USC Glorya Kaufman International Dance Center, seven composers and 33 choreographer/dancers unveiled seven original dance pieces set to original music. Each piece in the Choreographers & Composers Concert featured four or five dancers, who created their movements over the semester while the composers created their music.
All but one of the music compositions was electroacoustic, which was a new experience for most of the classically-trained composers. They employed live music (viola, violin, drums, accordion, piano, electric guitar), pre-recorded music, vocalists and a rapper, with the musicians sometimes on stage with the dancers. Sean Friar, a USC Thornton senior lecturer who directed the performances with USC Kaufman's assistant professor Thomas McManus, said the pieces also were among the longest his students had composed.
"I was really blown away by this ambitious and inventive and stylistically diverse efforts," Friar told the audience before the second performance, calling it "one of the coolest undergraduate music events of any sort."
For the dancers, said Jodie Gates, vice dean and director of USC Kaufman, it was "an incredibly rewarding and challenging experience" to choreograph for a group and with the student composers. In a program note she authored with Robert Cutietta, who is dean of both the USC Kaufman and USC Thornton schools, Gates wrote that the students were "learning to listen with both their ears and eyes."
Co-director McManus, who teaches improvisation and composition to the BFA dancers, said it is important for dancers to learn how to work with choreographers. By becoming choreographers themselves, as they did this semester, they get a firsthand knowledge of "having new work made on you."
He noted that the sophomore BFA students – who are USC Kaufman's inaugural class – are getting many opportunities to present their own work. "This is the fourth student work show from this group in the last two years." Working in a group provides its own challenges, he said. "You have the erasing of the individual. The focus has to be the group."
In some of the compositions, the dancers literally moved as one, as in Exhibition 5, which featured male and female dancers in black skirts and colored turtlenecks. Exhibition 5's composer, Vaso Katanic, who played accordion onstage, expressed amazement at the physicality of the dancers. "The stuff they are capable of is just unbelievable. And the ideas they have blow my mind." He had written his music first, but made several changes in pacing when working with the dancers.
The composers doubled as musicians and singers in the pieces, which kept them hopping. Composer Katya Richardson, for example, played piano for her own composition Feel Love, which was the soundtrack for the dance benelovence, as well as playing piano for two other pieces and singing in a third.
Props were minimal, except in Found objects, danced to composer Mya Greene's composition Black and White. There, five dancers interacted with balloons, piles of clothing, bottles and desk lamps scattered around the stage.
Another piece, Into and Out Through, composed by Logan Nelson, made effective use of tall mirrors that the dancers, dressed in gray and black, rolled around the stage both to obscure and reflect their bodies.
Honey Dripping From a Spoon, after intermission, was the only piece to feature exclusively acoustic music (accordion, viola and vocals) with two women in pointe shoes and two men doing very polished, more traditional ballet.
It was followed by two electronic compositions pre-recorded and played via laptop. Quadratics by Ethan Haman was composed for the dance Between the Wallpaper, which featured four dancers wearing turtleneck bibs and creating complex interactions that reflected the layered music.
Autology by Brad Valentine also had vocalist Mindy Chen and rapper Ora77K (Kiki White) on stage, complementing the five dancers who were almost liquid-like in their movements.
"This was such an ambitious project," composer Katanic said. "I would love to do this every year if I had the chance."
Never miss a story
Subscribe to USC Thornton's e-newsletter
Subscribe