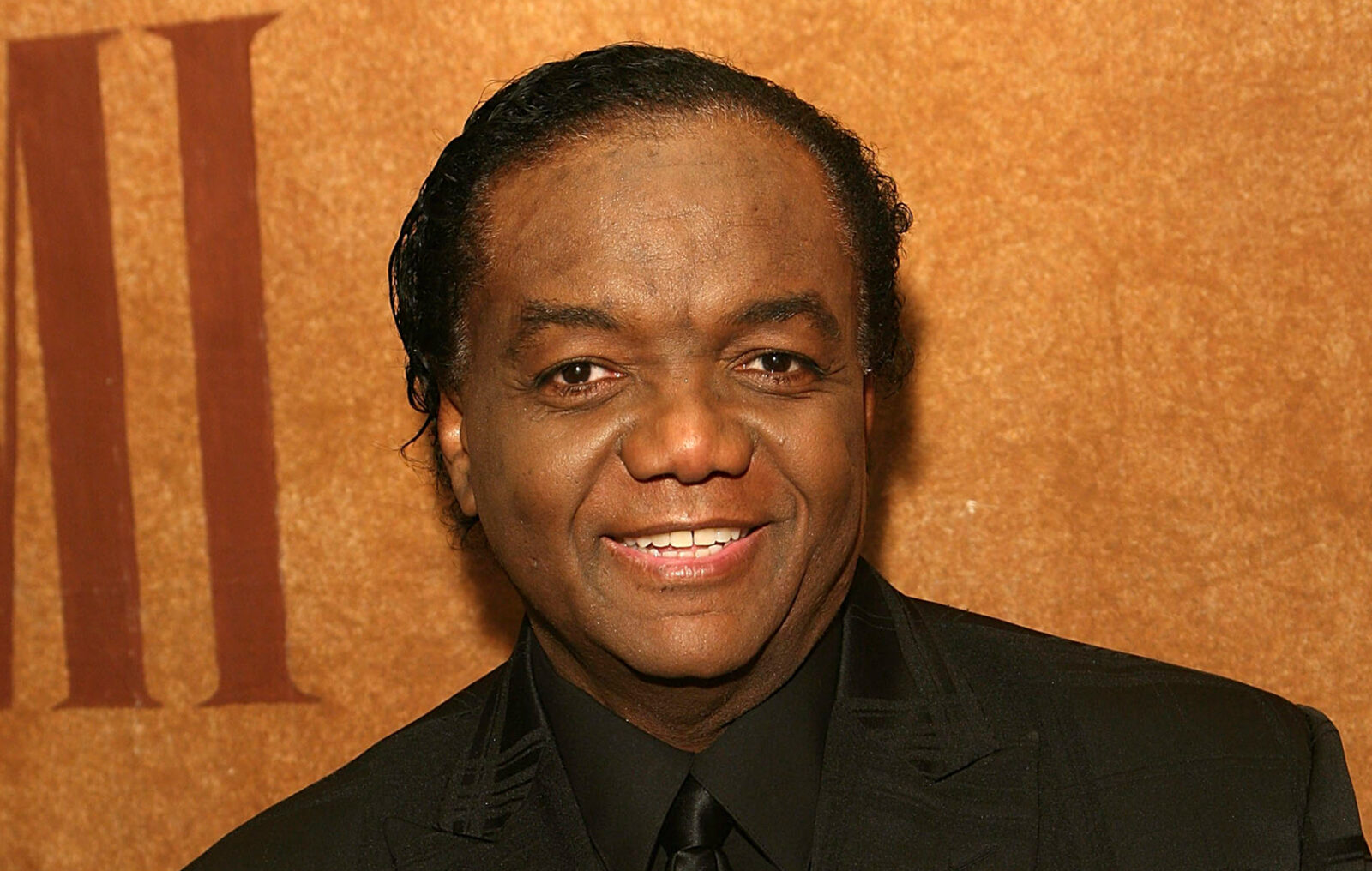 In Memoriam: Lamont Dozier
The celebrated songwriter was the first artist-in-residence for USC Thornton's Popular Music program.
---
Lamont Dozier, the celebrated songwriter and producer behind so many of the hits for Motown Records, died on Monday, August 8 at his home near Scottsdale, Arizona. He was 81. Part of the famed Holland-Dozier-Holland hit-making machine for the Four Tops, Marvin Gaye, the Temptations and many other Motown artists, Dozier joined the USC Thornton faculty from 2009 until 2013 and was a driving force in creating the school's Popular Music program as the first artist-in-residence.
"Lamont was a creative titan of American music," said USC Thornton interim dean Josh Kun, who interviewed Dozier and his son Beau at an event for Trojan Family Weekend. "To have him as part of the USC community was truly an honor."
USC Thornton faculty member Chris Sampson, the founder of the Popular Music program, remembered Dozier's incredible influence on the students and school.
"It's difficult to put into words the impact Lamont's music had on American culture," Sampson said. "The opportunity for Lamont to share his experience and insights on music and songwriting with our students was simply a gift. Through his warmth and generosity of spirit, he inspired everyone he encountered at Thornton. The Popular Music program will keep his musical legacy alive by continuing to study and perform his music and the legacy of Motown. He will be missed, but we are so grateful for his profound and lasting contributions to our program."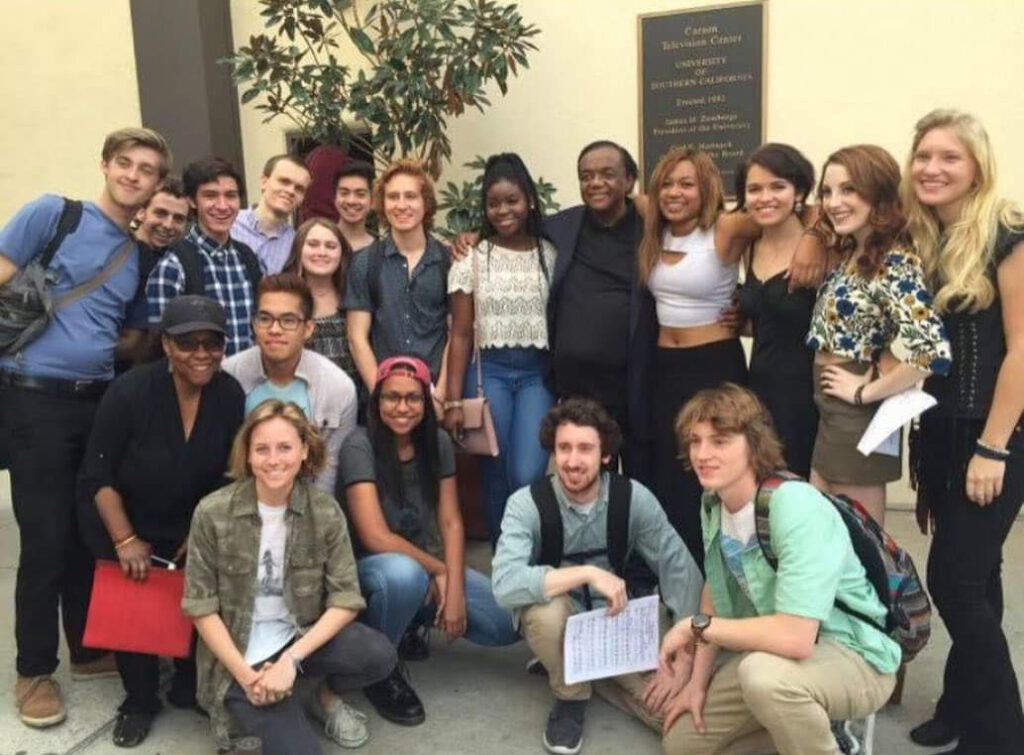 Patrice Rushen, the chair of the Popular Music program, remembered Dozier's wisdom and generosity with the students, highlighting the model he set for the program that continues today.
"When I was a teenager listening to the music of Motown, I could never have imagined actually getting to know the "Dozier" in the phenomenal songwriting team of Holland-Dozier-Holland," Rushen said.
"My association with Lamont began when I was music director of a fundraiser for USC Thornton where he was the special musical guest, and later when we shared the position of artists-in-residence of the Popular Music program. His wisdom and quick 'down home' wit made him easy to talk to. He was always extremely supportive of our efforts in the pop program to create a fertile environment of 'community' for the creative expression of all our musicians. This was part of the Motown model he helped create, took an active role in, and which informs our program's continuous development and success every day.
"Lamont loved hearing his music played with detail and reverence when he would visit our students in songwriting classes or the Pop Forum. He even performed with our students during one of our forums when students were doing a medley of the Motown repertoire they study. Many asked him to autograph their written parts that day, and I hope they've kept them.
"His music lives on and we at Thornton are so thankful for the time he spent with us. He offered, by example, what a commitment to craft can be, and showed us how to touch people through storytelling in his music. Rest in Power, Lamont Dozier."
—
In 2007, Josh Kun interviewed Lamont Dozier and his son Beau at an event for Trojan Family Weekend at the USC Norman Lear Center. You can read a transcript of the interview here. In 2011, Dozier was featured in the Spring 2011 issue of Trojan Family Magazine. You can read that Q&A here: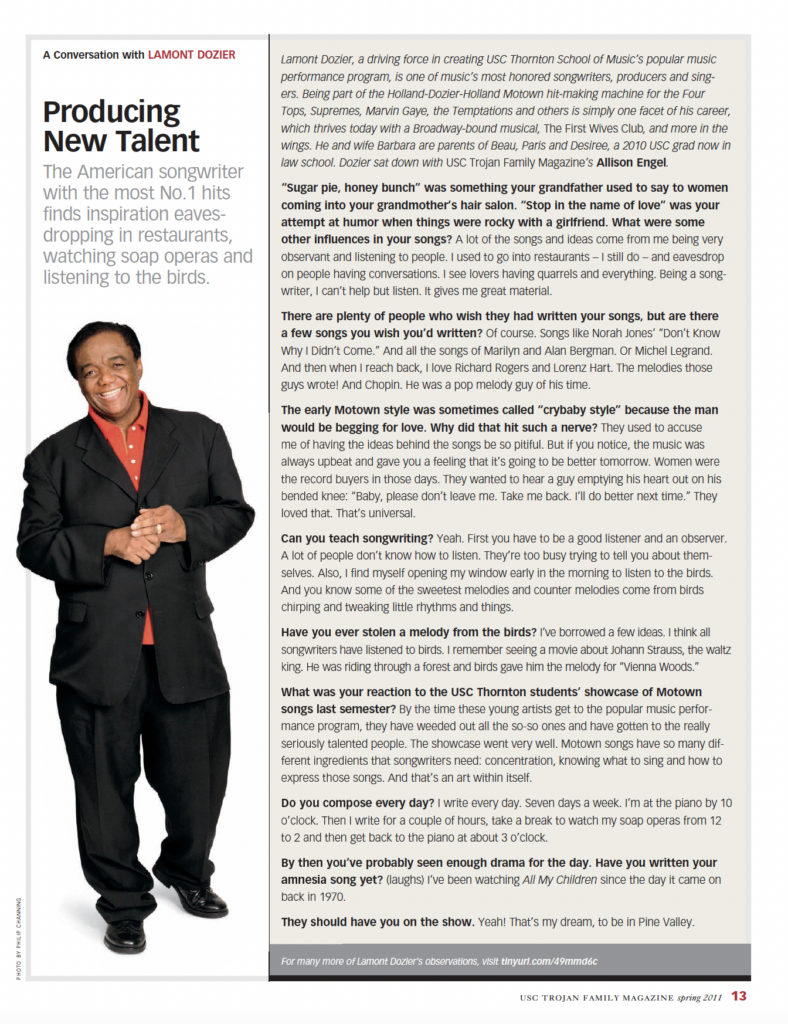 Never miss a story
Subscribe to USC Thornton's e-newsletter
Subscribe