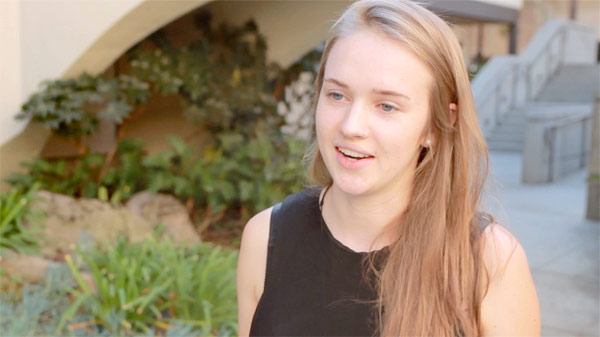 In Their Own Words
What makes Thornton great? Here are a few ideas – but don't take our word for it. Let our students tell you what puts USC Thornton on the map, from an extraordinary faculty to an unprecedented professional landscape.
Across all three of our divisions, students point to our faculty as the most inspiring factor in their experience. "I never thought I would have professors that cared so much about their students," said Music Industry grad Xesenia Maurice (BS '14).
Likewise, many students sing the praises of USC Thornton's location in the cultural capital of Los Angeles and the school's professional connections to different corners of the music world. It's in this collaborative "sandbox" that professional opportunities often arise. "The gigs are coming from your classes," said Moira Mackesey-Green, a senior in Thornton's Popular Music program.
"Every single day is an audition. Every single time that you're working with a classmate could be developing a relationship for a band mate."
Music Industry alumnus Corey Johnson (BA '09), co-founder of Production Club, deserves the last word in his description of the Thornton experience. "I found my people there," he said. "I found my friends and my family there, and that family has just kind of kept growing to today."
Never miss a story
Subscribe to USC Thornton's e-newsletter
Subscribe