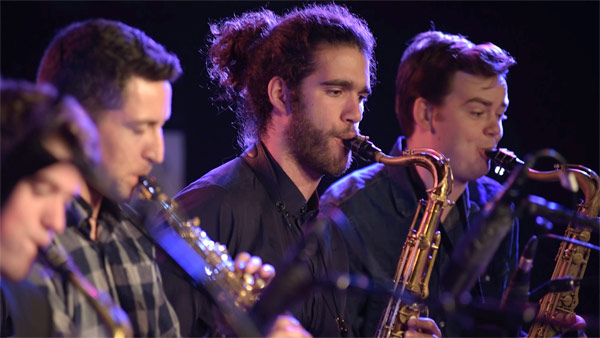 The USC Thornton Jazz Orchestra & Thumpasaurus
USC Thornton's Division of Contemporary Music encourages collaboration among students — in the classroom, in the rehearsal room, on the stage, everywhere. So it shouldn't be a surprise to see internationally renowned jazz saxophonist Bob Mintzer, chair of the Jazz Studies program, trading solos with one of his students, but it's still thrilling all the same.
Last April, Mintzer invited Thumpasaurus – a group of Thornton students that are winning fans everywhere with their brand of funk fusion – to share the stage with the USC Thornton Jazz Orchestra. What resulted? This fantastic performance of the Thumpasaurus tune, "You Are So Pretty" arranged by saxophonist Henry Solomon, Mintzer's student, and a jazz gig that doubled as a funk party.
Thumpsaurus features current students and alumni alike including Solomon, pianist Paul Cornish, bassist Logan Kane, and drummer Henry Was along with guitarist and singer Lucas Tamaren. The band spent much of the summer touring in the U.K., but you can catch them on any given week in a club in Los Angeles – most notably in the series of bills they've been sharing with another groundbreaking group, Knower, founded by Jazz Studies alum Louis Cole and featuring many of his USC colleagues.
Mintzer and the TJO have invited another collaborator for this Spring's concert. On Monday, March 5, composer and pianist Geoffrey Keezer, a five-time GRAMMY nominee, will join them for something more straight-ahead but no less exceptional.
Never miss a story
Subscribe to USC Thornton's e-newsletter
Subscribe