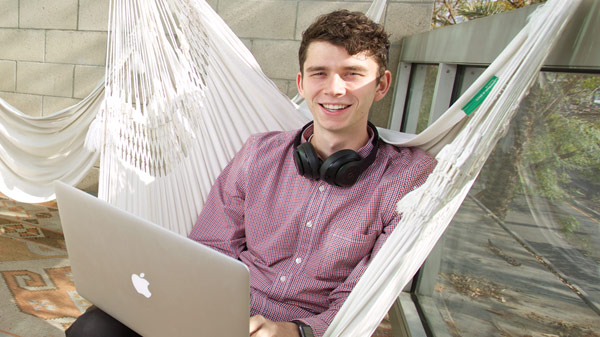 Music Industry Alumni Spotlight: Ross Lindly
How to stay ahead of the dizzying changes in the music industry? The USC Thornton School of Music, which has offered a respected undergraduate degree in Music Industry for two decades, now offers a Master's degree in the subject, geared to musicians who want training for the new jobs created by the current seismic shifts in the industry. Music supervision for video games or phone ringtones are two examples, as are working for streaming services, live concert promotion or entrepreneurial startups.
The three-semester master's degree, which enrolls its first class in May 2018, has no alumni yet. For a look at what kind of jobs Music Industry master's degree students will be training for, look no further than Ross Lindly, a Eugene, Oregon, native who earned an undergraduate Music Industry degree in 2016.
Lindly started his career in a traditional way, with a music publishing internship with Universal Music the fall of his sophomore year. In that spring semester, however, he interned at Beats Music, an early effort by Jimmy Iovine to start a streaming service. That internship turned into a part-time job during his junior year. Later that year, when Apple bought Beats Music, Lindly was offered a full-time job at Apple, even though he had yet to graduate. He commuted to Cupertino and took independent study courses at USC, which required an extra year but allowed him to take the dream job with Apple Music while finishing his degree.
One independent study project he did was to create a startup with another Music Industry student, Ryan Hamilton. The duo developed a curation platform, EARRIGATE, that sends subscribers an email that profiled an emerging artist each week.
At Apple Music, Lindly was on the Global Business Team, working as a business analyst. "It might have been super helpful if I was a math major, but I learned really fast," he said. Other than needing more math skills, he felt that his USC Music Industry training had prepared him well. "Musically, I was in the know about what was going on," he said. "I could catch trends."
He spent two and a half years with Apple, and he "loved being at the forefront of where music consumption was going." While working on the artists and label relations team, he realized he was much more interested in the user experience world than meeting artists and going to concerts.
He also was intrigued by the possibility of being involved with a startup again. So at the beginning of 2017, he joined Stem, a Los Angeles-based music technology startup that created an app that simplifies how musicians are paid from various revenue streams. The company was founded by a tech company veteran, an agent and a former record label executive. "Paying Creators with Clarity" is the motto for the payment and collaboration tool.

"We work closely with steaming services (Pandora, Google Play, YouTube, Spotify, Apple Music, Tidal and others), and provide a payment and transaction layer that is better than anyone in the industry," he explained. "The interface is super friendly."
Stem is growing quickly. Lindly was the 15th employee hired (there are now 22), which makes him feel a real part of creating something new, such as helping decide what features should be in the app. "Our goal is to ship new features and design new functionality," said Lindly. "We learn by trying. It lets me be creative."
Lindly said it is hard to imagine working for a big company again. "The music industry isn't this stable boat. It's moving and changing directions fast. I like being able to work on the edges of what's new."
---
Click here to learn more about USC Thornton's new Master of Science degree in Music Industry — or explore all of our new Professional Master's Degrees.

Never miss a story
Subscribe to USC Thornton's e-newsletter
Subscribe