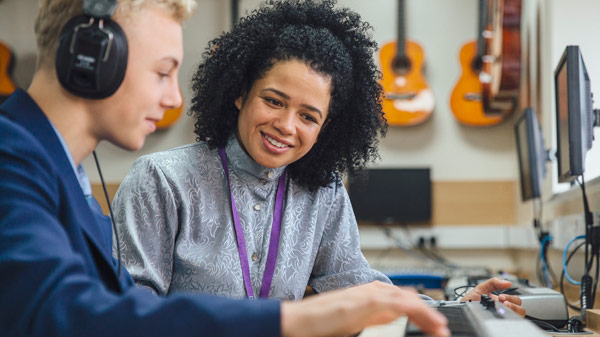 Careers in Contemporary Music Education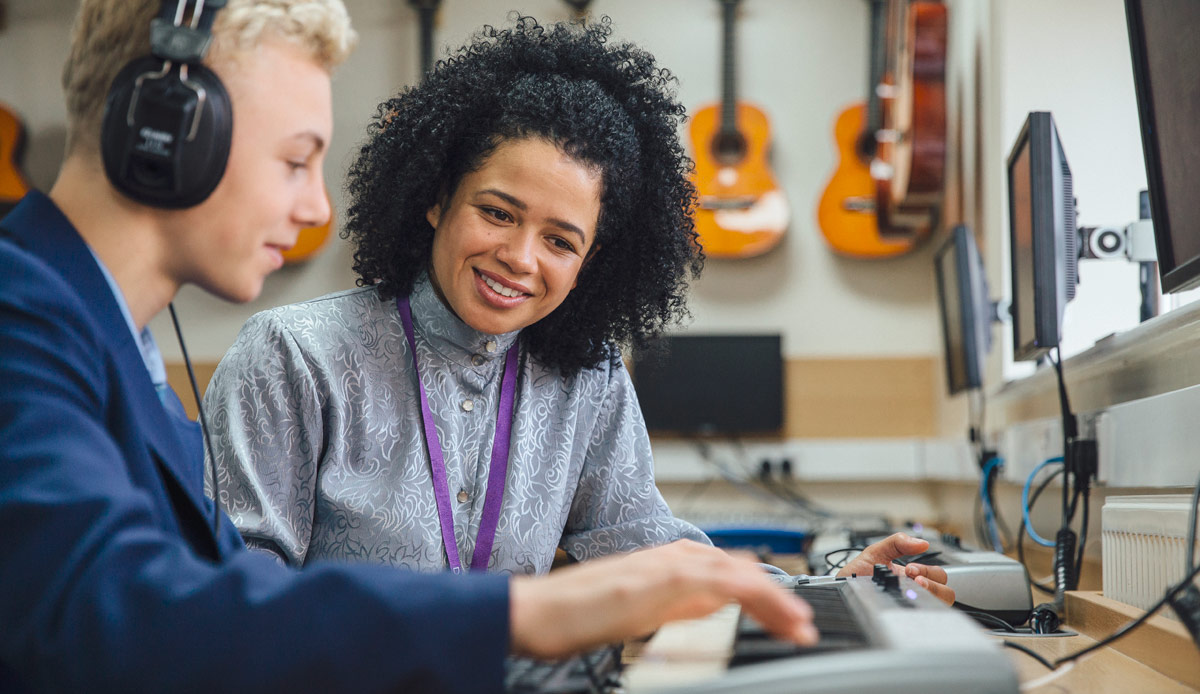 Over the past 20 years, the field of music education has evolved in ways similar to the revolutionary transformation of the music industry. The changes are a result of the cultural, economic and technological developments that have shaped our culture and made music learning more accessible than ever.
"If you're interested in a music teaching career, there are a number of different paths you can take," said Peter Webster, vice dean of the Scholarly and Professional Studies Division. "Teaching opportunities today are diverse, both in format and setting, and classes have extended far beyond the K-12 classroom to less traditional settings."
There are new music teaching pedagogies developing as music teachers shift curriculums to accommodate a wider variety of music learners and a wider variety of music styles. Webster noted: "Just a few years ago, traditional ways to teach music in schools centered around teacher-centered approaches, with little room for student creativeness in playing, composing, and improvising. The music methods used to teach would have been limited, ignoring the importance of contemporary music and music of other cultures."
For an example of how versatile a music teacher must be today, look no further than Thornton alum Vince Womack's class schedule. Womack, who earned a MM in music education in 1998, teaches seven classes. Womack teaches choir, music history, AP music theory, concert band and wind ensemble – all fairly traditional classes – but also leads a class in jazz and a music technology course, where students explore and create electronic music.
"Students are so turned on by the music technology class," Womack said. "They can't wait to get downstairs to our studio and manipulate their beats. It's very empowering."
New ways of thinking about general classroom music education and ensemble instruction are emerging, while respecting traditions. Teachers now instruct students of many cultures and socioeconomic settings and their techniques are changing to match our changing world.
Let's explore some of the different opportunities available to today's musicians interested in music teaching careers.
CONTEMPORARY MUSIC EDUCATION CAREERS
School Music Teaching Careers
Example Career Paths: General Music Teacher in Technology-Centered Schools, Ensemble Director for Wind Ensemble, Jazz Band, and Rock Groups, Instructional Program Developer for World Music Teaching, Bilingual Music Educator, Ministry Music Coordinator, Director of Music for a Community Center, Early Childhood Music Educator, Director of Senior Center Education in Music
"Today's school music teachers are responsible for diverse and non-traditional curriculums," said Webster. "Many schools employ only one or two music instructors who are expected to work with all different types of students and in different musical settings. To be a standout school music instructor, you should be as comfortable leading an experienced jazz band as you are introducing students to electronic music production."
A good example is alumni Jim Wang, '10 MAT. A current DMA candidate in music teaching and learning at Thornton, Wang is Director of Orchestras and Chair of the Department of Visual and Performing Arts at Lincoln Middle School, and he also teaches technology and music composition.
Private Music Teaching Careers
Example Career Paths: Private Instructor (freelance or with a business), Digital Instructor, Digital Lesson Developer, Clinic Instructor, Director of a Major Private Studio, Studio Performer with Private Teaching
"Working musicians who value flexibility often take up private teaching so they can keep a convenient schedule and focus on performing or composing," said Webster. "A private music teaching and learning career also offers the option to specialize in your preferred type of music instruction. An entrepreneurial mindset is valuable when establishing a private teaching career since you'll have to market your teaching practice to potential students."
Technological advancements have created lucrative opportunities for private teaching. Through video chat services and digital teaching platforms, educators now have the ability to teach lessons remotely, craft interactive digital lessons, and reach a vast amount music learners all over the world. For example, flutist Gina Luciani, who earned a master's degree in flute performance at USC in 2013, is using social media to promote private Skype lessons and professional remote recordings while pursuing a career as a session musician.
If you're interested in private teaching, you can pursue a master's degree in music teaching and learning or community music, apply to teach with established private music schools, develop and sell content through distributors, teach remotely, or start a business.
As a music teacher, you should also take advantage of organizations that provide resources and job opportunities to educators like the California Music Educators Association and the National Association for Music Education.
Community Music Teaching Careers
Example Career Paths: Director of Outreach for a Symphony or Opera Company, Music Instructor at a Folk Music Center, Music Content Specialist for a Senior Center, Early Childhood Music Instructor and Program Leader, After-School Music Instructor for a Community Jazz and Rock Music Center.
"A career in community music education offers fulfilling work enriching local communities with the gift of music," said Webster. "As an instructor in community music programs, you might work in nontraditional settings such as hospitals, retirement communities, prisons, and more; or, be the education program leader for a major ensemble. Since you'll work with people from different backgrounds and abilities, strong interpersonal skills and mastery of different teaching methodologies will go a long way."
If you're interested in community music teaching careers, you should consider pursuing a master's degree in either Contemporary Teaching Practice or Community Music, depending on how much of an administrative versus educational role you're looking to take on. Many community music programs are volunteer based, so there are plenty of opportunities to get involved and explore your interests early on.
Laura Reynolds, who graduated from USC Thornton in 2007 with a degree in French horn performance, was midway through master's degree in music performance at a music conservatory when she shifted gears to focus on a career in community music.

Organizations like the National Guild for Community Arts Education are great starting places to learn more about different community music programs, find job opportunities, and network with other community music educators.
The landscape and professional opportunities in the world of contemporary music education are changing every day. An advanced degree like those you might find at USC's Thornton School of Music provide musicians with the skills, knowledge, and real-life experience to build a meaningful and financially stable career that feeds the artistic soul and changes our world for the good.
---
If you feel that any of the master's degree programs covered are right for you, don't hesitate to contact us. Whether or not you ultimately choose USC Thornton for graduate study, our admission counselors are always happy to help.
Never miss a story
Subscribe to USC Thornton's e-newsletter
Subscribe