The New Classical at USC Thornton
Classical music isn't something we typically associate with change. Yet, over the past several years, the genre has evolved just as much as the rest of the music profession.
We often think of orchestral performances as expensive, formal affairs that appeal to a relatively older and wealthier audience. Reports of dwindling ticket sales and shrinking audiences paint a grim picture of the classical music world.
Actually, enthusiasm for classical music is growing and a rebirth of sorts is taking place in the way classical musicians share the power of their art. Los Angeles is one of the centers of that rebirth.
New Formats, New Music
Innovative musicians are redefining how classical music is performed and consumed. Everyone, from the most storied institutions of classical music to aspiring young musicians, are embracing the change. The next generation of classical musicians are leveraging their digital upbringings to create and share music in exciting new ways across digital media.
Take the Kaleidoscope Chamber Orchestra, for example. Founded by USC Thornton alumnus Benjamin Mitchell (GCRT '17, arts leadership), Kaleidoscope is a conductorless chamber orchestra that's attracting new audiences in the fast-growing Los Angeles music scene.
This forward-looking ensemble offers fresh and inspiring performances of canonical works of classical music. But it also hosts an annual call for new music, through which composers from all over the world can submit their works to be played by the orchestra. In a genre often dominated by the standard roster of composers from the 18th and 19th centuries, this call for scores is an incredible opportunity for contemporary composers.
For its 100th season, the LA Phil commissioned over 50 new works of diverse music to be performed throughout 2018 and 2019 — Andrew Norman, one of the commissioned composers, is a USC Thornton alumnus and a current faculty member. Other orchestras perform music from films and video games or host concerts centered around popular themes.
New Venues, New Models
Lately, there has been an explosion of classical music in nontraditional venues. Kaleidoscope holds concerts in schools, parks, hospitals, homeless shelters, and other unique locations. Other organizations, like Groupmuse, bring private chamber concerts into people's living rooms.
One of the most significant (and very literal) departures from the traditional concert hall was the opera, Hopscotch, a celebrated project by The Industry that offered an immersive operatic experience that took place in moving cars. The opera drove audience members around in 24 limousines that followed three different 90-minute routes across Los Angeles. Each route featured a different story with performances around the city, both inside and outside of the limos.
The overall changes in classical music focus on making the genre accessible to as many people as possible, and that even includes how audiences pay for their tickets. For its most recent season, Kaleidoscope adopted a pay-what-you-can model designed to be welcoming to younger audiences. They often have food trucks, post-concert DJ's, and casual meet and greets with the musicians, as well.
The Last Holdouts
In this new classical music landscape, there's one final part of the classical music ecosystem that has been resistant to change — schools and conservatories.
For generations, concerns related to accreditation, tradition, and reputation have led schools to adopt almost identical curricula for classical music students. Many schools simply aren't willing to make bold changes that reflect the evolving classical music profession.
USC Thornton, however, is going against the grain.
"As one of the world's premiere music schools, we don't have to change," said Robert Cutietta, Dean of USC Thornton. "Our students are highly successful in all the traditional ways. They are winning auditions, competitions, and finding fulfilling careers. It's exactly because we are successful that we feel an obligation to lead a change to ensure a vibrant future for our art form."

The ReDesign
USC Thornton has created a radically new model of classical music education by rethinking what it means to be a virtuoso in the 21st century.
The Thornton School's new model, which they are calling the ReDesign, emphasizes giving students the freedom to forge their own musical path and take advantage of both old and new opportunities as classical musicians.
Through USC's unique musical environment and renowned faculty, the ReDesign prepares students to capitalize on the new age of classical music by cultivating both their musical excellence and their entrepreneurial spirit.
The program is built around eight guiding principles aimed at helping students develop distinctive musical voices and embark on fulfilling musical careers:
1. Develop musical excellence
2. Connect scholarship to music making
3. Interrogate the relevance of music to a diverse and inclusive society
4. Erase performance boundaries between different genres of music
5. Navigate their way into the music profession to monetize their skills
6. Master skills to share music through digital platforms and non-traditional venues
7. Build a lifelong, global professional network
8. Lead a healthy life as a musician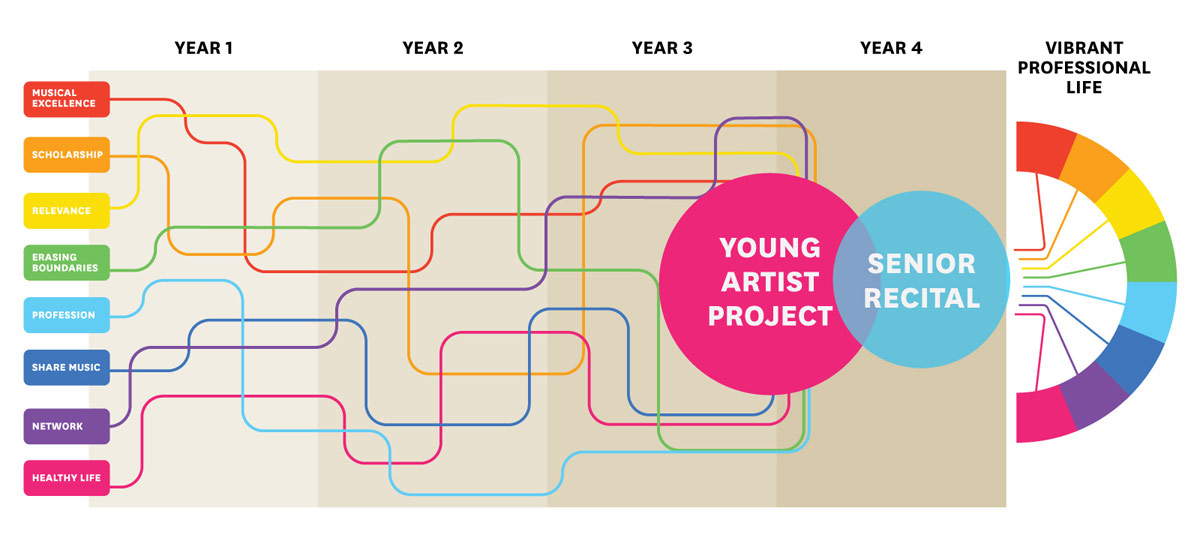 The ReDesign incorporates a Young Artist Project for students leading up to their senior recital. The goal of the Young Artist Project is for each student to develop and demonstrate their unique musical voice. The project can be a performance, a research project, an exploration of new creative technologies, or an innovative application of creative expression to a pressing social issue.
Based in the heart of Los Angeles – ground zero for the new classical music profession – USC Thornton is uniquely positioned to lead this change in education. The classical music profession is changing and USC Thornton is changing with it.
---
Never miss a story
Subscribe to USC Thornton's e-newsletter
Subscribe