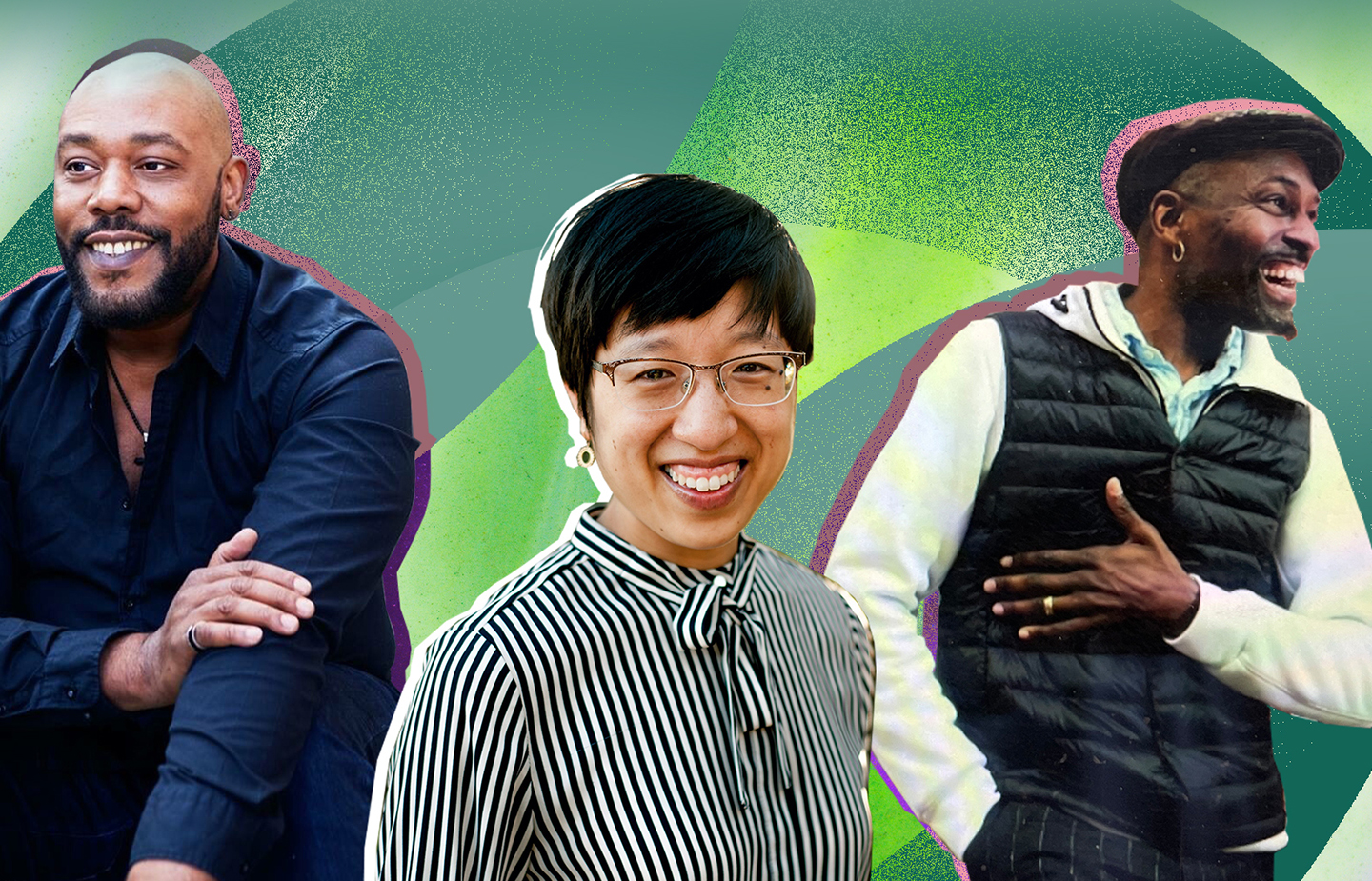 Meet the New Faculty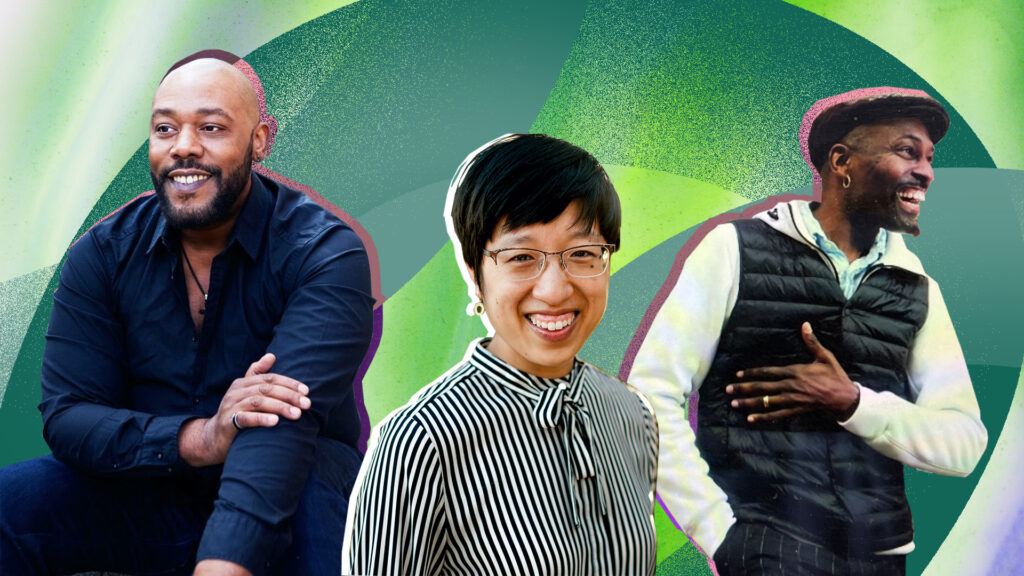 USC Thornton welcomes three exceptional new faculty members in Choral & Sacred Music, Jazz Studies and Vocal Arts & Opera.
---
USC Thornton is pleased to introduce three exceptional faculty members who will join the school in the Fall 2023 semester. Building on last year's cohort of new faculty, this international group of acclaimed artists, leaders and scholars includes opera baritone Derrick Lawrence, drummer Clarence Penn and choral conductor Emily Sung.

Derrick Lawrence
Derrick Lawrence has been named assistant professor of practice in the USC Thornton Vocal Arts & Opera program. Lawrence is a celebrated baritone who has performed over 80 roles with opera houses worldwide including Opera Philadelphia, Santa Fe Opera, Dallas Opera, Houston Grand Opera, Opéra de Lyon, Staatsopern Berlin, National Theater Prague, Stuttgart Opera, The Royal Danish Theatre and La Monnaie. He is best known for dramatic roles such as Verdi's Macbeth, Wagner's Wotan's and Tosca's Scarpia.
As a concert singer, Lawrence has sung with the Symphony Orchestras of Nuremberg, Southwest German Radio, Warsaw National Philharmonic and Munich, to name a few. American orchestras he has worked with include the St. Louis Symphony, Cleveland Orchestra, Metropolitan Opera, American Symphony Orchestra and more.
"Singing is like a jealous lover. If you don't give it what it needs, it will walk out on you," Lawrence said with a laugh.
The noted singer has lived in Germany for the last 27 years, and he will return to the U.S. to teach at Thornton.
"I am really looking forward to working with the students. I met the Vocal Arts & Opera faculty for dinner, and I told them, 'Well, you know, this is like a small family here.' I look forward to joining that family. It takes a community to build voices, and to give students the proper tools."
Clarence Penn
The USC Thornton Jazz Studies program has welcomed an exceptional addition to its team — Clarence Penn, who has been appointed as an assistant professor of practice. Penn is a true master of his craft, boasting a range of talents, from jazz drumming to music composition, production and education. He is a proud recipient of two Grammy Awards and a Juno Award. His productions and compositions have been featured in various commercials and films, and he has collaborated with many world-renowned artists, including Ellis and Wynton Marsalis, Maria Schneider, Betty Carter, Dianne Reeves, Michael Brecker and Fourplay.
Penn's expertise and reputation as an educator have earned him the honor of being a featured drum clinician at venues such as the Kennedy Center, Carnegie Hall, the Banff International Workshop in Jazz and the Jazz at Lincoln Center Intensive Jazz Institute. His latest release, Monk: The Lost Files, showcases arrangements of Thelonious Monk's music. Penn's upcoming project will celebrate the songs written by renowned pop genre drummers like Phil Collins, Dave Grohl and Levon Helm.
Penn's dedication to his students' growth and success is evident in his goal to inspire and empower them with the critical thinking as well as technical, theoretical and practical skills they need to excel in the music industry. His passion for teaching and mentoring musicians is truly inspiring and reflects the positive impact he will have on the USC Thornton Jazz Studies program.
"As an incoming faculty, I am most looking forward to the opportunity to share my knowledge and experience with the next generation of musicians," Penn said. "I'm excited to work with talented and driven students who are passionate about music, and help them develop their skills and reach their full potential."
"I am also looking forward to collaborating with my colleagues at USC and USC Thornton, who are some of the most respected and accomplished musicians in the world," he said. "Finally, I am excited to be a part of the vibrant and dynamic music community at USC and in Los Angeles. The city has a rich history of jazz and music, and I look forward to exploring its many venues and connecting with other musicians and artists. Overall, I am honored and grateful for this opportunity, and I can't wait to begin this new chapter in my career."

Emily Sung
Emily Sung has been named an assistant professor of practice in the Department of Choral & Sacred Music. Sung is an accomplished conductor and educator with wide-ranging experience in professional, collegiate, and youth choral music. Sung has previously served as the associate director of choral activities at Princeton University, the director of the Chamber Choir and Choral Society at the University of Pennsylvania, and a member of the Temple University conducting faculty. From 2016-2019, Sung was the assistant chorus master at Opera Philadelphia, where she helped prepare choruses for the company's groundbreaking Festival O and numerous mainstage productions. She is the co-artistic director of Suara, a new Los Angeles-based choir dedicated to Southeast Asian choral works.
Sung is currently a DMA candidate in choral music at USC Thornton, where she received the 2023 University Outstanding Teaching Assistant Award for her work with Professor Sean Nye's musicology class on electronic music and dance culture. She has also served as an associate conductor of USC Thornton's Oriana Choir and guest music director of the Chamber Opera.
Sung will teach choral literature, choral development, and other subjects to master's and DMA candidates in the Department of Choral & Sacred Music. With research interests ranging from jazz to electronic music and Southeast Asian choral music, Sung looks forward to exploring the nuances of what has and has not historically been considered choral music and uncovering avenues of innovative music making.
"As a faculty member, I'm looking forward to fostering my students' freedom to explore and chart their own path," Sung said. "Teaching choral music at USC Thornton will be a tremendous and exciting honor. I can't wait to continue working in an amazing department that already feels like home."
Never miss a story
Subscribe to USC Thornton's e-newsletter
Subscribe