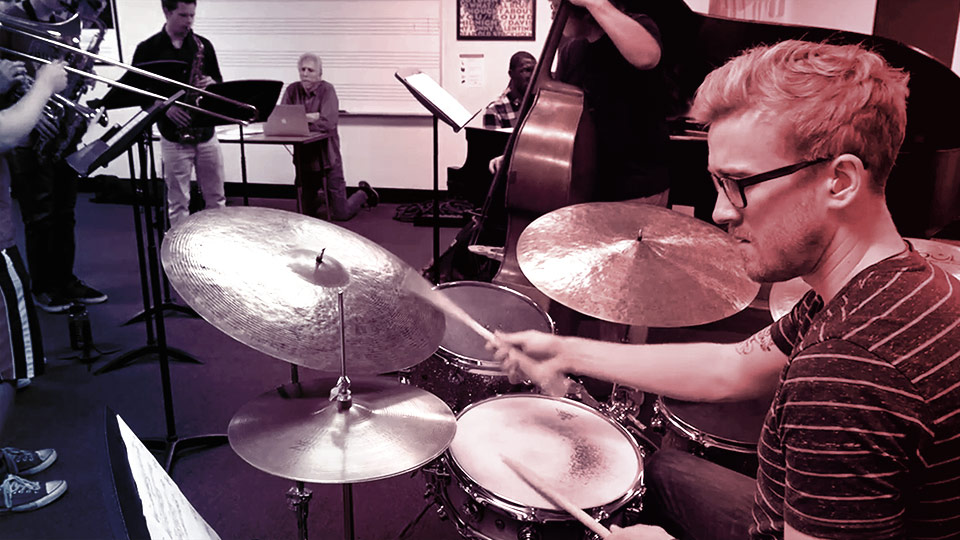 New Jazz at USC Thornton

"I want to light a creative fire under the musicians. I want them to get excited about making music that's theirs."

— Russell Ferrante
Peek into to any rehearsal room in the Jazz Studies program at Thornton and you will hear something you've never heard before. From first-year students to accomplished musicians earning graduate degrees, the emphasis is on original music.
"In the combos it's great, you can bring in a composition any time, any class," said master's student Alex Hahn. "The professors give you a chance to work on them and really encourage all the students to write a lot."
While jazz has traditionally been passed down in the form of standards, with popular songs often becoming the basis of new work, Thornton's jazz faculty emphasize original compositions as a tool for improvisation.
"We stress the importance of being a composer/arranger as a vehicle for one's playing to create an environment in which one is able to really convey a specific message," said Bob Mintzer, chair of Jazz Studies at Thornton.
"My philosophy is I want to light a creative fire under the musicians. I want them to get excited about making music that's theirs," added faculty member Russell Ferrante.
The result, shown in the accompanying video which features original music by Hahn and freshman jazz pianist Paul Cornish, is a program focused on bringing out students' individual voices.
"I think it's super important to write and compose as much as possible," Hahn said. "Writing helps your playing and playing helps your writing and it's all one."
Never miss a story
Subscribe to USC Thornton's e-newsletter
Subscribe