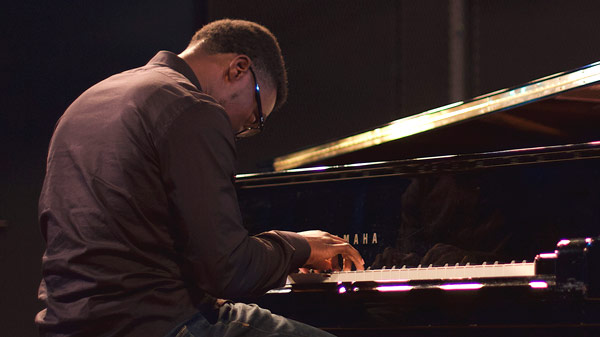 Paul Cornish Wins Scholarship to Thelonious Monk Institute of Jazz Performance
By Evan Henerson & Emily Thebaut
For the second year in a row, an alum from the Jazz Studies program has gained passage into one of the most hallowed halls of jazz education, the Thelonious Monk Institute of Jazz Performance. After a celebrated four years at USC, pianist Paul Cornish ('18) has joined this year's class.
Every two years, the program awards full scholarships to an ensemble of seven talented jazz musicians from across the globe to study both individually and as a group. Cornish joins two other USC Thornton alumni, saxophonist Alex Hahn (MM '16) and trombonist Jon Hatamiya (MM '16), who graduated from the previous class in June.
"To have three former USC students at the esteemed Monk Institute is a huge honor and testament to both the students and faculty at Thornton," said Bob Mintzer, chair of the Jazz Studies program. "We're very proud of Paul, Alex, and Jon."
Looking Back, Looking Forward
The Monk Institute represents yet another achievement in Cornish's burgeoning career. The native of Houston, Texas won a gold medal in the 2013 NAACP ACT-SO Competition and was selected as a finalist for the 2014 ASCAP Young Jazz Composers Competition. He's a two-time winner of the outstanding soloist award at Monterey's Next Generation Jazz Festival. In March 2018, he took the American Jazz Pianist Competition's Grand Bohemian Prize.
While finishing his degree, he formed a jazz trio, Three's a Crowd, and helped create the Thornton Community Project in which students from across USC Thornton's contemporary and classical music divisions performed in a benefit concert for the Midnight Mission, a local charity that provides recovery, training and education to the homeless population in Los Angeles.
This summer, Cornish spent six weeks in the U.K. with his funk band, Thumpasaurus, highlighted by a collaboration with a professional clown troupe on a nightly residency of 45 shows at the Edinburgh Fringe Festival.
"I can't stress enough how grateful I am to have made it this far," he said. "My mom raised me by herself in Houston, Texas and there were so many things I feel could have gone wrong. I'm just grateful for the teachers that I've had and the people who have seen potential in me and given me a chance to allow me to be here and also for me to continue doing this."
Passing Down Information
Monk, a legendary jazz pianist/composer and the institute's inspiration, was known for assembling fellow musicians and friends at his house to share music and ideas. The institute carries on the tradition by bringing celebrated jazz artists in as guest artists to work with the students.
"The program is based on the premise that the best way for jazz to be taught is the passing down of information from the greats and the masters of this music," Cornish said. "One of the beautiful things about music and jazz in particular is that it doesn't have to be this one set thing. I've always been interested in hearing different approaches to hearing this music, bringing one's own style to it. Likewise, I think one of the great things about being a student is being surrounded by people who have had successful careers doing it their own way."
During his four years at Thornton, both in class and while gigging, Cornish found himself surrounded by an assortment of influential artists, many of whom were his instructors. He cites the late percussionist Ndugu Chancler as being particularly impactful.
"He never stopped learning. He always knew so much and he also experienced some of the same things we're learning in school," Cornish said of Chancler. "He was always searching for the next thing, always going deep into his knowledge. Studying with him just taught me that you never stop becoming a student. You never stop learning."
"Now I'm inspired to continue seeking more information from the people who are doing the same things I want to be doing."
To Do Lists
His future "to do" list is extensive. Following in the tradition of individuals like Hancock and Wayne Shorter, Cornish wants to continue to perform, both as a sideman with an established artist and later playing his own music. He also loves film music and hopes to add cinematic and orchestral compositions to his repertoire.
Monk Institute students also have the opportunity to teach at middle and high schools in areas where arts education funding is scarce and exposure to jazz is limited. Cornish has spent several summers first as a student and later as an instructor at the Stanford Jazz Workshop's summer camp.
Cornish harkens to a memorable session of Chris Sampson's Careers in Music class during which instructor Judy Lewis asked the students something they wanted to teach kids. Cornish had his answer ready.
"Courage," he said. "What drew me to music is that different personalities are able to tell different narratives, and they all have an impact they make through jazz music. I want to teach someone that it's OK to be who they are. It's important to stay true to yourself."
"Not being scared to question things and to try new things," he said. "Courage is a big one for me."
Never miss a story
Subscribe to USC Thornton's e-newsletter
Subscribe