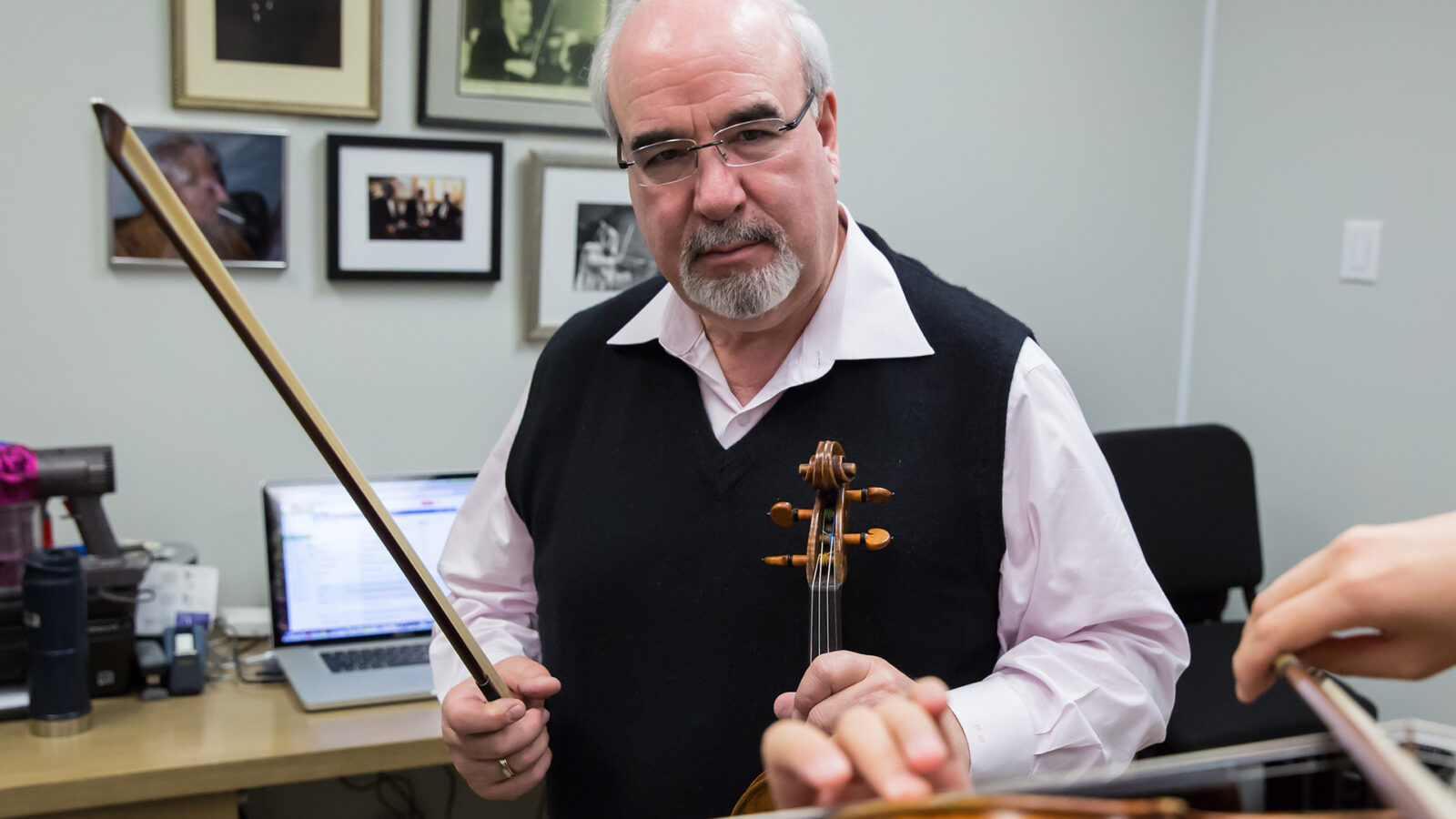 Places of Honor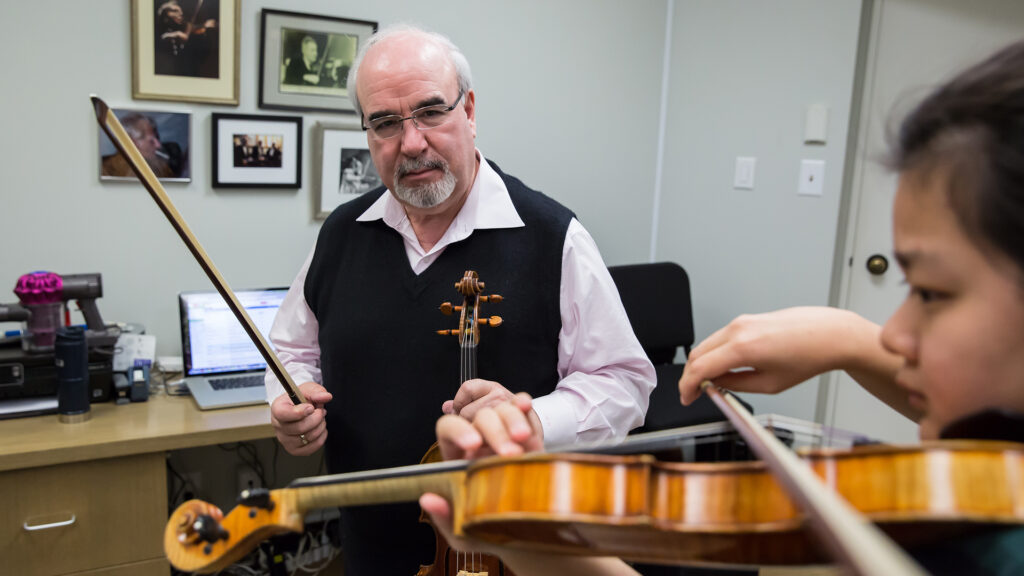 Glenn Dicterow and Elizabeth Hynes are recognized with prestigious endowed faculty positions at USC Thornton.
---
Two faculty members have been named to endowed faculty positions at the USC Thornton School of Music. Glenn Dicterow will hold the Jascha Heifetz Chair in Violin. Elizabeth Hynes will hold the Stephen H. Crocker Professorship in Music. Dicterow will relinquish the Robert Mann Chair in Strings and Chamber Music, which he has held since 2013, and Thornton will seek to fill the position in the near future.
Endowed chairs and professorships represent the university's most prestigious recognition of excellence in teaching, research, scholarship and creative accomplishment.
"I am thrilled to see Glenn Dicterow and Elizabeth Hynes recognized with these endowed chair positions," said USC Thornton School of Music Dean Robert Cutietta. "Their artistry and commitment to teaching is so deserving of these titles, and they both represent the lineage of remarkable faculty at the Thornton School that continues today."
Glenn Dicterow
Jascha Heifetz Chair in Violin
A violinist could hardly be more accomplished than Glenn Dicterow. The concertmaster of the New York Philharmonic for a record 34 years, he performed with four esteemed music directors, Zubin Mehta, Kurt Masur, Lorin Maazel and Alan Gilbert, amassing countless orchestral and solo performances, as well as numerous recordings and soloist credits on film soundtracks.
Dicterow has also distinguished himself as a teacher and mentor. In 2013, he was named the Robert Mann Chair in Strings and Chamber Music at Thornton. The chair was established to honor Robert Mann – composer, violin virtuoso and one of the founders of the Juilliard Quartet.
Now, Dicterow will give up that seat to become the Jascha Heifetz Chair in Violin. This chair was established in 1974 to honor the legacy of Jascha Heifetz, widely regarded as the most important and influential violinist of the 20th century.
Both honorifics have personal meaning for Dicterow.
"Eight years ago, I was extremely honored to have been named to the Robert Mann Chair," Dicterow said. "I had great admiration for Robert Mann, with whom I coached chamber music when I was a student at Juilliard. He was truly a great musician."
A graduate of the Juilliard School who was mentored by Ivan Galamian, Dicterow also had the opportunity to study with Jascha Heifetz, who was a faculty member at USC for over 20 years. Heifetz has been a lifelong inspiration for his music making.
"Since I was a young violinist, I have been heavily influenced by the artistry of Jascha Heifetz," Dicterow said. "It had always been my dream to someday return to USC to teach, where, as a young teenager, I had the privilege of studying with this iconic genius.
"I have spent my entire life espousing Heifetz's unique musical interpretations, as well as his dazzling technique. As testified by my numerous students over the years, I have always championed Heifetz's recordings, which continue to inspire us. He brought such unique style, imagination and color to the vast repertoire he performed."
Dicterow debuted as a soloist with the Los Angeles Philharmonic at age 11 and as a soloist with the New York Philharmonic at 18. In 1971, he was hired as associate concertmaster of the LA Phil, where his father was principal second violinist, and he was named concertmaster before he turned 25. In 1980, he was named concertmaster of the New York Philharmonic.
He remains an active performer who "plays with admirable elegance and utter fearlessness" (The New York Times) and has earned a "pedigree unsurpassed among living violinists" (The Grand Rapids Press). He and his wife, violist Karen Dreyfus, perform and teach at music festivals and schools around the world as founding members of the Lyric Piano Quartet and the Amerigo Trio. Dreyfus is an associate professor of practice in viola at USC Thornton and a member of the school's chamber music faculty.
His enthusiasm for music education is nearly as lifelong as his passion for music performance. Having taught at Juilliard and given master classes around the world, Dicterow has chaired the orchestral performance program at the Manhattan School of Music for two decades, and he helms the strings leadership program as a faculty artist at the Music Academy of the West in Santa Barbara.
Dicterow's teaching philosophy centers on authentic expression.
"Perhaps the most important thrust in my teaching and mentoring is finding ways to get students to express themselves emotionally and musically on their instrument," he said. "While there is no shortage of technically perfect playing in the world of music, I hope to inspire students to create their own individual sound and style, thus enabling their music making to come alive."
Appropriately enough, another part of his teaching philosophy is inspired by Heifetz.
"My aim is to carry on the message of Jascha Heifetz to a new generation of musicians who may not be as familiar with his truly remarkable, one-of-a-kind music making."
Elizabeth Hynes
Stephen H. Crocker Professorship in Music
On the stage, Elizabeth Hynes has moved audiences with her voice of "extraordinary and compelling beauty" as a "passionately intense Butterfly" (The Seattle Times) in "intelligent" performances that "wrenched pathos from [Puccini's] text" (Los Angeles Times) and managed "the full gamut of emotions" (The New York Times).
As Cio-Cio-San in Madama Butterfly, Hynes has performed at the Teatro Teresa Carrena in Caracas, Venezuela; the New York City Opera; the Washington Opera; the Vancouver Opera, the San Diego Opera and the Seattle Opera. Her portrayal of the Contessa in the PBS Live from Lincoln Center broadcast of Le nozze di Figaro gained public and critical acclaim, and she made her European debut at the English National Opera as Donna Elvira.
A faculty member at Thornton since 1995 who served as chair of the Vocal Arts Department and Opera program from 2005 to 2012, Hynes' most recent accolade – the Stephen H. Crocker Professorship in Music – recognizes her distinction as a teacher and mentor. The professorship, funded through an estate gift from USC alumnus Stephen H. Crocker in 1987, was established with a preference for opera.
"It is, of course, an honor to be named to this position, especially in knowing that previous holders of this professorship were Rod Gilfry and Andrew Norman, two artists I greatly admire," Hynes said.
When Hynes joined the Thornton faculty, she came from a full-time performing career.
"I thought I would never match the community of friends I found as a performer," she said. "To my great joy, my colleagues at Thornton are my friends, my mentors and my inspiration. My students continue to delight me with their unbelievable talent, their energy and their hope."
In 2015, Hynes was honored with the Ramo Music Faculty Award. Established in 1971, the award is given by the faculty and students to a faculty member in recognition of outstanding contributions to music and education, to USC and USC Thornton, and to humanity.
"I believe the most important thing between a teacher and student is trust. A singer's voice is one of their most personal means of identity and expression," Hynes said. "It is my job as a teacher to create an environment in which every student feels encouraged to uncover the thrill of technical discipline, the beauty of refined musicality and the most honest emotional connection in their singing."
Hynes has a national reputation as an exceptional vocal teacher and mentor, and her students are consistently among winners of major competitions and appear frequently with professional opera companies and orchestras throughout the United States.
In addition to her position at Thornton, Hynes taught at the Aspen Music Festival and School from 2002 to 2020, and upon her retirement, she was named Artist-Faculty Emeritus.
"My tenure at the Aspen Music Festival and School has been a tremendous asset for my teaching career, for my students who attend the festival and for my personal, musical life," she said.
One of the other significant ways Hynes has maintained her national profile is through invitations to adjudicate the Metropolitan Opera National Council auditions over the past 18 years. The purpose of this singing competition, considered one of the most prestigious in the world, is to discover and encourage young talent – something that Hynes does every day at USC Thornton.
"My hope is that, along their musical journey, my students will experience the wonder and joy I find in this mysterious art we call singing," Hynes said.
---
Read more about Glenn Dicterow and Elizabeth Hynes
Never miss a story
Subscribe to USC Thornton's e-newsletter
Subscribe