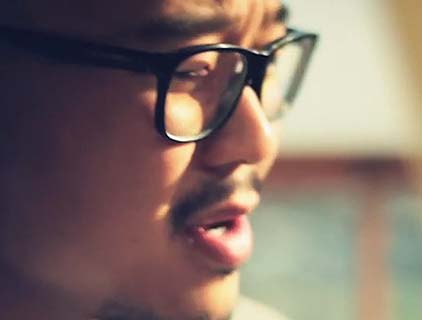 Remix: Hold On, He's Going Places
A throwback to the days of nylon tracksuits, VHS static, and neon everything...
For USC Thornton Music Industry senior Wei Zhong Wong, who performs under the pseudonym Z.woods, the entertainment business is, admittedly, all about impression making. What's clear from him and his collaborative cover of Drake's "Hold On, We're Going Home," however, is how important originality will always be—regardless of the media platform.
A throwback to the days of nylon tracksuits, VHS static, and neon everything, Z.woods' remixed music video with artist Paul Kim combines their rendition of the nostalgic Drake hit with a surprise mash-up that effortlessly segues into a cover of Leona Lewis' "Bleeding Love."
"Both Paul and I grew up in the 90s. We're both 80s babies, and the song has that sort of vibe," Z.woods explained. "We thought it would be cool if we tried to do something that was a bit more in tune with that visually too."
Drawing inspiration from childhood favorites like The Fresh Prince of Bel-Air and R&B icons Boyz II Men to Danish director Nicolas Winding Refn's critically-acclaimed Drive, Z.woods approached the video with a clear "production perspective" in mind.
"Because a lot of artists on YouTube tend to do acoustic versions or just take the official instrumental, I tend to see what I can do to change it up in a way that makes it a little different," Z.woods said.
But it takes more than just being a little different when YouTube and a host of other media platforms are all vying for attention from today's online audiences.
"It really comes down to what you're trying to do artistically," Z.woods admitted. "I don't think the song selection should matter as much as how you're actually treating, remixing or covering it."
Given the multitude of challenges young artists already have in trying to make a name for themselves, artists like Z.woods recognize that at the core of any musician is a fundamental creative spirit, one that relies on honesty, dedication to the form, and a drive to pursue his or her particular vision.
"As an artist, especially starting out, you don't really have a brand. People don't really know where to put you," Z.woods said. "I just think you have to be really honest with who you are and what you're trying to convey creatively. I think that, really, will make you stand out."
– Jenevieve Ting
About Remix: Remix is an ongoing series featuring Thornton students and alumni using YouTube and other new media platforms in creative ways.  A previous Spotlight highlighted the band Mora Mora.
Never miss a story
Subscribe to USC Thornton's e-newsletter
Subscribe