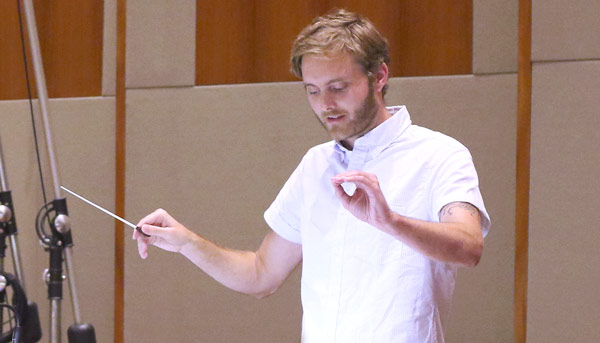 Screen Scoring Alumni Spotlight: Duncan Thum
When Duncan Thum ('06, GC '13) got the call, his jaw went slack. An Emmy nomination. Less than two years out of school, in his rookie year as an independent Hollywood composer, he'd made the Television Academy's top-six list.
The 2015 prize for Outstanding Music Composition for a Series would eventually go to seasoned veteran Jeff Beal for his haunting House of Cards score. But for Thum, 33, just to be in the company of the 15-time Emmy-nominated composer was a privilege.
"The nomination is the win," said Thum, whose Emmy-contending work was for an episode in the Netflix documentary series, Chef's Table.
The following year, Thum was nominated again for an episode of Chef's Table. That time, he was defeated by industry insider Mac Quayle's score for Mr. Robot.

Twisting River
Landing back-to-back primetime Emmy nominations has been a heady experience for a guy who came to screen scoring by serendipity.
Thum describes his artistic journey as a "twisting river." As a kid growing up in Berkeley, California, he had been all about jazz and classical guitar. Graduating from Interlochen Arts Academy, he came to USC Thornton as a Studio Guitar major, but soon found himself gravitating toward wider interests. Switching to Thornton's humanities major with an emphasis in music gave him the bandwidth to venture beyond guitar and throw himself into keyboard studies, composition and recording engineering. He explored outside Thornton, too, with courses in pottery, comparative literature and the avant-garde.
After college, Thum spent the next five years as a successful songwriter, guitarist and keyboardist with the bands Pizza!, Walter Meego and Evan Voytas. He was also teaching piano and guitar lessons, producing records and scoring short animations for USC friends. Then in 2012, when a fellow Trojan asked him to compose music for her feature film, something clicked.
"That's when I thought, 'I really need to explore this fully," Thum recalled.
He decided to go back to school—specifically, back to USC Thornton's program in film scoring.
Only a handful of university programs groom composers specifically for the entertainment industry, and USC Thornton tops the list. Created in 1988, the graduate certificate program morphed last year into a more robust curriculum leading to a Master of Music in Screen Scoring degree.
Part of a continued commitment to reimagining music education in the 21st Century, the Screen Scoring degree is one of five new and innovative non-performance master's degree programs. These professional degrees respond to a music industry and music education climate undergoing seismic changes.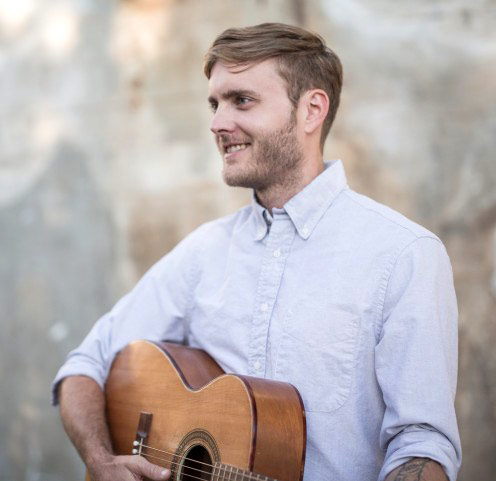 Duncan Thum (Photo courtesy of Duncan Thum)
Bring a Towel
After Thum was admitted in 2012, he contacted a recent graduate of the program and asked what to expect.
"Bring a towel," the alum had replied, "because you're going to be sweating."
He wasn't exaggerating.
"It's like a roman candle," Thum said of the intensive yearlong Screen Scoring curriculum which he completed in 2013. "You're packing this firework with all this information and then lighting it from both ends."
"There are so many sides to being a composer in the film industry," he said. "The business. The creative. You have to have a little bit of everything to make a career in screen scoring viable, and USC does a really wonderful job of giving you that whole package."
The sweating didn't end after graduation. "Sometimes just incredible demands are placed on you," said Thum, who spent a year assisting LEGO Star Wars composer Michael Kramer—himself an Emmy-nominated graduate of the Screen Scoring program—before lighting out on his own.
The USC Alumni Network
Thanks to the Trojan alumni network Thum had no shortage of projects. In 2014, he got a call from director Clay Jeter, a friend and USC film school grad, about scoring an episode of Chef's Table. The sophisticated Netflix documentary series, then in its debut season, profiles a single world-renowned chef in each episode. Thum immediately clicked with his first subject: Argentine chef Francis Mallmann. "The philosophical way he talked about his life and food—it just spoke to me," Thum recalls. "I could reflect on my own life, the same passionate searching, existential crises, joys and triumphs. Writing the music was easy. It just came out."
After Thum's stunning 2015 Emmy nomination, Chef's Table creator David Gelb, another USC alumni connection, put him in charge of all the show's music for the next two seasons. To date, Thum has scored 17 Chef's Table episodes—including the Emmy-nominated "Grant Achatz" episode from the 2016 season. The young Chicago chef's dramatic story—at the height of his career, Achatz was diagnosed with cancer of the mouth, robbing him of the sense of taste—resonated with Thum. His own sister had battled cancer in her 20s.
Creating all the music for Chef's Table meant Thum had to assemble a project team. He turned to six or seven classmates from the Screen Scoring program. "They are all dear friends, and they knew what we were in for—the amount of time we had and the amount of music we had to write," he said. "We could look at each other and nod and know that we've pushed ourselves to these extremes before. We'd been through the trenches together in the USC program."
Musical Storytelling
More episodes of Chef's Table are on the menu for Thum and his team. He's also taken on another Netflix documentary series: the six-part Hot Girls Wanted: Turned On, exploring the intersection between technology and pornography. "There were definitely some uncomfortable moments," he said of the time spent scoring the series. "You're really seeing how this content gets made."
Fans of Thum's music can also look forward to two theatrical releases in the coming year: Titan (2017), a feature film by director Trent Gidaro—another USC film school friend—just wrapped up production. A dreamy meditation without any spoken dialogue, it follows a woman's inner journey as she uses German, French and American literature and philosophy to hypnotize herself into a glorious state of oneness with a flock of birds.
Currently on the festival circuit and coming to theaters in the fall is Dealt (2017). A feature documentary, it tells the remarkable story of Richard Turner, one of the world's top card magicians, who is completely blind since childhood.
Collaborating with directors and editors on projects like these gives Thum great satisfaction and, occasionally, intense joy. Screen scoring at its best, he explained, "… is not about being clever or trying to paint your masterpiece. It's about discovery: trying to figure out how you can support the story, say the thing that only music can."
"You're part of this grand tradition of storytelling. And it's an honor."

Never miss a story
Subscribe to USC Thornton's e-newsletter
Subscribe