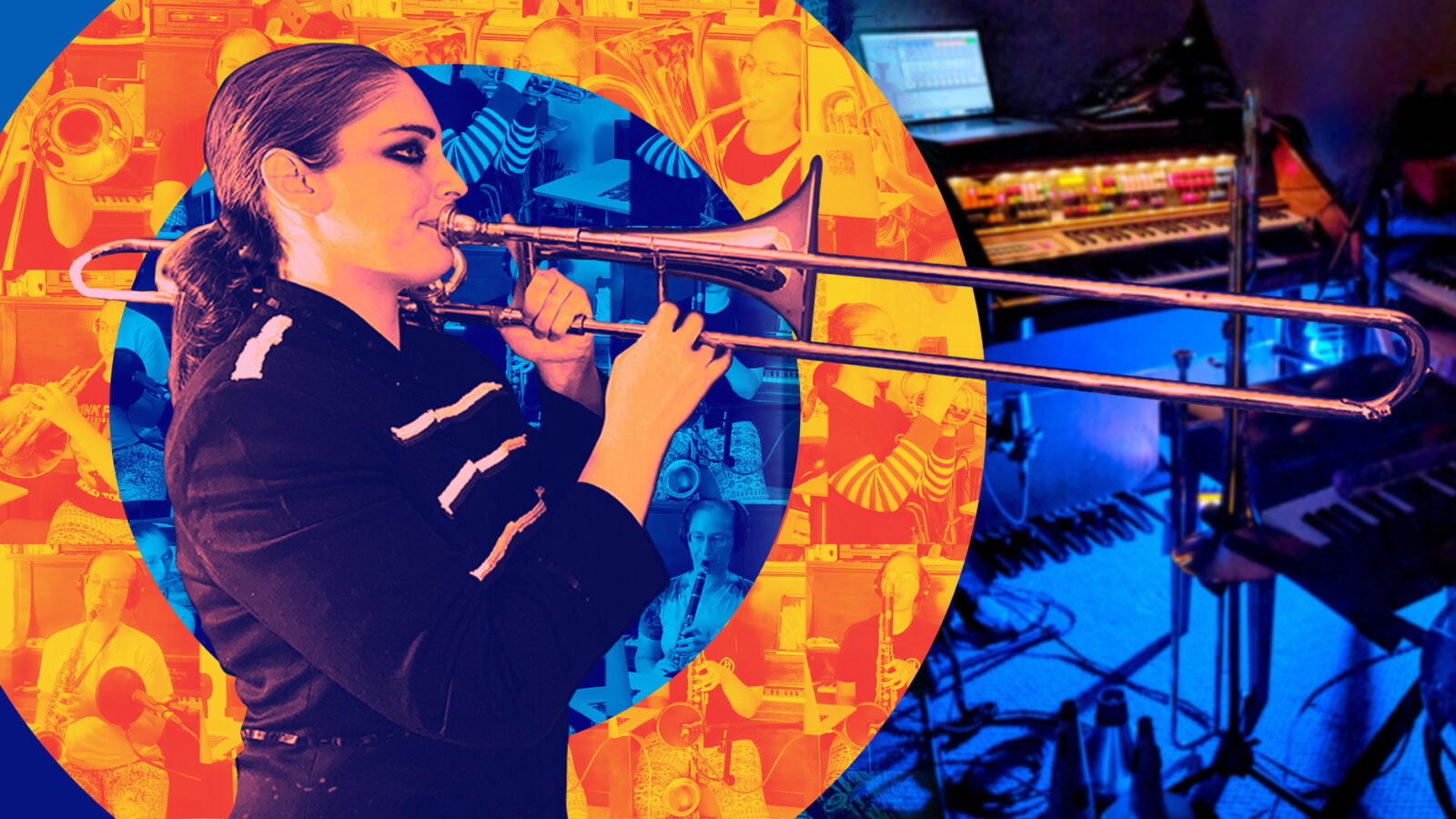 Space to Reflect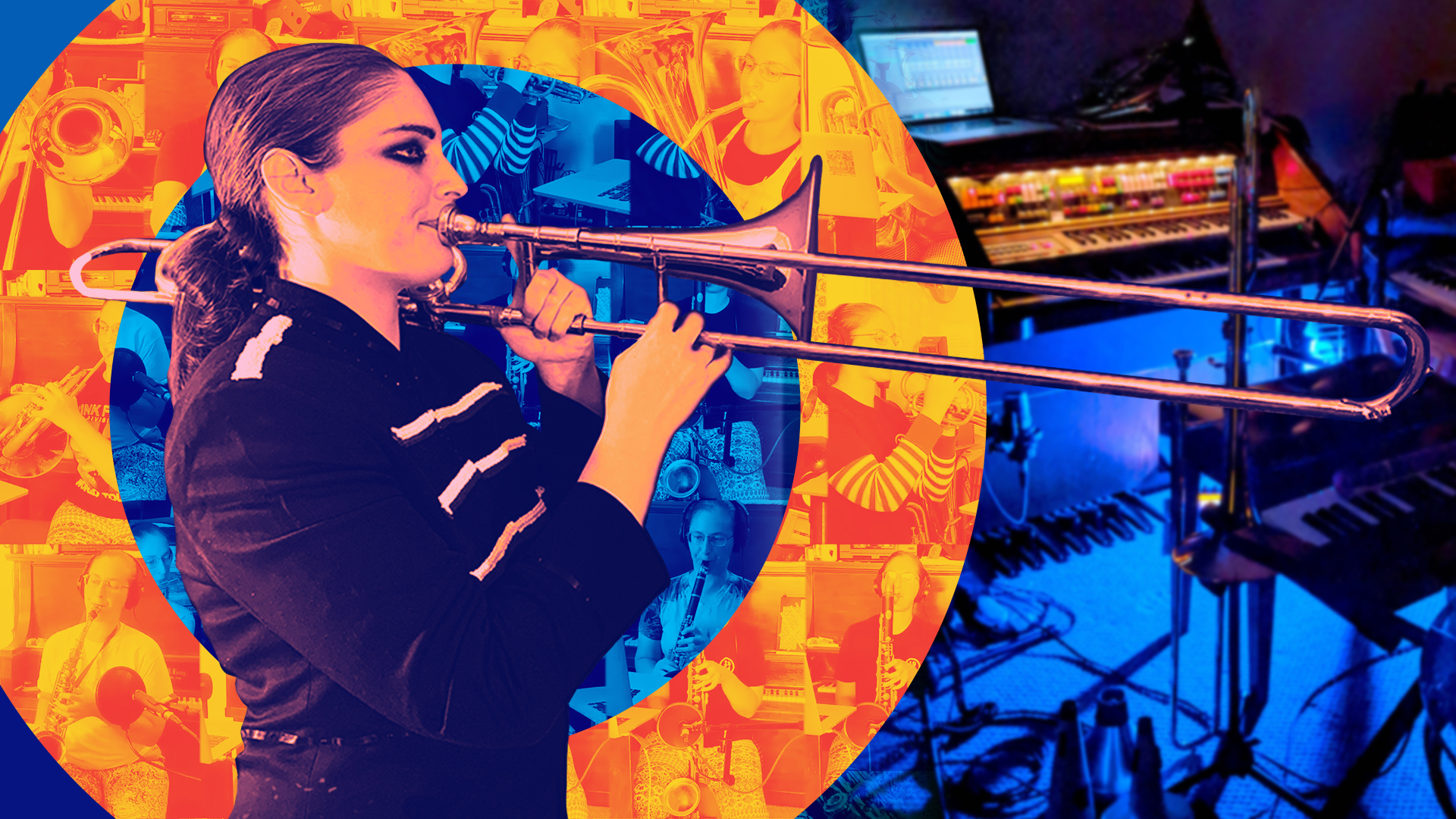 Anj Vancura has found refuge with diverse creative projects, like an 'orchestra of one,' where music and mindfulness coalesce.
---
The YouTube video for Sunrise Transparence's performance of the wind band classic "Salvation Is Created" (P. Tchesnokov/arr. B. Houseknect) shows 36 boxes with musicians playing seven woodwinds, five brass instruments, organ and electronic drum kit. Many of these virtual ensembles started popping up when the pandemic hit and musicians could not perform in person. But look closely, and what makes this 100-piece orchestra all the more remarkable is that Anj Vancura (BM '12) is playing all the instruments.
The project came to mind partly because Vancura owns all of those instruments, from a cornet to a tuba, and a piccolo to a sax. "I'm not a session player on all of them, by no means," they said with a laugh.
A multi-instrumentalist since childhood, Vancura started on piano and recorder. In middle school, they began their "long journey into wind instruments." A Music Industry major at USC Thornton, they also studied oboe at the school and now consider the trombone their primary instrument.
Still, practice on some of the instruments took several weeks. Recording audio and video entailed three to six takes for each of the 36 parts. The final audio that they mixed and mastered has 104 layers.
Vancura chose the Tchesnokov piece because they had played it at different times, starting in high school, and appreciate "the depth of emotion in the composition and expression through texture." "Texture drives my passion in various types of music," they said. "This is a beautiful piece. The emotion of it struck me during quarantine."
Assembled over the five-month period between July and December, this "orchestra of one" is one of the creative projects that has helped Vancura, who performs as Sunrise Transparence, get through the forced isolation of the pandemic.
"Having projects that allow me to put out my performances and my vision in a time when live performances are not present has been really great," Vancura said.
Of course, they couldn't have done the orchestra of one without audio engineering training and experience. That training was part of the Thornton major, and prior to the pandemic Vancura was working as a sound engineer for live concerts and events, including as a live audio engineer for the Getty Center and Getty Villa. The experience allowed them to pursue a number of creative projects over the past several months at home.
Mindful Music Series
Before the orchestra of one, Vancura had finished a streaming series of meditations with live music. The sessions in the Sunrise Transparence series include guided meditation and live multi-instrumental ambient music and end with a "space-age soundbath." "It is about creating space to reflect, explore and just be," they said. "There is an element of catharsis in a lot of my work with that."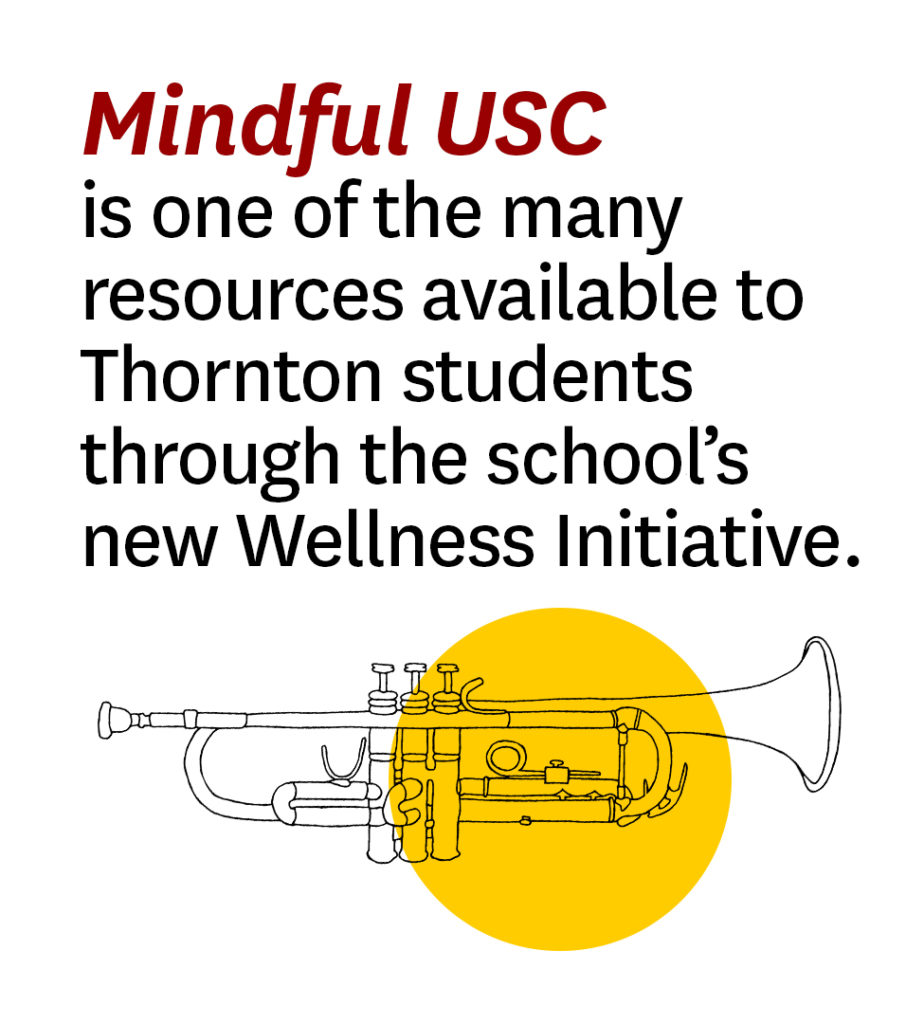 Vancura said that music has always been a refuge from stress, a way to "be in this time outside of time." "For me, it's also very spiritual," they said. "I pray through music."
Their interest in mindfulness deepened during graduate studies in composition for visual media at UCLA and their work with the UCLA Omni-Musicality Group, "an intercultural, experimental improv ensemble that begins each rehearsal with a group meditation." Five years ago, Vancura started doing live, looping, improvised multi-instrumental solo performances that "built ambient texture-based music."
The Space Anemone Label
Vancura describes the kind of music they write and are drawn to as "music that provides space for intention and inner seeking — or just rejoicing in the sensory moment of what the piece is." The music they choose to feature on their Space Anemone label fits that bill, a label Vancura started to give experimental music more attention.
Vancura just released a new album of their own compositions on the Space Anemone label in January, "Embrace/Depths of Creation (Sunrise Chocolate)," a collaboration with Lost Chocolate Lab (guitarist and game audio expert Damian Kastbauer).
The projects tackled during the pandemic represent several areas of musical interest coalescing. Meanwhile, Vancura also teaches students of all ages on multiple instruments. And prior to the pandemic, they performed with such groups as the Los Angeles Symphonic Winds who have premiered some of their compositions and shifted to virtual concerts during the pandemic.
"All musicians find multiple threads in our creative and professional outlets," Vancura said. "Isn't that just the best, most fulfilling thing when you have several interests that maybe not a lot of people are doing, but they all come together for you?"
Taking a 'Deep Dive in Different Directions' at Thornton
Anj Vancura earned National Merit Scholarships and a USC Presidential Scholarship to attend USC Thornton. They chose the bachelor of music program because it allowed them to major in the music industry, taking technical and business classes, and take music major classes and lessons. They also took as many classes as possible in sound engineering, digging into topics as diverse as mixing and recording for film scores. Vancura worked on recording, mixing and mastering their own creative projects, while also studying oboe with Joel Timm and David Weiss, and composition with Morten Lauridsen, Frank Ticheli, Neal Desby, and Brian Shepard.
In addition to performing with the USC Marching Band, they were a co-founder and music director of the Trojan Fine Arts Association, in which musicians partnered with actors on campus to create a student-run variety show.
"Thornton has a unique program that really allowed me to take this deep dive in the different directions I was interested in — audio engineering, performance and writing music," Anj Vancura said. "And the opportunity to study with world-renowned professors was really something!"
Never miss a story
Subscribe to USC Thornton's e-newsletter
Subscribe