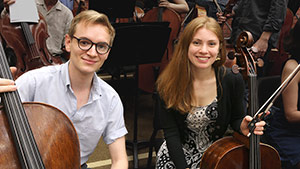 PICF '16: Stand Partners
When two talented young cellists, Cicely Parnas and Coleman Itzkoff, share a music stand during the Mass Cello Ensemble on Tuesday, May 17, it will be the first time they have performed together. But it is a connection their families first shared half a century ago. During the Korean War, their grandfathers, both cellists, performed as part of the Army Orchestra.
Leslie Parnas, a student of Gregor Piatigorsky, went on to become a celebrated professional cellist. Seymour Itzkoff, who played with the Hartford Symphony for a year, went on to become an esteemed professor at Smith College.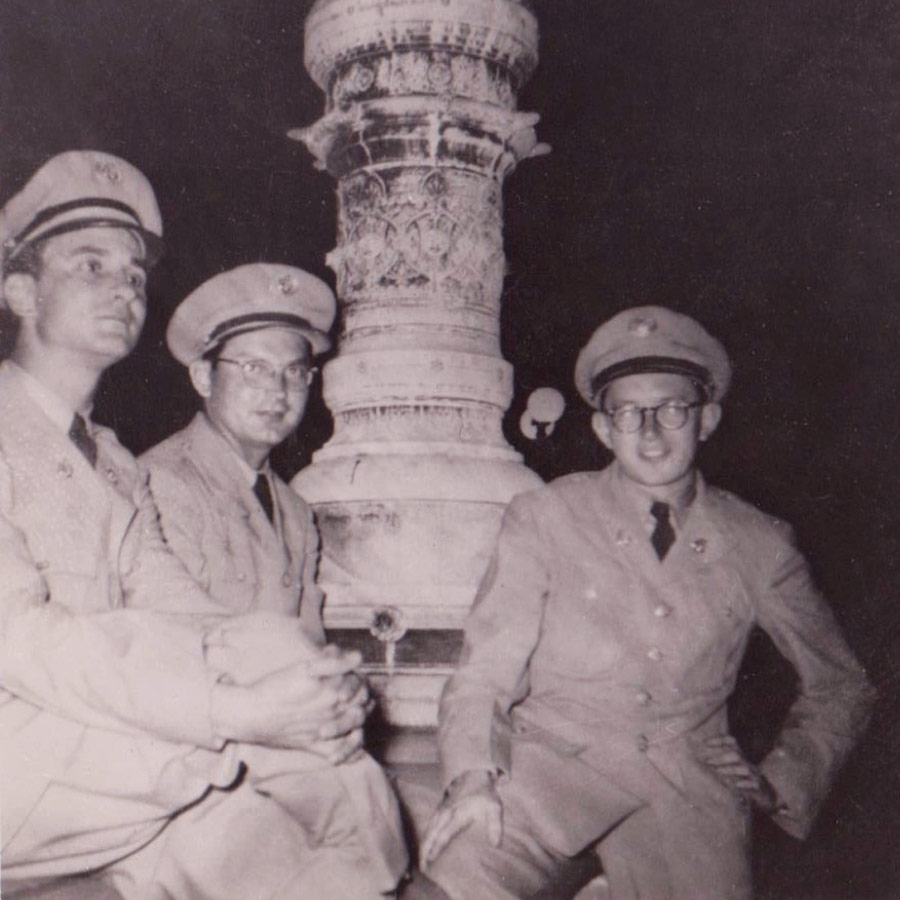 Coleman Itzkoff's grandfather, Seymour Itzkoff, is seen here at right in this Korean War-era snapshot. (Photo courtesy Coleman Itzkoff)
"Growing up, my grandfather would always tell stories about his days in the Army Orchestra," said Itzkoff, a graduate student of Ralph Kirshbaum, chair of the Strings Department at the USC Thornton School of Music and the artistic director of the Festival. "He would always mention these people he'd played with, including Leslie Parnas."
Both Itzkoff and Parnas grew up in a family of musicians.
"My parents are both professional violinists, and cello is also a family instrument," Itzkoff said. "My grandfather still plays, my aunt is a cellist who studied with Laurence Lesser, and her mother played."
For Parnas, who regularly performs with her sister as part of Duo Parnas, her grandfather was a pivotal figure in her development.
"His sound was something that I was always fascinated and inspired by," she said. "I just think of it as the ultimate cello sound, deep and dark and earthy. It has so many layers to it and is everything you'd want to hear from the cello."
Parnas wasn't aware of the friendship between her grandfather and Itzkoff's grandfather, but it is one of many connections she is making this week. Across the ranks of the 100-plus cellists who will take the stage at Walt Disney Concert Hall tonight to perform together, everyone seems interconnected in some way.
"It's surreal, but it's so powerful," Parnas said. "It's great to be surrounded by this many cellists. There are so many people to talk to, and everyone has been incredibly nice."
"It is definitely the most cellists I've ever played with," Itzkoff added. "Honestly, I was just kind of gawking at the soloists, the big names up front, and all of these people that are playing alongside of us."
Like Parnas, Itzkoff has enjoyed the rehearsals leading up to the performance.
"Ralph Kirshbaum used the word 'miraculous' on Sunday in describing the festival," Itzkoff added. "It's miraculous that all of these cellists are here in one place this week."
Never miss a story
Subscribe to USC Thornton's e-newsletter
Subscribe