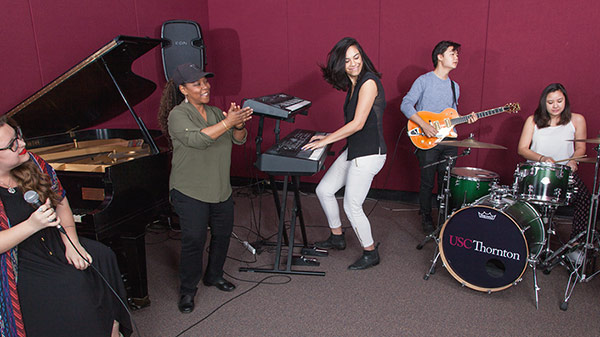 The Art of the Musical Director
By Julie Riggott and Evan Calbi
When Patrice Rushen, chair of Popular Music at USC Thornton, pulled Karina DePiano aside during DePiano's second semester to tell her she had the potential to be a great musical director, the Popular Music major was pleased but puzzled.
"I didn't even know what that meant," recalled DePiano, who is now a senior.
A musical director is a bandleader who helps shape the sound of a performance. Rushen, a top jazz pianist who has performed with Stevie Wonder, Herbie Hancock, Carlos Santana and other artists, is one of the most well regarded music directors in the business. She was the first female musical director for the GRAMMY Awards, the Emmy Awards, the People's Choice Awards, the NAACP Image Awards and HBO's Comic Relief V, and remains one of the very few women at the top of the profession.
Rushen became a mentor to DePiano, noticing that when DePiano started working with a campus group, "the band would come together a little bit differently under her leadership.
"Karina has a very high work ethic but does everything in a very relaxed way, and that's an unusual quality to have so young," Rushen said. "She has the ability to make it look fun, make it look easy and put people at ease, and that is going to carry her far."
Rushen wasn't the only USC Thornton faculty member to notice the young musician. Even as a freshman, DePiano started booking keyboard gigs through referrals from faculty. Her first high-profile gig came sophomore year with artist KP Fitz after a recommendation from Chris Sampson, vice dean of the Division of Contemporary Music and founding director of the Popular Music program.
"That gig created a network of people I never would have known," DePiano said. "I got the call to play for Rita Ora from a friend of a friend I met at that first professional gig two years ago, which is crazy."
Ora, a British pop star and former X Factor judge, hired DePiano to play keyboards for her North American band. DePiano has performed across the U.S. and made a number of television appearances with the singer. In December, she performed with Ora in China and Vietnam.
DePiano is currently working as keyboardist for YouTube sensation Troye Sivan on a tour which will take her around the world. She was recommended for the gig by her ever-expanding network of music industry friends.
"I was recommended for the tour by Drew Taubenfeld," she said. "I've worked with him in the past and he is the musical director for Meghan Trainor, Charlie Puth, and others. He recommended me to Stacy Jones, musical director for Troye, who worked previously with Miley Cyrus."
Proving that, as in real estate, location matters in booking such high-profile gigs, DePiano landed the tour in less than 24 hours.
"Jones called me on a Wednesday night," DePiano said. "I auditioned on Thursday, and by Thursday night I had the gig! My whole year changed in 24 hours! We're set to tour the U.S. in February and March, Europe in April and May, and Australia and Asia later this year."
DePiano even pulled two classmates into Sivan's January performance on The Ellen Show. Popular Music students India Pascucci ('16) and Madison Vogt ('18) played in an all-female drum line during a performance of Sivan's single, "Youth."
"They wanted a female drum line to elevate the television performance," DePiano explained. "Stacy Jones asked me for recommendations so I recommended India and Madi and they both got the gig! Three pop kids on one Ellen episode – too cool!"
At Thornton, DePiano's music directing activities include leading the bands of several of her classmates, including singer Malia Civetz. She recently got more practice with fellow student Tricia Tahara-Stoller, who asked her to be musical director for her band for a gig at the Catalina Jazz Club. When Tahara-Stoller described the gig, she failed to mention that her band happened to be composed of three Thornton faculty members: Alphonso Johnson, Ndugu Chancler — and Rushen!
"I was so excited and so terrified," DePiano said. "I learned a lot. I also realized I want to start getting recognized more as a musical director and not just a keyboard player."
"We ask our students to wear several different hats and see performance from several different points of view within our program," Rushen said, "and that helps them feel the difference between what has to happen when you're in charge and when you're a player. What I hope Karina got from the Catalina Jazz Club gig is that all three professors were capable of supporting the big picture."
DePiano said it was instructive to watch Rushen balance her natural leadership with being an ensemble player. The up-and-comer said she has gained much from Rushen's teaching and mentorship.
"It has been so valuable to me getting insight from someone on a career path that I am looking toward," DePiano said.
Never miss a story
Subscribe to USC Thornton's e-newsletter
Subscribe