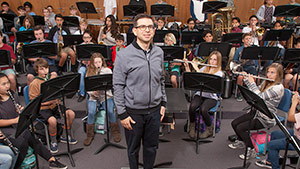 The Emphasis is on Performing—with Feeling
For too many student musicians and their teachers, competition rankings take on an outsized emphasis, observes USC Thornton School of Music doctoral of musical arts (DMA) candidate Richard Perez ('03, MM '12). As a middle school music teacher since 2005, Perez has seen this firsthand. At festivals and competitions, scoring "excellent" or "superior" becomes a badge of honor for the teachers, who believe it validates themselves as "excellent" or "superior" teachers.
Technical proficiency is important, Perez believes, and he is proud that his full orchestra recently earned a superior rating and a first place finish at a festival in Santa Clara.
"But ratings, which reward technical accuracy and careful, reserved playing, can overlook an emotional or bold performance," said Perez. "And they never take into account where a student began, or how much musical growth a student has experienced.
"I take great pride in my students embracing the principles of selflessness and compassion to help each other perform in an authentic way, with feeling," he said.
Perez has seen students from all socioeconomic backgrounds achieve meaningful academic and social growth through music. In addition to gaining technical prowess, playing in an orchestra or ensemble is a means of social advancement and a way to belong to a community, he said.
At Marco Forster Middle School in San Juan Capistrano, Perez gives instruction to 220 students daily in three orchestras and two bands, as well as a popular music group that meets after school hours.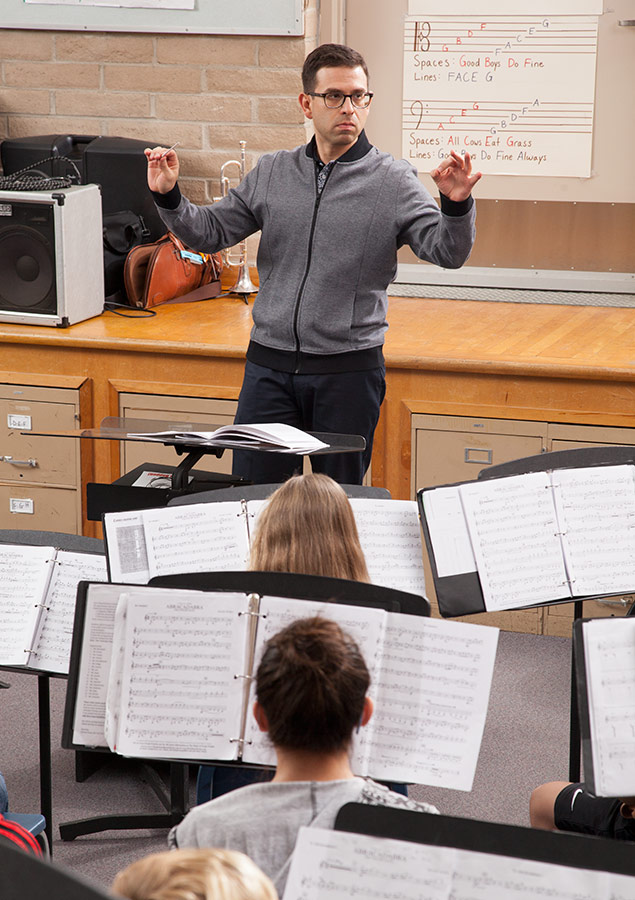 His philosophy of emphasizing playing with emotion and urging students to enjoy the positive vibe of working collaboratively has struck a chord with the middle-schoolers, as his band room is filled to capacity throughout the day.
Their respect for the soft-spoken teacher is obvious. Less than two minutes after rambunctious 13 and 14-year-olds enter the room, they are sitting still, instruments at the ready.
"The emotion is the point," Perez tells students as they begin work on a piece. "You are communicating the intention of the composer."
Perez is also interested in the importance of inter-generational music making and is planning to include research on that in his dissertation, which he is working on under the direction of assistant professor Beatriz Ilari. He occasionally invites musician friends and colleagues to his orchestra practices to work with his students, exposing them to new musical voices and ideas. Perez, a trumpet player, sometimes joins in. "Any time we can get teachers off the podium and sitting in with student ensembles, it's a good thing," he said.
Perez began his musical life taking piano lessons at age 5 and started playing trumpet in ninth grade. He credits music for supplying him additional support and caring from adults outside of his family.
He would like to see that benefit of music making emphasized.
To that end, Perez extends an invitation to his student alumni to come back — no matter how many years they have been away — for an end-of-the-school-year concert each June. Parents and others in the community who play instruments are also encouraged to participate, crowding the school's stage with as many as 150 musicians.
His school administration has been extremely financially supportive of his efforts and Perez observes that support and buy-in from students, parents, siblings, friends, teachers and staff, as well as the administration, creates a sense of belonging to something special and elevates an entire community.
However, in many districts, music instruction is in an increasingly precarious state, thanks to tight school budgets and a move to emphasize academic subjects that can be measured on standardized tests. So involving the community in music instruction and taking musicians to play in unexpected community venues is going to be the path of music education in the future, Perez believes.
His successes in attracting students to join orchestras and in involving alumni, parents and community members in students' musical lives are examples for others to follow, noted Susan Helfter, who chairs USC Thornton's Music Teaching & Learning department and directs the school's Outreach Programs. "Richard continues to reinvent who he is as a teacher and musician to provide the best experiences for his students," she said. "This year, in particular, he has created the environment for his students to gel as a community and connect with others while demonstrating musical excellence."
Never miss a story
Subscribe to USC Thornton's e-newsletter
Subscribe