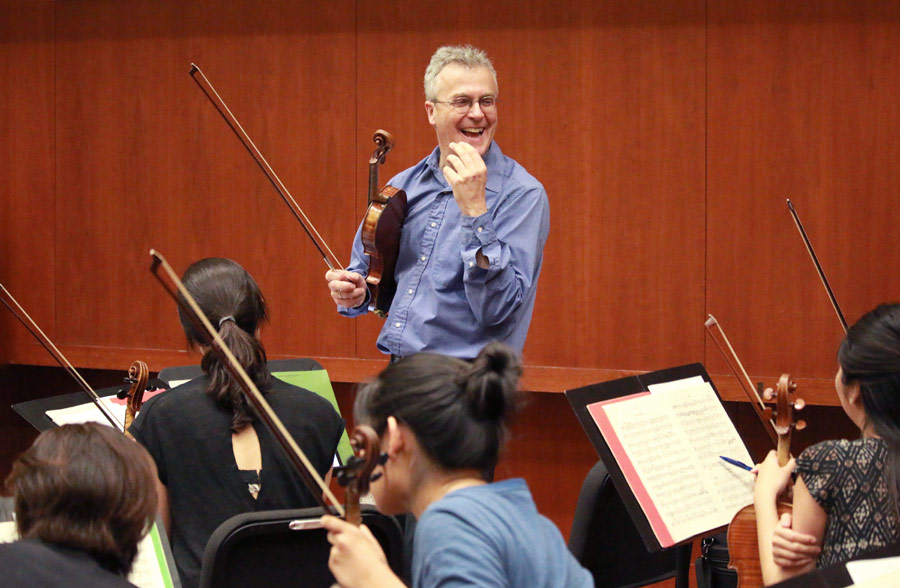 The maestro has left the building
"It's a bit like catching a good wind when you're sailing. You can be a great sailor, but if you don't use the wind to your advantage, you're not going to win the race."
– Martin Chalifour
In an era of beloved conductors and celebrity maestros, it's extraordinary to think about the phenomenon of conductor-less orchestras. So often, the conductor is the face of an orchestra. What happens when you remove them from the podium?
Over the last two years, the USC Thornton Orchestra program has presented a series of concerts focused on collaborative – and conductor-less – musicianship. On Thursday, April 9, Martin Chalifour, Thornton violin professor and concertmaster of the Los Angeles Philharmonic, will join the Thornton Chamber Orchestra in a performance of Tchaikovsky's Serenade for Strings in C major, leading from the concertmaster's chair.

"Tchaikovsky's
Serenade
is melodic and romantic and a lot of it is about the warmth of sound," said Chalifour. "You have to integrate the excitement of a piece like this. We'll try to use that excitement and energy to our advantage."
This isn't the first time that the Thornton Chamber Orchestra has taken this innovative approach. Last November, the ensemble performed Mozart's Symphony No. 40 without the guidance of a conductor and the group has previously been led from the concertmaster's chair by Thornton professor Margaret Batjer. In 2013, the orchestra partnered for a week-long residency and student-led performance with the Orpheus Chamber Orchestra, which was conceived as a uniquely democratic, musician-led ensemble.
The challenges of collaborative musicianship are not merely technical, but also social.
"All of a player's skills come in to play – interpersonal, intrapersonal, communication skills and more," said Sharon Lavery, resident conductor of the USC Thornton Orchestra program.
"One of the things about working with a conductor is that there's just one person making the artistic choices," noted Lavery, who is also Music Director of the Downey Symphony Orchestra. "In this process, it can risk feeling like there are too many cooks in the kitchen, but there are many rewards to the experience, as well."
"It's a bit like catching a good wind when you're sailing," said Chalifour. "You can be a great sailor, but if you don't use the wind to your advantage, you're not going to win the race."
While interpreting without the aid of a conductor is familiar to musicians who perform in small ensembles, engaging an entire orchestra in the process is a different story.
"The little things that we do to collaborate in a string quartet often have to be amplified for chamber orchestra," Chalifour said. "We must start thinking, occasionally, more like a metronome."
Chalifour notes that, without the steady hand of a conductor, the ensemble's shared physicality becomes a musical driving force. "Breathing together is critical – and feeling how the pulse moves from up to down, or left to right across the room."
"Ultimately, this will help teach the students how to lead," Chalifour continued. "Leading should not interfere with the way you sound. You must find a way to make things clear, without playing in a more angular way."
The past decade has seen an explosion of classical and contemporary orchestras founded on democratic leadership models. Among the most recent is the Los Angeles-based Kaleidoscope Chamber Orchestra, a conductor-less ensemble formed last year by a group of musicians that includes USC Thornton masters student Michael Kaufman (MM '12, cello).

The ensemble was launched through a $30,000 Kickstarter crowdfunding campaign, which speaks to a growing enthusiasm for innovation in musical performance.
Kaleidoscope, which features a rotating group of musicians who share principal and section positions, will conclude its inaugural season on May 1st and 3rd with the world premiere of a new work by the late Arnold Rosner and a conductor-less interpretation of Mahler's Symphony No. 4.
Looking ahead to the Thornton Chamber Orchestra's April 9 performance, Chalifour feels optimistic about his work with the ensemble.
"I think you'll find a more satisfying execution and slightly more individually sounding musical lines," he said. "It's about creating a particular sound, and finding a way for the performers to be as comfortable as possible."
Never miss a story
Subscribe to USC Thornton's e-newsletter
Subscribe