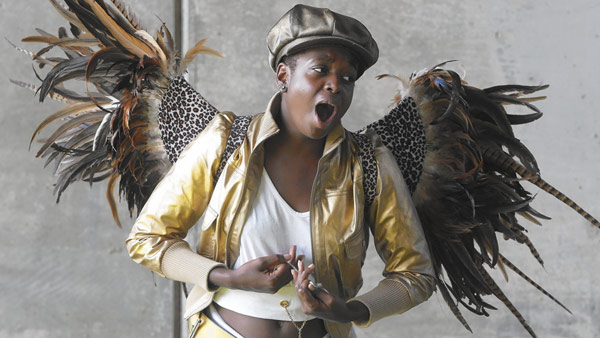 The World's First Mobile Opera Arrives at USC
A visitor to downtown Los Angeles last November might have caught some unusual sights – a winged angel dancing under an Arts District bridge – a pair of horn players heralding from the heights of a factory roof – or a woman singing her heart out to the L.A. River. Even stranger still, one might have noticed these curious scenes repeating themselves, to eager onlookers, every 10 minutes, for hours on end.
Hopscotch, the world's first mobile opera, took the city by storm last fall, leading audiences on a theatrical goose-chase across 25 downtown locations in 24 cars and limousines, encountering some 126 performers and musicians in a story created by 6 writers, 6 animators, and 6 composers. The New Yorker's Alex Ross called it "One of the more complicated operatic enterprises to have been attempted since Richard Wagner staged The Ring of the Nibelung in 1876."
Among the project's cutting-edge artistic team were more than 20 students, faculty, and alumni of the USC Thornton School of Music, including faculty composers Veronika Krausas and Andrew Norman. This Friday, they'll help bring the sprawling portrait of Los Angeles to the stage in a special concert of music from Hopscotch, presented by USC Visions & Voices: The Arts and Humanities Initiative. 
"'Hopscotch in Concert' celebrates our album release of the music of Hopscotch and offers audiences a chance to hear some of the great music live," said Yuval Sharon, artistic director of The Industry, the independent, artist-driven company behind the opera. "Audiences will also have an opportunity for an intimate talk with me and the other creators of the opera at the end of the concert."
Featuring live music by Krausas, Norman, Marc Lowenstein, Ellen Reid, David Rosenboom, and alumnus Andrew McIntosh (GCRT '12, early music), the event also marks the launch of a new, interactive website that allows visitors to experience each of the opera's 36 chapters as they wind through Chinatown, the Bradbury Building, Elysian Park, Boyle Heights, and beyond.
The concert will be preceded by a panel discussion, "What Does Hopscotch Sound Like?," featuring the opera's creative team and distinguished local arts journalists, hosted by the USC Annenberg School for Communication & Journalism.
USC's collaboration with The Industry is just one of many projects that signal a renaissance of new music in Los Angeles. "Hopscotch in Concert" comes on the heels of a USC Thornton Edge performance with wild Up and a series of exciting student commissions by the Kaleidoscope Chamber Orchestra. In March, the Polish Music Center welcomes the innovative gnarwhallaby ensemble for special program of avant-garde music.
Although Friday's Hopscotch event will explore the world's first mobile opera from the decidedly stationary perspective of Newman Recital Hall, the stories, sounds, and streets of Los Angeles will remain the stars of the show. 
"You get this wonderful sense of adventure," said Krausas. "It's rediscovering your city as a tourist … It's very magical in that way."
---
Hopscotch in Concert – Friday, January 20 at 7:30PM – Newman Recital Hall – RSVP Required
What Does Hopscotch Sound Like? – Panel Discussion – Friday, January 20 at 4PM – Wallis Annenberg Hall, Room L105A – RSVP Required
For a list of USC Thornton students, alumni, and faculty involved in the November 2016 production of Hopscotch, click here.
Never miss a story
Subscribe to USC Thornton's e-newsletter
Subscribe