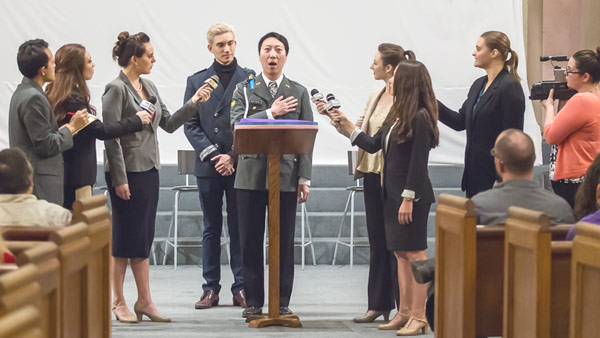 These Singers Do It All
For some Vocal Arts students, there is no such thing as too many performance opportunities. That's why, over a decade ago, a group of students created the Chamber Opera of USC.
"The Chamber Opera of USC is a student-run organization that provides performing opportunities to undergraduate singers and directing opportunities to graduate students by putting on two opera or musical theater productions every year," said Antona Yost, the club's co-president.
Yost, a senior Trustee Scholar and mezzo-soprano, has been involved in the Chamber Opera since her freshman year. For her, it was one of the main reasons she chose to come to USC. "This club is a great way to explore who you are as a performer in a safe and fun environment with your peers, and to get the opportunity to learn from a grad student who is at the place where you might want to be in the next step in your career. It's a great learning opportunity for both the undergraduate performers and the graduate student directors," she said.
Even though performance opportunities are numerous, the students don't just perform. They're involved in every aspect of production. Every show is student produced; the students build the sets, arrange the music, and find the props. In the four years she's been involved with the club, Yost has had many opportunities to perform and learn about production. "For me, working on the production side has increased my respect for what it takes to put on a show and has broadened my perspective on what I might want to do in the future, maybe arts management," she said.
Ken Cazan, chair of USC's Vocal Arts program and the Chamber Opera's faculty sponsor, agrees. "It gives the undergrad students a chance to branch out into genres they wouldn't necessarily get through their Vocal Arts major, and that's been really thrilling," he said. "I keep an eye from a distance, but I really let them do their own thing."
"I'm really proud of the students," Cazan added. "The club has grown so much in the 11 years it's existed. As the years have gone by, they've gone for more and more sophisticated projects, which is amazingly exciting to see."
The Chamber Opera most recently performed La liberazione di Ruggiero, a story about a soldier named Ruggiero who is kidnapped by a sorceress called Alcina and then rescued by a woman named Melissa. The 17th Century Italian opera, by Francesca Caccini, is considered to be a revolutionary work, because it was the first opera written by a woman and it centers on women in power.
"It's a wonderful piece about sexual politics," said Cazan. "It's very relevant to today."
Marylin Winkle, a doctoral student in Early Music, directed the production. "I've been really passionate about women and gender studies in early music," said Winkle. "We have two female leads, and each of them is a different representation of a woman in power. We see two images of the virtues and dangers of women in positions of great power, and audiences are forced to confront what it is that men fear about women in power."
Winkle's role as director has aided her in her doctoral studies. "Directing is a lot like teaching. I've improved the ways that I execute criticism," she said.
To emphasize the contemporary relevance of the piece, Winkle moved the setting of the opera from an enchanted island to a modern political campaign office. However, she kept the opera's music firmly rooted in its historical context with authentic Baroque instruments, pitch, and ornamentation.
"I asked them to perform according to historical performance practice, which is something that many, if not most, of our singers haven't done before," said Winkle. "But I am very lucky, because at USC we have undergraduate singers who are remarkably talented. They just volunteered for the project and have been completely open minded about it."
"What this organization does so well is it gives young artists who are at the beginning of their development an opportunity to grow as performers," said Cazan. "That way, when they're ready for graduate school, or when they're ready to audition for musicals, they will have had every opportunity to get on their feet and make it happen. And it also makes them great ensemble players, great team players, and that's vital in our business."
Never miss a story
Subscribe to USC Thornton's e-newsletter
Subscribe