This Is Our Time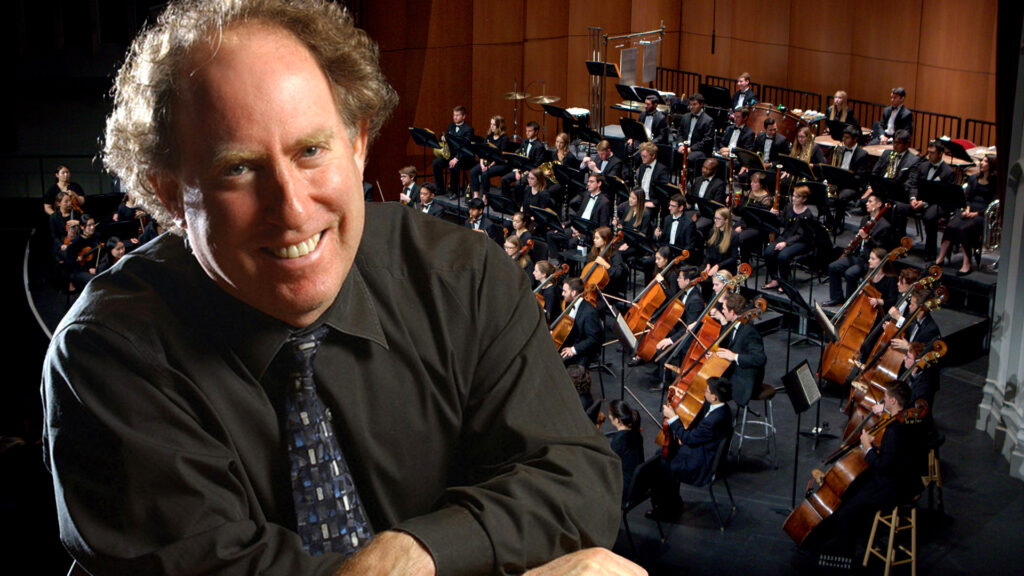 The USC Thornton Chamber Orchestra takes the stage at Bovard Auditorium with Jeffrey Kahane behind the piano for a fall concert.
---
Back in 2019, the USC Thornton Chamber Orchestra was in the midst of preparing Maurice Ravel's Piano Concerto in G major for its next concert. The musicians in the ensemble were excited and ready to tackle such a difficult piece, but unfortunately, they never got to finish it due to the pandemic — until now. The USC Thornton Chamber Orchestra will finally get to perform the Ravel concerto for an audience on November 12 at Bovard Auditorium.
"When they announced that we were going to do the same program, I think I cried. We were on Zoom when we saw the announcement, and I was like, 'This is our time. We can do it again. It's not the end; it's the beginning,'" said oboe performance graduate student Sara Petty.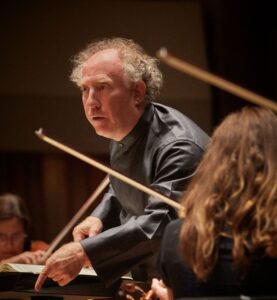 This performance will also mark the first time that USC Thornton Professor of Keyboard Studies Jeffrey Kahane is leading the orchestra. Kahane is celebrated for his 20-year run as the music director of the Los Angeles Chamber Orchestra (LACO), as well as the unique way that he often conducts orchestras from the piano. He officially stepped down from his position with LACO in May 2017 after becoming a full-time professor at USC Thornton in 2016.
"This is something that I've done for most of my career — conducting from the piano. Normally, [for the Ravel piece,] one would be playing the piano, and someone else would be doing the conducting. So, I'm seated, which means that I can only use my hands at certain points in the piece," said Kahane. "Most of the time, what we have to do is rehearse the music with me conducting with my hands first without playing, and after we do that a few times, I will sit down and play. At that point, it's a combination of using the motions of my head, my eyes [and] body language, but the players also take a much more active role in keeping the ensemble together."
Learning a piece such as Ravel's is already difficult in itself, so having Kahane lead the orchestra from the piano has been an impactful learning experience for all of the students in the ensemble.
"It definitely makes our jobs a lot more independent. We have to be a little more aware of all of our parts and confident with all of our entrances," said Anne Ranzani, a bassoonist and graduate student who earned both her bachelor's and master's degrees at USC Thornton. "I've been surprised at how intuitive it's been. Some of it has been very easy to put together without a conductor, and there are other parts that need assistance for sure."
"[It's] mildly terrifying and mildly comforting," Petty said."[Professor Kahane is] doing a really good job of helping us along with head nods. As an ensemble, we're communicating a lot together through gestures and eye contact."
One of the other prominent pieces that the orchestra will be performing is "Strum" by acclaimed composer Jessie Montgomery.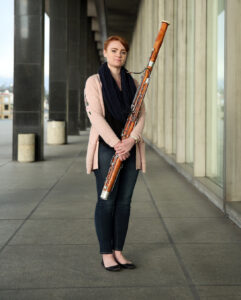 "I'm very excited that we're doing this piece by Jessie Montgomery. She is a very gifted young composer [who has] become one of the most prominent young voices," said Kahane. "The piece that we're doing called 'Strum,' which is a piece for string orchestra, is also quite challenging from a rhythmic point of view and very different in style. The language is very much influenced by American folk music."
Although the journey back to live performances has been rocky, all of the students in the orchestra are excited to be able to play together again in front of an in-person audience.
"I hope that [the audience] feels as excited and emotional about it as we do. The future of live music was so scary for a long period of time. No one knew when it was going to come back or how it was going to come back. Now that it's finding its way back, I hope that everyone is just so grateful," said Ranzani.
Never miss a story
Subscribe to USC Thornton's e-newsletter
Subscribe