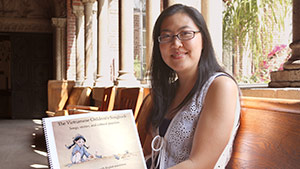 Tina Huynh connects to her past with children's songs
In the VIDEO above, Tina Huynh reflects on the influence of music in her Vietnamese-American heritage.
Tina Huynh is a Vietnamese-American who, like many children of immigrants, grew up with the emphasis on American. In the last three years of her DMA studies at USC Thornton, she is putting the emphasis back on the Vietnamese.
In June, she will complete The Vietnamese Children's Songbook, an illustrated children's book (with an accompanying album) of traditional Vietnamese children's songs, a love letter to her family's cultural homeland. Huynh, who earned a masters degree at Thornton in 2014 and is a current DMA candidate in the Music Teaching & Learning program, has turned to children's songs as a reflection of Vietnamese-Americans' bridge into their language and culture while raising their children so far away.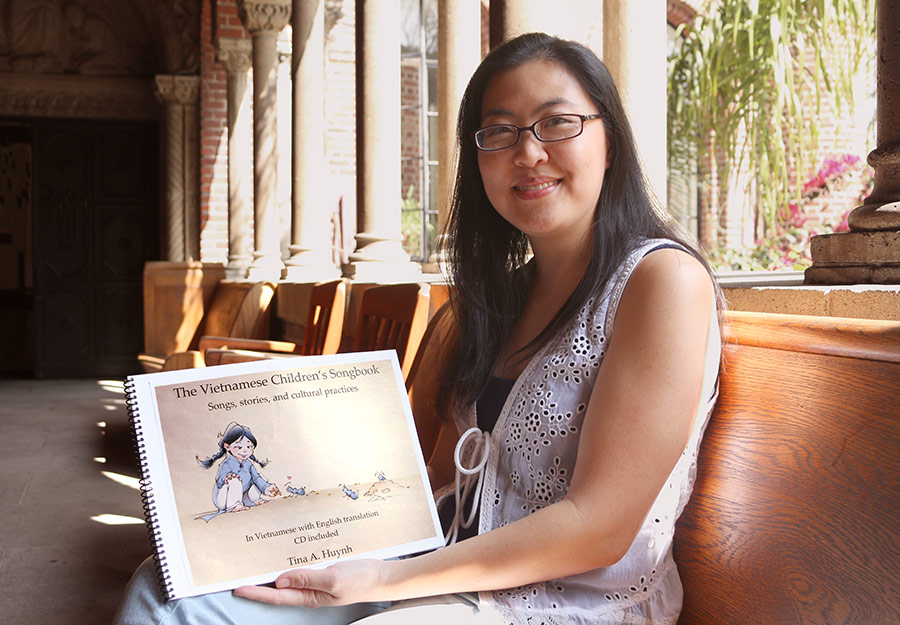 It's a bridge she seeks herself, and a method she has discovered in teaching music in elementary schools and introducing children to the wonders of playing instruments. "I realized I didn't remember these songs," she said. "I had completely forgotten them. You're five or six and you just don't think about it. And then I'm thirty, and I can't believe I don't remember these parts of my childhood."
As part of her Master's project, Huynh interviewed more than twenty Vietnamese-American families in the Vietnamese community in Orange County to learn if they recalled songs from the childhoods. In doing so, she realized she had been missing a piece of her culture. While she speaks Vietnamese, she discovered a yearning to connect more deeply into her roots—in a country she has never seen.
" It's remembering where you came from … Being grateful for that and being thankful for that, it's important."
When Huynh joined USC Thornton's Music Teaching & Learning department, she began asking questions about her own upbringing.
"As an adult, I realized the morals and ethics I've been brought up with, the religious practices, the cultural practices—attending festivals—that a lot of my friends weren't really informed about something that was part of my life," she said. "I realized as an adult that I really should look into what it's all about, what it means to be Vietnamese."
USC Thornton was the right place for her to do this. Her first professor, Beatriz Ilari, has a natural interest in culture and right away asked Huynh: "Where are you from?" This, said Huynh, "bloomed into my master's thesis and became a new passion—to appreciate where you come from and what your parents have given you; what came before you, and what it took in history for me to get here now."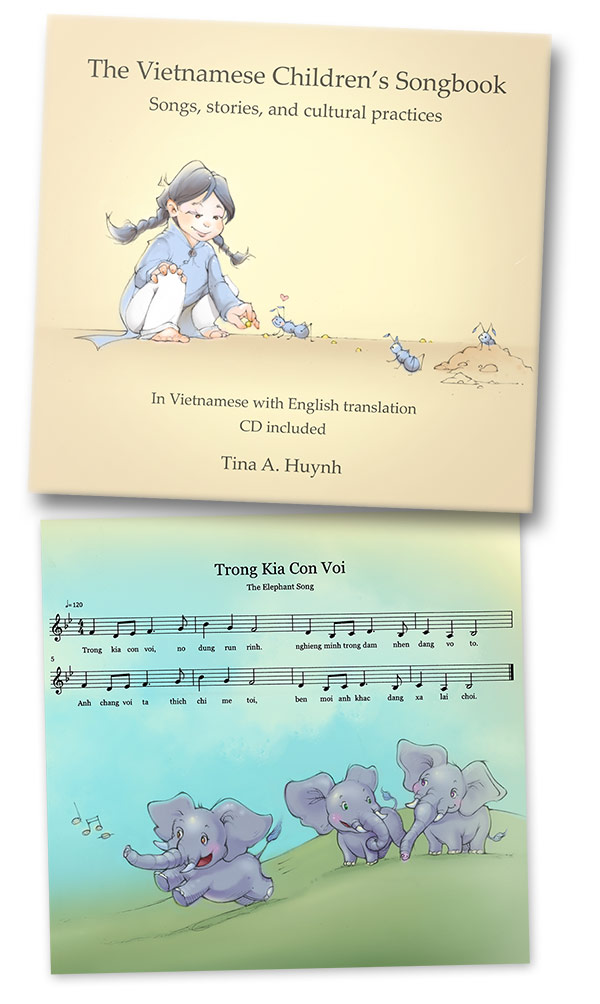 Growing up in Santa Ana, she considered herself mostly American, but she found herself often considered a spokesperson for the Vietnamese community—despite being a generation removed.
"Some of the kids I grew up with rejected their Vietnamese culture, and their parents did too," Huynh said. "They wanted them to totally assimilate. And other people I knew kept that culture, wanted to hold onto it."
But the bridge into one's culture is magic, especially for children. What Huynh hopes to build with her book is that simple wonder of connecting childhood into history. At a young age, children can have a sense of the broader culture and community they belong to as they develop their understanding of their place in the world. Music is a universal language that can pose the most fundamental bridge into ideas, cultures and languages.
She has collected Vietnamese children's and folk songs from throughout the Southern California community, and has brought them to life through her studies at USC Thornton. With illustrations by a family friend, her book reflects her love for her culture and music. She believes it will open up history for the Vietnamese community as new generations seek to find themselves through connection to their roots.
"It's remembering where you came from," Huynh said. "Being grateful for that and being thankful for that, it's important. How much more meaning would your life have if you knew where you came from, if you knew the history of your people and the songs of your people? I think there's an internal sort of ineffable quality of life to be able to know who you are and where you came from."
Never miss a story
Subscribe to USC Thornton's e-newsletter
Subscribe