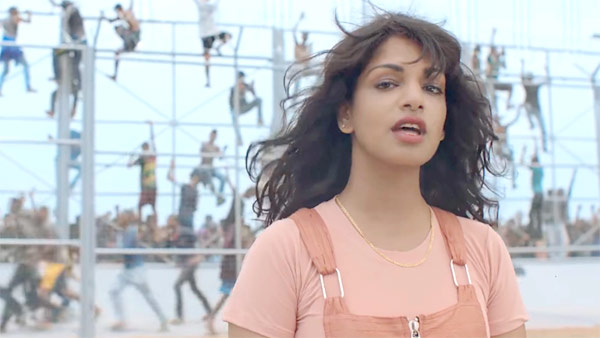 The Multifaceted Task of Transforming Music Teacher Education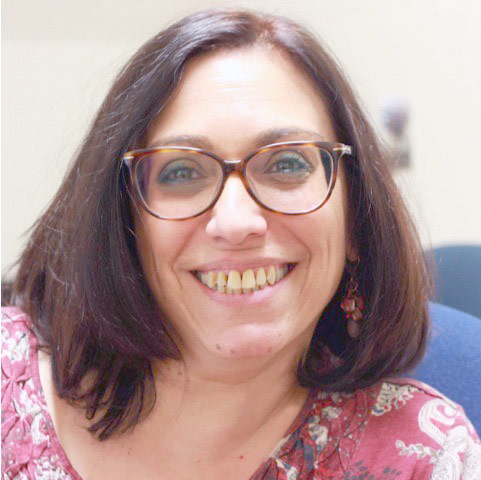 Faculty member Judy Lewis.
Few folks in the field of music education would deny that our profession is undergoing a crisis of creative conscience (though they might not use such dramatic terms!), one whose tremors have been felt for a while.
Over the last decade or two, the traditional canon has incorporated popular genres. Music educators are becoming familiar with the affordances of new technologies and using them in their classrooms. Some are encouraging their students to write their own music. As many in all of education make calls for a greater focus on inclusion, diversity, and student voice, so too do leaders in music teaching and learning for both college-level instruction and K-12 music education.
Yet, I fear that many are left playing catch-up, not only with this general call-to-action but with our students themselves. And that brings me to the thesis of this post: that in order to transform music teacher education to address diversity, inclusion, and student voice, music educators, must use three critical entry points: What we teach, How we teach, and Who is a teacher.
Previously, in "Transforming the Landscape of Teacher Education in Music," Peter Webster beautifully addressed the first question of this three-pronged approach. I'd like to focus on the other two.
How We Teach Music
At the center of most music teacher education programs today are the "Methods" courses — the how-to courses for teaching general music, choir, band and orchestra. Here students learn about and experience the various ways that music education scholarship over the years has framed the teaching of music to children in K-12. What students come away with (or their professors hope they come away with) are the tools to implement sequential music learning and topic-specific lessons using these methods in a K-12 setting. For close to a century these methods have served as the core of what music teachers do in schools.
However, if we recall our call-to-action for diversity, inclusion, and student voice, we immediately recognize that these methods have and continue to position the teacher as the "master" of musical knowledge tasked with building on what students don't know. Beyond the pressure this paradigm puts on the teacher — to continually be one step ahead of their students (a task which is near impossible in our rapidly changing musical landscape) — there is another pitfall. That is, students today enter our classrooms with more musical knowledge than ever before, often knowledge and skills that we, as their teachers, don't have. Let's look at a hypothetical example:
My middle school students have shared with me a piece of music they're very excited about: "Borders" by the artist M.I.A. They say that they listen to it constantly. I ask myself, what does it mean that they listen to it? This is part of what I discover: They can sing the song complete with all lyrics; they can reproduce the beat (because they know how to create their own); they can connect it musically to other Hip Hop songs they know; they can discuss the storyline of the lyrics and the storyline of the music video and how they interrelate; they are familiar with the current political issue of refugees that the song speaks to and have their own opinions about both the topic and about how M.I.A. addresses it through music; they have even done a bit of research about the artist, discovered that she is a Sri Lankan refugee, and are constructing a beginning awareness of the multicultural aspects of M.I.A.'s song.
If I choose to incorporate this song as part of our music learning (which most music educators likely will not) what will that learning look like? The students, through their own engagements, have suggested the "method" (or perhaps, anti-method): An interdisciplinary, multimodal and holistic approach to this song in relation to their own musical and social landscape; a journey with multiple entry points and fluid connections.
Sequential, top-down music methods will fall short by a mile.
This is all to say that in answering the question of how we teach music in today's rich and diverse cultural landscape we would do well to look at the music classroom more as a lab than a lesson; to envision it as a place where students build on what they know and teachers and students become co-explorers in musical adventures. The music educator's role then moves beyond method and into the fluid realm of aiding their students in this holistic music-life synthesis using their knowledge, integrity and humility just as their students will aid them in doing the same.
That is not to say that traditional methods don't have rich learning to impart to us as educators. But, as with all other aspects of music teaching and learning in the current conscience-searching milieu in our field, we must seek out those new and unique pathways of engagement that, as Peter Webster put it "celebrate the musical world[s] students inhabit in 2017."
Who is a Music Teacher
When I reflect on the scenario presented above I find myself asking the question, how do we create a music teacher education landscape that might embrace these types of engagements? The answer, it seems to me, is by creating an inclusionary and diverse cohort of students in our programs.
This, then, is the conundrum: Current music teacher education programs and teaching careers, based primarily on traditional methods and classical canonic repertoire, are not attracting popular musicians, non-classical composers, music producers (among others).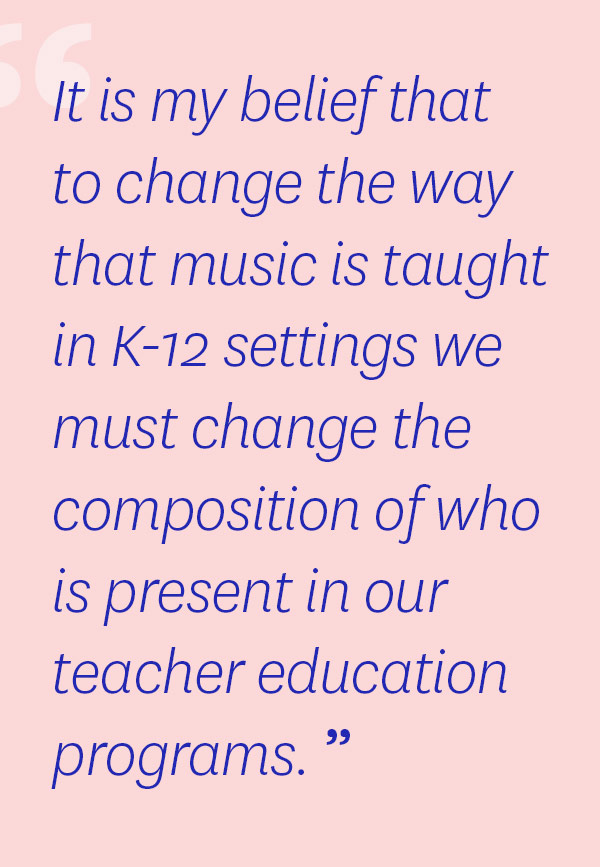 Even more, the entry requirements for the majority of programs exclude these highly trained and creative musicians by judging candidacy on traditional visions of musical expertise.
It is my belief that to change the way that music is taught in K-12 settings we must change the composition of who is present in our teacher education programs. Like the K-12 classroom, we must begin to look at the music teacher education program as a lab not a lesson; a place where a multiplicity of voices is heard, especially those voices that stand outside of a traditional music education paradigm, those that can help lead us in new and innovative directions.
There is a symbiotic relationship between what we do in music teacher education and what ends up happening in K-12 music programs. Our discipline's current crisis of creative consciousness is fueled by the fact that a majority of students in K-12 do not see themselves reflected in what we, as their teachers, are offering. Similarly, musicians outside of the traditional classical-music paradigm don't see themselves reflected in the majority of music teacher education programs.
We, at USC Thornton, have as a goal to transform this current state of affairs by inviting musicians of all walks and styles, all modes and makings, to be part of the conversation and what we hope will be a transformation not only of music teacher education but, by extension, music teaching and learning in all school music settings.
About the Music Teaching & Learning program
USC Thornton's Department of Music Teaching and Learning is designed for educators, performers, composers and songwriters of a variety of music with strong undergraduate degrees in music who want to gain teaching certification in California and other states.
Graduates of the program will appeal to school programs that wish to have quality band, orchestra, choral, and classroom teaching that addresses issues of diversity and inclusion for a majority of students and that offers opportunities that encourage a student-centered approach that supports creative music making, listening, and reflection.
The program is especially well suited for those interested in urban teaching and features extensive field experiences in area schools. Financial aid is available for this degree.
Never miss a story
Subscribe to USC Thornton's e-newsletter
Subscribe