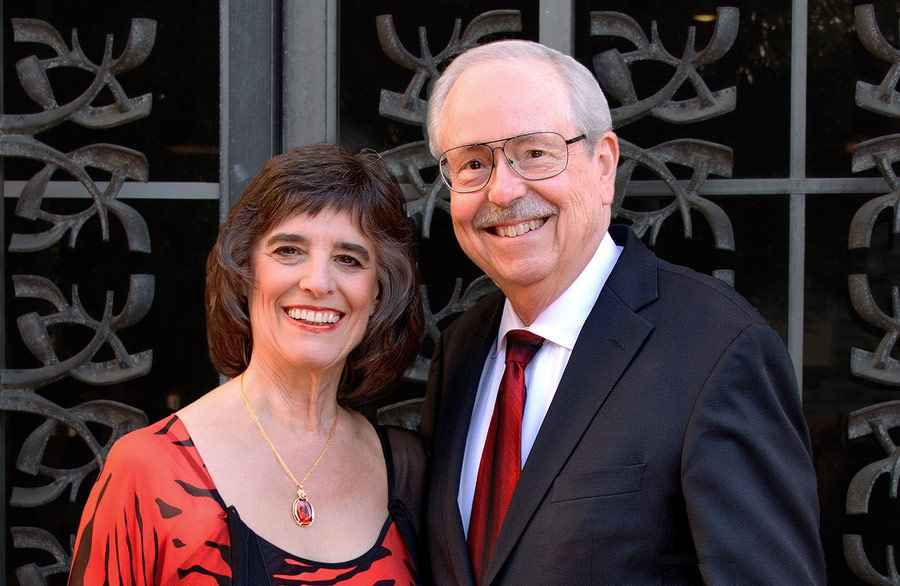 Two lifetimes of music
"This award, I'm told, is for a lifetime achievement. But you know what? It's not over! This is like an intermission."
– Cherry Rhodes
They say two heads are better than one. Well, Cherry Rhodes and Ladd Thomas say four hands (and four feet) are better than two. These acclaimed organists and USC Thornton School of Music professors will be performing a rare organ duet of The Sorcerer's Apprentice at a recital on Friday, April 17, at the First United Methodist Church of Glendale, Calif., when they will be honored by the American Guild of Organists with the 2015 AGO Endowment Fund Distinguished Artist Award.
Rhodes, adjunct professor of organ, and Thomas, emeritus professor of organ and chair of the Organ Studies department, have been on the USC faculty for 40 and 48 years, respectively. They've also been married for 37 years. Now they are sharing an honor from the AGO, a national organization 17,000 members strong.
"We worked in tandem for so many years, and now it's just a delight to share this award — and very humbling," said Rhodes. "I've admired my husband's artistry for years, and it's a real thrill to have been chosen together."
"For me, Cherry is one of the greatest living organists anywhere in the world," added Thomas. "She is spectacular. To be honored at the same time that she is is just unbelievable."
At the recital, Thomas will perform Mendelssohn's Sonata No. 1 in F Minor, and Rhodes will follow with Moussorgsky's Pictures at an Exhibition, transcribed by Jean Guillou. They will share the bench for The Sorcerer's Apprentice by Paul Dukas, arranged by the late composer Rayner Brown, a two-time USC graduate whose archive is at USC.
"This is concert drama at its best," said Rhodes. "
The Sorcerer's Apprentice
was written exclusively for us by Rayner Brown. It's a brilliant transcription, and we are dive-bombing for our keyboards. It's an amazing thing to watch as well as to hear."
Rhodes said the organ is an exciting instrument all around. "The organ has a lot of color, a lot of different sounds," she explained. "The organist is like a painter with a palette, squeezing out the tubes of paint and taking some of this color and some of that color and mixing colors. We are mixing hundreds of sounds."
The AGO Endowment Fund Distinguished Artist Award honors a lifetime of achievement, and by all counts Rhodes and Thomas have lived two full musical lifetimes. The first American to win an international organ competition, Rhodes was also one of the first to perform on the pipe organ at Walt Disney Concert Hall, premiering Concierto de Los Angeles by James Hopkins, professor emeritus at USC Thornton, with members of the Los Angeles Philharmonic. She also fondly recalls a dream come true playing in Russia, where the audience treated her like a rock star.
Thomas counts performing the Poulenc Organ Concerto with the LA Phil at the Hollywood Bowl amongst his career highlights, and his performances in film scores, including several by John Williams, can be heard on many soundtracks. Thomas also considers it an honor to have been asked by renowned organist, Virgil Fox, to fill in for him when he was suffering from cancer at the end of his life.
In their varied and successful international careers, the couple still consider teaching at USC one of the most rewarding opportunities, taking inspiration from their undergraduate, master's and doctoral students.
"We have brilliant students, and they seem to be getting more brilliant every year," said Rhodes. "We have such an international roster of students, and they bring so much to the Organ Studies department. We inspire each other in many ways."
Each year the AGO presents a distinguished artist award where the recipient presents a recital followed by a gala benefit to raise money for the AGO Endowment Fund, which supports the education of young organists. Rhodes and Thomas both started piano when they were 4 and organ when they were 11.
"But he has more experience than I because we were born in different years," said Rhodes. "You'll always have one up on me."
"I do have a little chronological advancement," replied Thomas, who is completing 55 years as organist of the First United Methodist Church of Glendale, CA.
"This award, I'm told, is for a lifetime achievement," said Rhodes. "But you know what? It's not over! This is like an intermission."
General admission to the recital is $20. Gala tickets are $150.
Visit https://www.agohq.org.
Never miss a story
Subscribe to USC Thornton's e-newsletter
Subscribe