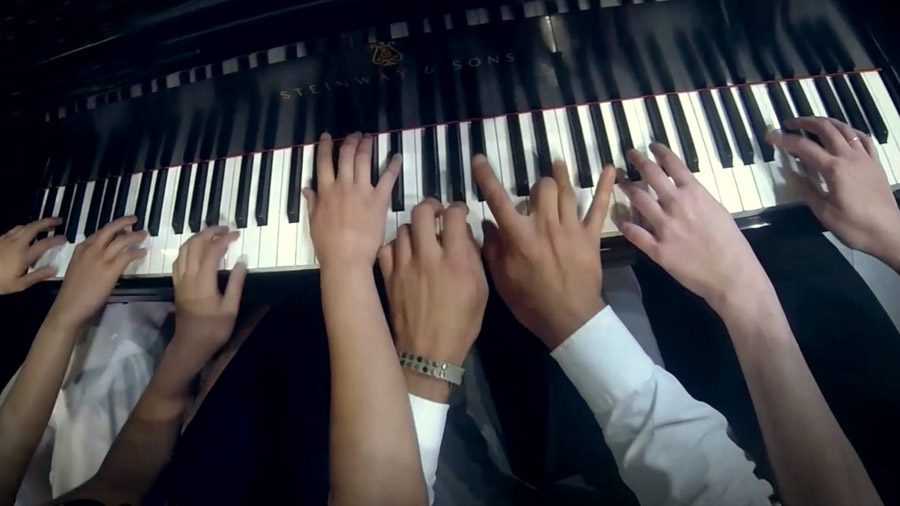 USC Thornton student Jacopo Giacopuzzi merges two passions — music and film
"Snapchat, Amazon, new channels, new platforms. I'm interested in it all."

– Jacopo Giacopuzzi
By Allison Engel & Jenevieve Ting
It's hard to believe pianist Jacopo Giacopuzzi has been at USC a mere eight months.
Sitting outside Ramo Hall, the master's student from Verona, Italy, is greeted warmly by literally every USC Thornton School of Music student who walks by. 
He encounters much the same reaction at the USC School of Cinematic Arts, where he has become friends with a number of filmmakers.
For several years, Giacopuzzi has been mixing two of his passions — classical music and film. First, there was the cinematic love letter he filmed to Verona, featuring a friend walking city streets to his performance of Nikolai Kapustin's Etude No. 2, Op. 40.

He later performed throughout Italy in the Dante Experience, a multimedia presentation of actors reading Dante's words from
The Divine Comedy
, pianists playing Liszt and video projections of the illustrations of Gustave Doré.
And then there was a GoPro film.



A head's up performance


Last July, he convinced the organizers of Pianofest, a summer music festival in the Hamptons, to let him wear a GoPro camera on his head during a one-piano, eight-hands performance. He shared a piano with three other pianists and filmed eight frenetic hands playing Albert Lavignac's "Galop Marche." The 4½-minute performance is both comic and assured.
The 26-year-old, who has been playing piano for two decades, bought a GoPro, as most do, to film himself doing athletic activity: surfing, snowboarding, skateboarding. But for someone who admits to always thinking about how he can match music performances with video, the lure of the GoPro fixed on a keyboard proved irresistible.

It also proved to be a good career move. He's been hired by Pianofest's director for two months this summer as a photographer, videographer and pianist.
That sort of resourcefulness has marked Giacopuzzi's time in California.
He first arrived in Santa Barbara to attend the summer Music Academy of the West in 2013. Having sold his car in Italy to finance the trip, he was adopted by a family who lent him a vehicle. He filmed and streamed classes at Santa Barbara's Mission Jazz workshops and applied to USC Thornton's internationally renowned Keyboard Studies program.
Even though he had two master's degrees in Italy, he wanted to study at USC Thornton for its excellent instructors (he is a student of professor Kevin Fitz-Gerald) and the collaborative possibilities with the other arts schools on campus.
"I love the environment," he said. "I'm trying my best to get connections everywhere. Just today, I attended a conference on new media at Cinematic Arts. Snapchat, Amazon, new channels, new platforms. I'm interested in it all."



Brainstorming ideas


He meets regularly with students in other arts programs on campus, brainstorming new ideas and projects. He's teaching himself French, is interested in learning more about personal finance and is in the midst of a USC grant competition for a live music and live projections project. He's an active blogger and longs to have more time to create music videos for particular pieces of classical music.

As for his music studies, he can already point to successes. This fall, he took first in the 21-to-35-year-old division of the Los Angeles International Liszt Competition and was given the American Liszt Society Award.
He had his first master's recital at Newman Hall on March 5 and has lined up a performance in June at the Italian Cultural Institute of Los Angeles, which he discovered has a beautiful concert hall. And he's headed back to Italy for spring break to perform a series of concerts and see family and friends.
Never miss a story
Subscribe to USC Thornton's e-newsletter
Subscribe