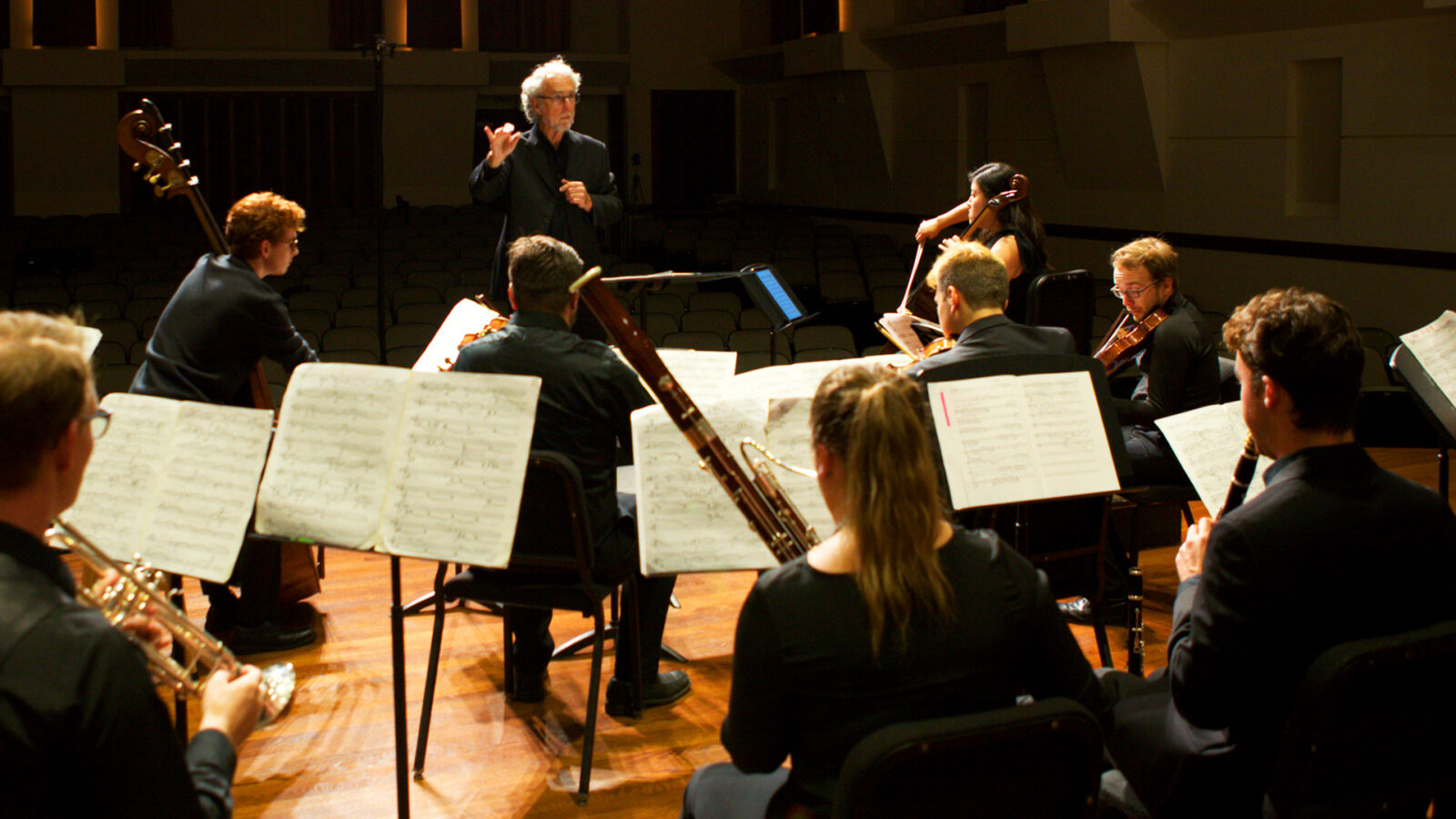 USC Thornton swings into spring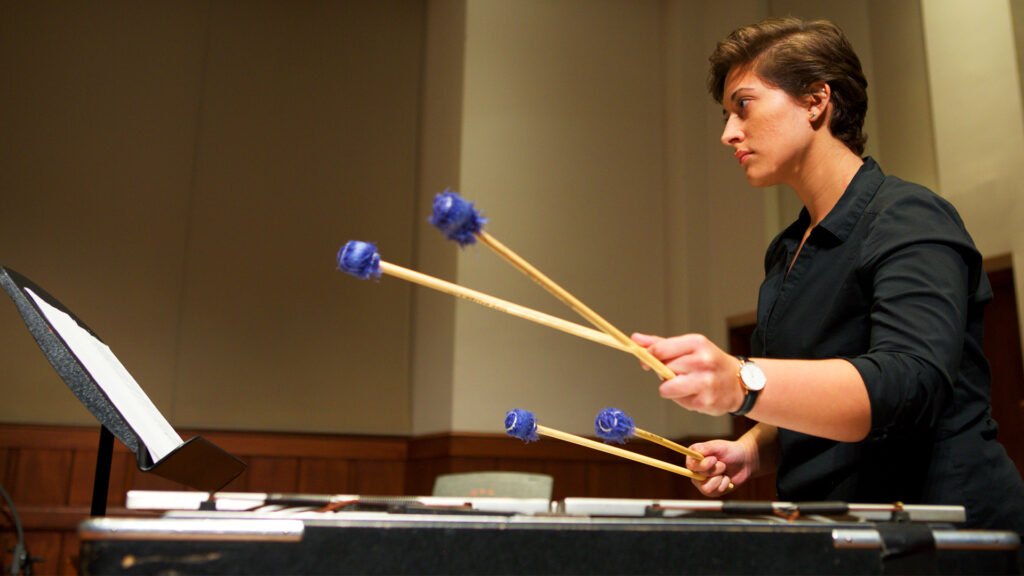 USC Thornton ushers in the spring semester with a variety of events and performances that are open to in-person, limited capacity audiences.
---
As the 2022 spring semester gets underway, USC Thornton students are preparing for a return to live performances, and the school is proud to announce that all departmental and ensemble events are open to in-person, limited capacity audiences. After months of closed venues, Los Angeles County and university event regulations have made it possible for Thornton to open its doors again.
The schedule for February can be found here. The full semester of events at Thornton will be announced later this month.
This semester's calendar of live performances marks a shift from the streaming-based approach adopted in the fall 2021 semester while venues remained closed. In order to make live, limited capacity audiences possible, Thornton has launched a new set of box office and event management services that provide audience reservations and compliance protocols with all current COVID-19-affiliated regulations. All in-person events require an RSVP and adherence to our attendance guidelines, which can be found here.
A Highlight of Events in February
This month's events feature a wealth of ensembles from across Thornton, as well as a wide variety of genres.
Throughout February, the jazz studies department will host a series of Jazz Nights at the Carson Center (Feb. 7 and 14 at 7 p.m.) and the Zaro Family's Songwriter Theater (Feb. 11 and 25 at 5 p.m.) Each evening, students will perform a blend of standards and original compositions led by various faculty members.
USC Thornton Winds will be led by guest conductor Gregory X. Whitmore in selections including "Vienna Philharmonic Fanfare" by Richard Strauss at Bovard Auditorium on Feb. 11 at 7:30 p.m. A couple weeks later, on Feb. 25 at 7:30 p.m., the USC Thornton Symphony will also take the stage at Bovard to perform works like Tchaikovsky's Symphony No. 6 in B Minor "Pathétique" and Witold Lutoslawski's Cello Concerto with the artistic leader and principal conductor of the USC Thornton orchestras, Carl St.Clair, at the helm.
On Feb. 18 at 7 p.m., USC Thornton Opera will present a series of opera scenes at Newman Recital Hall.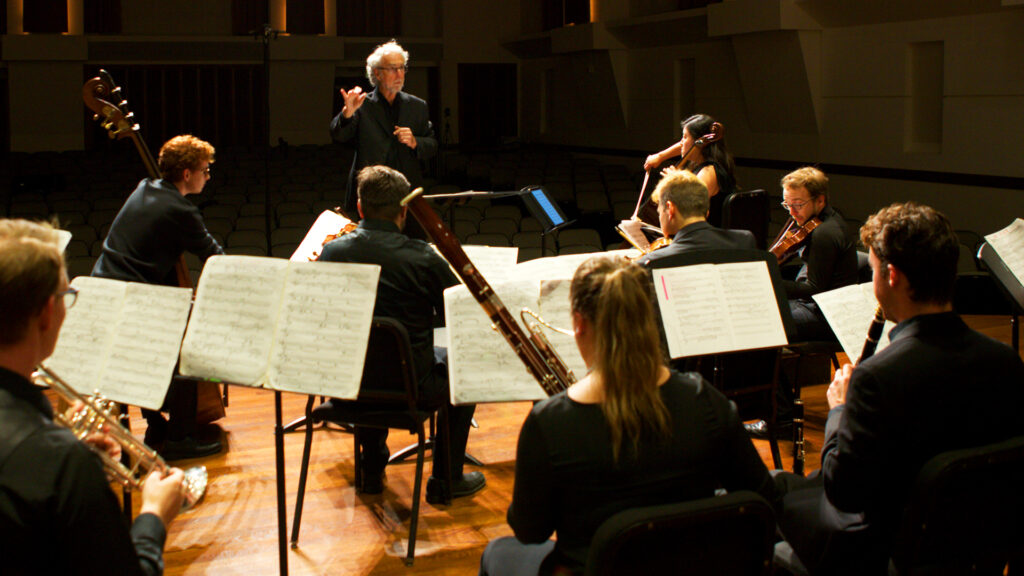 To close out the month, USC Thornton Composition Program Chair Donald Crockett will lead the Thornton Edge ensemble in a performance at Newman Recital Hall on Feb. 28 at 7:30 p.m. Thornton Edge is a contemporary music ensemble that was founded in 1976 by Robert Wojciak and has been under Crockett's direction since 1984.
"I have been conducting this ensemble for many years, and it's one of my favorite things to do at USC. I get to present new and recent music with these wonderful musicians, and I also get to help them gain experience in this repertoire, which they also deal with in their professional careers," said Crockett.
Each school year, the ensemble has four concerts in which they perform a collection of pieces written by composers over the last 25 years. Sometimes, these compositions are brand new, which presents a unique challenge for the students.
"I love experiencing new music, and there's always such a variety of pieces that we encounter. There are all sorts of different influences for these pieces that we play, so you get to hear them as you're learning it," said Christina Gasparich, a master's student in the piano performance program who serves as a teaching assistant for the Edge ensemble. "Getting to discover these influences as you play, and then as the other ensemble members start to come in, seeing how it all fits together is a great process."
Before performing the Los Angeles premiere of Carlos Simon's piece "Graffiti," which was co-commissioned by USC Thornton, Oberlin College and Conservatory and the Arizona State University Symphony Orchestra, Edge student-players will have the opportunity to work directly with the composer. "Graffiti" seeks to highlight the vibrancy of city landscapes, specifically the many techniques that graffiti artists use in their work. It's inspired by graffiti artists around the world whose self-expression allows audiences to redefine and reexamine art.
"This score is very energetic, colorful and kind of vivacious – in your face. Things that graffiti can be, too," said Crockett.
The other two works featured in the Feb. 28 Thornton Edge program are "Van Gogh Blue" by Julian Anderson and "Beyond Words" by USC Thornton Distinguished Professor Emeritus Stephen Hartke.

---
View a full list of February's live events here. Stay tuned for an announcement about March and April's live events at Thornton.
---
Learn more about our ensembles
The USC Thornton Symphony is one of the premier ensembles of the USC Thornton School of Music.
The flagship ensemble of the jazz studies program, the USC Thornton Jazz Orchestra (TJO) concentrates on the style of the classic big bands.
Never miss a story
Subscribe to USC Thornton's e-newsletter
Subscribe