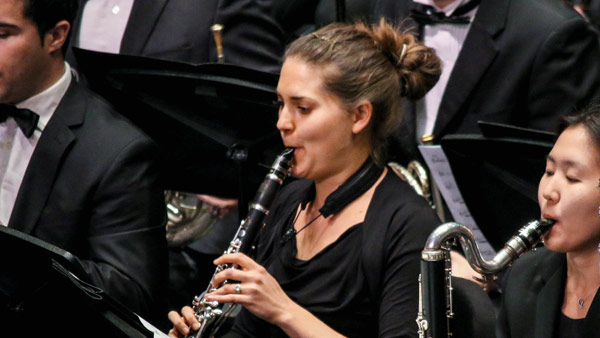 USC Thornton Wind Ensemble Presents A Night Of Firsts
On Friday, October 27th, H. Robert Reynolds and Sharon Lavery lead the USC Thornton Wind Ensemble in two new works by Thornton faculty member Frank Ticheli and retired faculty Boyde Hood. The concert, titled "A Night of Firsts" features Hood's fanfare, Autunno Toscana, and Ticheli's Silver Lining: Concerto for Flute and Wind Ensemble featuring fellow faculty member Jim Walker on flute. Ticheli will also be guest conducting for his concerto.
Ticheli, whose orchestral works have received considerable recognition, describes the first movement of the concerto as inspired by his teenage son's love of video games. The concerto's form progresses in a way that mimics the progression of a video game – he adds pitch, then chords and sprinkles in transitional episodes. He says, "The rapid interaction between the soloist and the ensemble suggests a competition, a fun game, with no clear winner in the end."
He cites the inspiration for the second movement as a tribute to the memory of Lara Barnett, the late wife of the main commissioner of the concerto, Peter Warshaw. "The movement is largely built around a melodic setting of American poet, Sara Teasdale's poem, A Little While." It features Jim Walker, a celebrated flutist and colleague on Thornton's esteemed faculty.

The final movement, Ticheli says, "serves as a bright and joyous contrast to the second movement. It moves alternately between ebullient dancelike energy and carefree lyricism." The dynamic between the soloist and the ensemble develops here further, as they take turns sharing the spotlight.
Ticheli and Walker presented the premiere of the concerto at the National Flute Association Convention in Minneapolis on Aug. 11 with the Medalist Concert Band.
Hood's fanfare is one of five in a series entitled "Fanfares for the Seasons." It is set in late eighteenth century Tuscany during the harvest season, and, Boyde says, "opens with flourishes from the trumpets leading to an expressive hymn in the solo horn to the Harvest Moon."
Also featured will be Jean Francaix's Sept Danses, Eugene Zador's Suite for Brass, and Stanislaw Skrowaczewski's Music for Winds.
The event will take place at 7:30 pm at Bovard Auditorium. Admission is free.
Never miss a story
Subscribe to USC Thornton's e-newsletter
Subscribe