Remembering Victor McElhaney
Jazz Studies student Victor McElhaney left a deep and lasting impression on every community he touched, from USC to his hometown of Oakland.
In his tragically brief life, Victor McElhaney left a deep and lasting impression in every community he touched, from the USC Thornton School of Music to the Bay Area where he was raised. Following his death on Sunday, March 10, expressions of sorrow and condolences ranged from his USC classmates and faculty to musicians far and wide.
McElhaney was drumming before he could walk or talk, as his family often said. He transferred to USC Thornton in Fall 2017, choosing the university with an eye towards following the great jazz artists trained at USC, and to utilize the power of music as a tool for social activism. As many of his family members and instructors have noted, McElhaney believed that music "could change the world."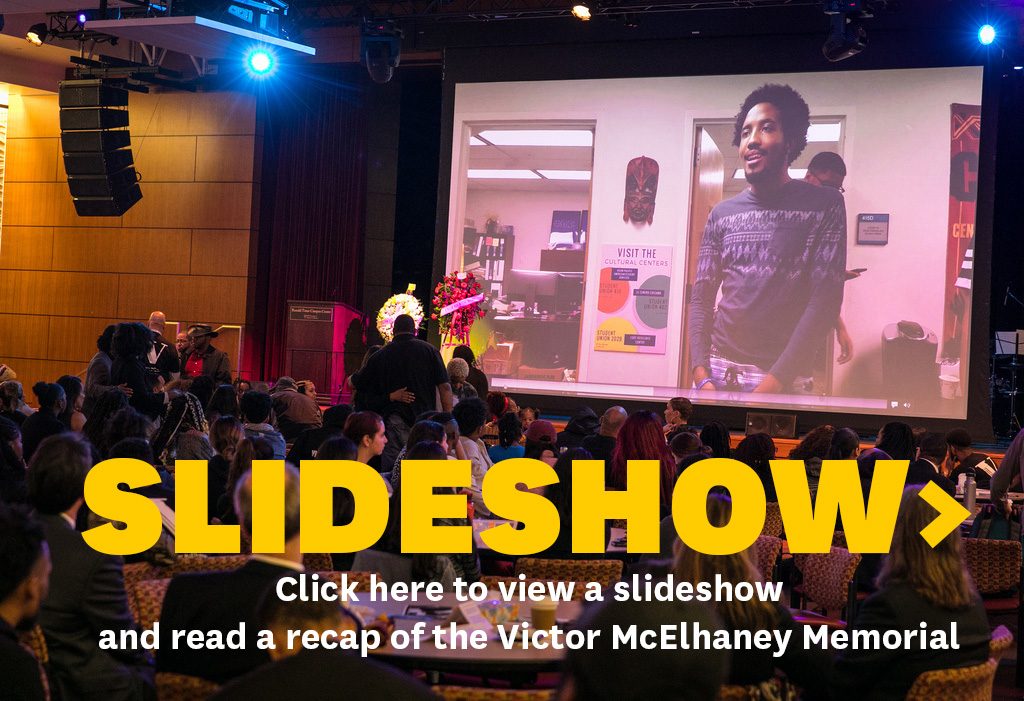 A native of Oakland and the son of Oakland Councilwoman Lynette Gibson McElhaney, McElhaney developed his love of music and activism as a young man. Active in his church, he was both a volunteer on the AV/Sound Team and a participant in the church's campaign targeting street violence and homicide. In high school, he co-founded the Pan African Student Union.
The drummer studied at the Oakland Public Conservatory of Music (OPCM), the East Bay Center for the Performing Arts, the Oakland School for the Arts and California State University, East Bay. He began at OPCM as an 11-year-old and would later become a teen mentor for younger students at the conservatory and also teach African Roots of Drumming.
McElhaney turned his musical focus to jazz studies in his early teens, performing at venues such as Yoshi's Jazz Club and acting as a cultural ambassador in Peru and China. When he arrived at USC Thornton, McElhaney was already performing at a professional level, said Peter Erskine, Director of Drumset Studies, who also taught McElhaney privately for a year. "He had the touch, the feel and the musical understanding of a seasoned jazz musician," said Erskine.
During his time at USC, McElhaney participated in both the Afro Latin American Jazz Ensemble (ALAJE) and a student jazz combo both under the leadership of Aaron Serfaty, with whom he also studied privately. He spent a year in a combo under the direction of jazz vocalist Kathleen Grace who noted the young drummer's love for the music of Betty Carter and the fact that he was "full to the brim with musical ideas that he wanted to share."

Classmates have cited McElhaney's generosity, his activism and his willingness to respectfully challenge those whose views he didn't share. He was actively involved at the USC Center for Black Cultural and Student Affairs and other cultural centers at USC.
"Vic's name and picture will not fully capture the essence of how beautiful of a soul he was," said Sarah Toutant, a Doctoral student in the USC Rossier School of Education and friend of McElhaney. "He was a staple in our community and was the glue that held us together. He was in USC's Center for Black Cultural and Student Affairs almost every single day. If he wasn't there, he was either in rehearsal practicing on his drums or helping a friend in need. He had the ability to bring people from all walks of life together because he believed in the power of people; of humanity."
Having lost a close family member to gun violence, McElhaney advocated for gun control and actively supported his mother's effort to create a Department of Violence Prevention in Oakland and to preserve Measure Z, a public safety measure designed to invest in community policing and violent crime prevention strategies.
USC Thornton faculty praised McElhaney for his focus on building a better future both for himself and for his community. Musicologist Lisa Cooper Vest, who taught McElhaney in Thornton's Music and Ideas course, recalled McElhaney was "always brainstorming about new ways to help audiences understand the rich historical and cultural contexts of the music that he loved."
"In honoring his legacy, I will remember the questions that he raised and allow them to shape my approach in teaching music history," Vest said. "Victor believed that music had real power to accomplish political and cultural good, and I hope that we can all continue that work now."
"He was tragically taken way too early," said Toutant. "But Vic left us with an important lesson: to walk to the beat of your own drum and spread love in a world that needs it. We will do just that. We will all miss his hugs, his embrace, his smile, and his infectious energy. May he rest in power."
***
The Victor McElhaney Memorial will take place on Tuesday, March 19, from 6:00 – 8:30 pm in the Ronald Tutor Campus Center Ballroom. The event for USC students, staff, faculty, and the larger community will celebrate McElhaney's life with music and remembrances. A GoFundme site has been set up to assist the family and to sponsor a Love Life Memorial Concert in Victor McElhaney's honor.
Never miss a story
Subscribe to USC Thornton's e-newsletter
Subscribe