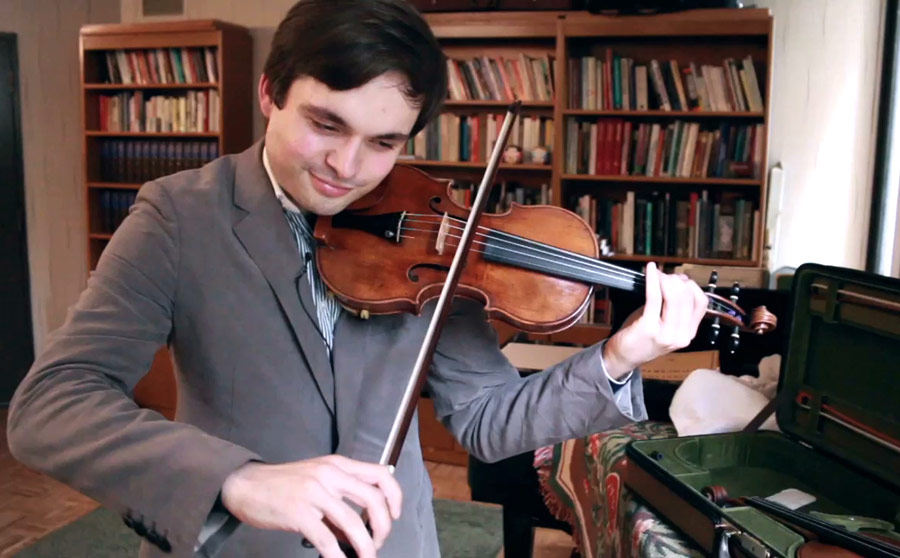 Violinist Francisco Garcia Fullana relishes two priceless instruments
"The violin and its player inspire and influence each other ... In order to meet up to the great mind of a great violin, the player must learn to live up to it as well."

— Midori Goto
How, exactly, does a priceless violin improve a musician's playing? Francisco Garcia Fullana, a 24-year-old graduate student from Majorca, Spain studying with Midori Goto at the USC Thornton School of Music, is uniquely able to shed light on that question.
Since 2013, he has been playing a 1679 Pietro Guarneri "di Mantua" violin on loan from the Stradivari Society of Chicago. But last month, after winning the 2015 Munetsugu International Violin Competition in Nagoya, Japan, Fullana received a two-year loan of another illustrious instrument – the 1697 Antonio Stradivarius "Rainville" violin.
So why is older better? "On one hand, it's the craft," said Fullana, as he examined the Stradivarius a few days after flying back to Japan on April 19 to receive it. "It's like a Picasso, like a Miró or like a Goya. They were geniuses at what they did. It's the same case with a Guarneri or with a Strad."
"The other case is the aging of the instrument," he said. "The amount of playing that has been done and the maturity that the wood has been able to achieve through the time, it really makes a huge difference."
"These days, a lot of the modern makers are mostly copying these two makers' models, and they are achieving great things." But in the older instruments, the tone quality and the beauty within the sound are "almost unbreakable in their magic," he said.
Stradivari are famous for a reason, he said. "They have an incredible tone quality and such an easy way of carrying the sound in the biggest halls. The bigger the hall, the better it sounds."
Goto, who plays the 1734 Guarnerius del Gesu "ex-Huberman" violin, said there is always chemistry involved between an instrument and its player. "The violin and its player inspire and influence each other," she said. "In order to meet up to the great mind of a great violin, the player must learn to live up to it as well."
She said the honor of playing a historic instrument is extremely daunting. "One becomes part of the biography for such a prestigious instrument, which in itself is humbling yet inspiring."
Goto said that Fullana was "elated, to say the least," when he first played the Stradivarius for her. "He is very, very fortunate to have access to such fine instruments."
Fullana, who carried both instruments in a double violin case on the airplane (and stowed it in the overhead compartment!) said "it is almost a dream come true to be able to play on such wonderful instruments." On a recent morning, he played the opening of the Kreisler "Recitative and Scherzo" on each violin and marveled at the difference in the amount of pressure he needed on the bow.
"It's almost relearning how to play," he said. "Even just playing a few notes, it's such a different feeling."
"They always say Strads are like divas. They have so much personality and you can't really force them to do anything." Strads have a very pure soprano-like sound that uses the whole instrument in almost every note, Fullana noted. "You have to be able to adjust to the instrument and get the right sense of what it wants to do with each piece that you are playing."
Since coming to USC Thornton after earning an undergraduate and master's degree from Juilliard, Fullana has been traveling to concerts and competitions worldwide. He's been to Germany, Spain, Venezuela, Switzerland, Austria, Singapore, Korea, Japan, Israel and Argentina and will be making his first trip to Russia in June.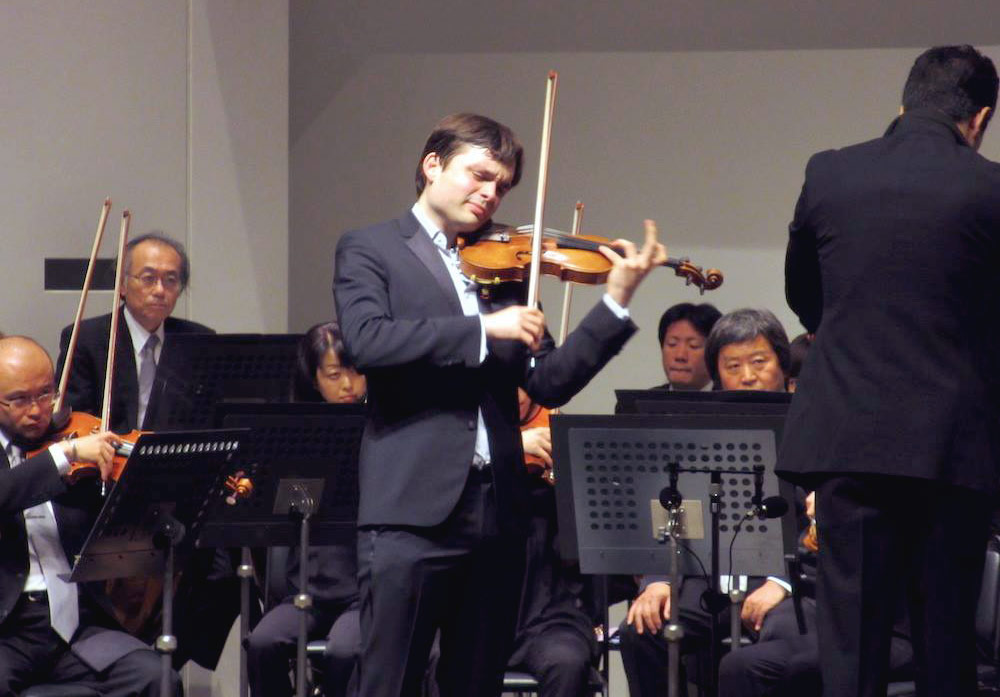 The opportunity to work with Goto is what drew him here. "She's an incredible, fantastic teacher," he said. "And she's teaching at such a wonderful place. These past two years have been so great to be able to work on my craft, get better and have the amount of dedication, hours and mentorship she gives you and then have the flexibility to be able to go elsewhere and perform."
"The 24-hour practice rooms help a lot," he added, smiling.
Goto, in return, credits Fullana for his strong work ethic and not being afraid of the work he must put in. He also has the ability to emotionally react to music and is a wonderful advocate of music, she said. "Simply put, he is a young musician who has a great promise to make invaluable impact to his audiences and the field as a whole."
Fullana said that even though he must eventually return the Stradivarius, it will have changed his playing forever. "Even if I switch to something less expensive or fancy in the future, you still have that sound in your ear. So it's not just the instrument itself, it's the sound it produces and how you hear it. It handles you more than the other way around."
Never miss a story
Subscribe to USC Thornton's e-newsletter
Subscribe