---
While USC Thornton prepares for the start of a new school year, we want to reflect on a spring semester unlike any we've had before. It was unprecedented in the continued focus on online learning, but once those hurdles were cleared in the fall, the ingenuity and innovation of our students, faculty and alumni led to some amazing experiences. For the month of July, we're highlighting stories of those who found new ways to collaborate, new opportunities to pursue, and new friendships and professional relationships from both across the school and the city of Los Angeles.

At Thornton, collaboration is key. The education and development of students was enhanced by new ways of connecting and working together—some resulted from necessity after the campus closed, others from the unique makeup of Thornton. It's all here, almost every genre of music, all under one roof. Within each department, across the school, and across the university, Thornton musicians were constantly collaborating.
Jazz Studies students are learning how to manage recording projects from home, a norm in professional recording today.
USC Thornton Student Ambassador Camilo Gonzalez-Sol (BM '21), an undergraduate student in the Composition program, shares how collaborating with artists across USC has been a source of inspiration.
An ambitious student-led collaboration brings together artists from across the university in virtual events that build community and understanding.
An ambitious student-led collaboration brings together artists from across the university in virtual events that build community and understanding.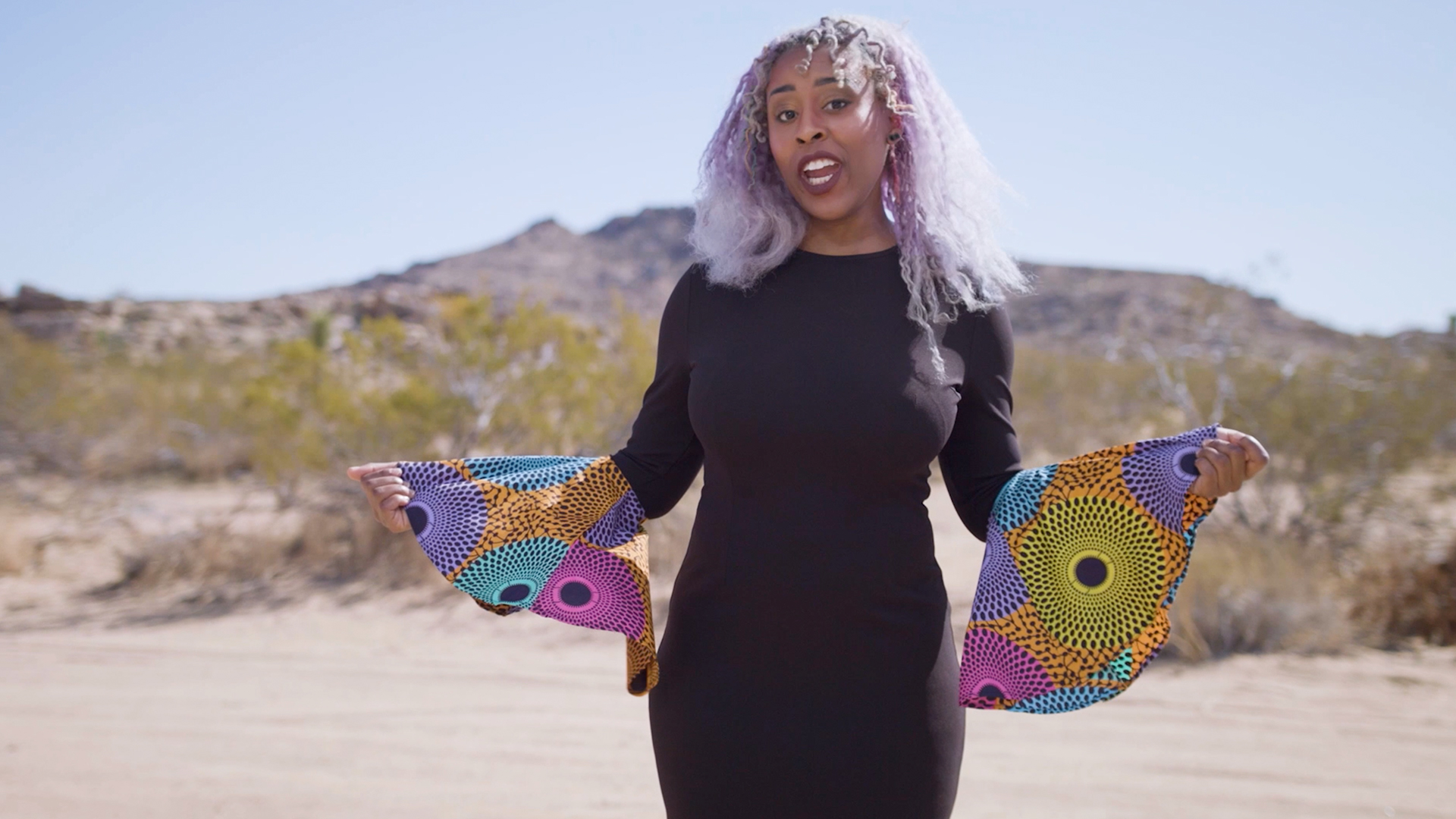 USC Thornton student Ceaira Thomas performs as a part of From Tragedy to Triumph, a student-led series about the African diaspora. (Photo credit: Ceaira Thomas)

Location, location, location. Opportunities abound in the heart of Los Angeles, taking students and alumni to new heights with world premieres, award-winning performances and unique ways of giving back to the community.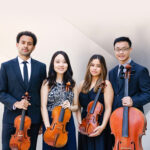 Formed at USC Thornton, The Zelter Quartet has won the Gold Prize at the 2021 Chesapeake International Chamber Music Competition. The Los Angeles-based quartet includes violist Nao Kubota (MM '19), a Graduate Certificate student; cellist Allan Hon, a Doctoral student; and violinists Kyle Gilner (BM'16) and Gallia Kastner.
The latest music video from chart-topping artist Olivia Rodrigo was a family affair for the USC Thornton School of Music's Popular Music program, featuring six alumni and former students of the school, on both sides of the camera.
The American Choral Directors Association (ACDA) recognized USC Thornton's ACDA Student Chapter with the Outstanding ACDA Student Chapter Award for 2021. Each year the award is given to a student chapter that best supports the advancement of choral music through its activities.
USC Thornton alumni Etienne Gara and YuEun Kim (GCRT '15, AD '17) have been featured on the Volkswagen website for their project, MusiKaravan. Over the last year, the two violinists have been traveling to farms and wineries in a restored 1971 red Volkswagen Westfalia, bringing music outdoors to essential workers.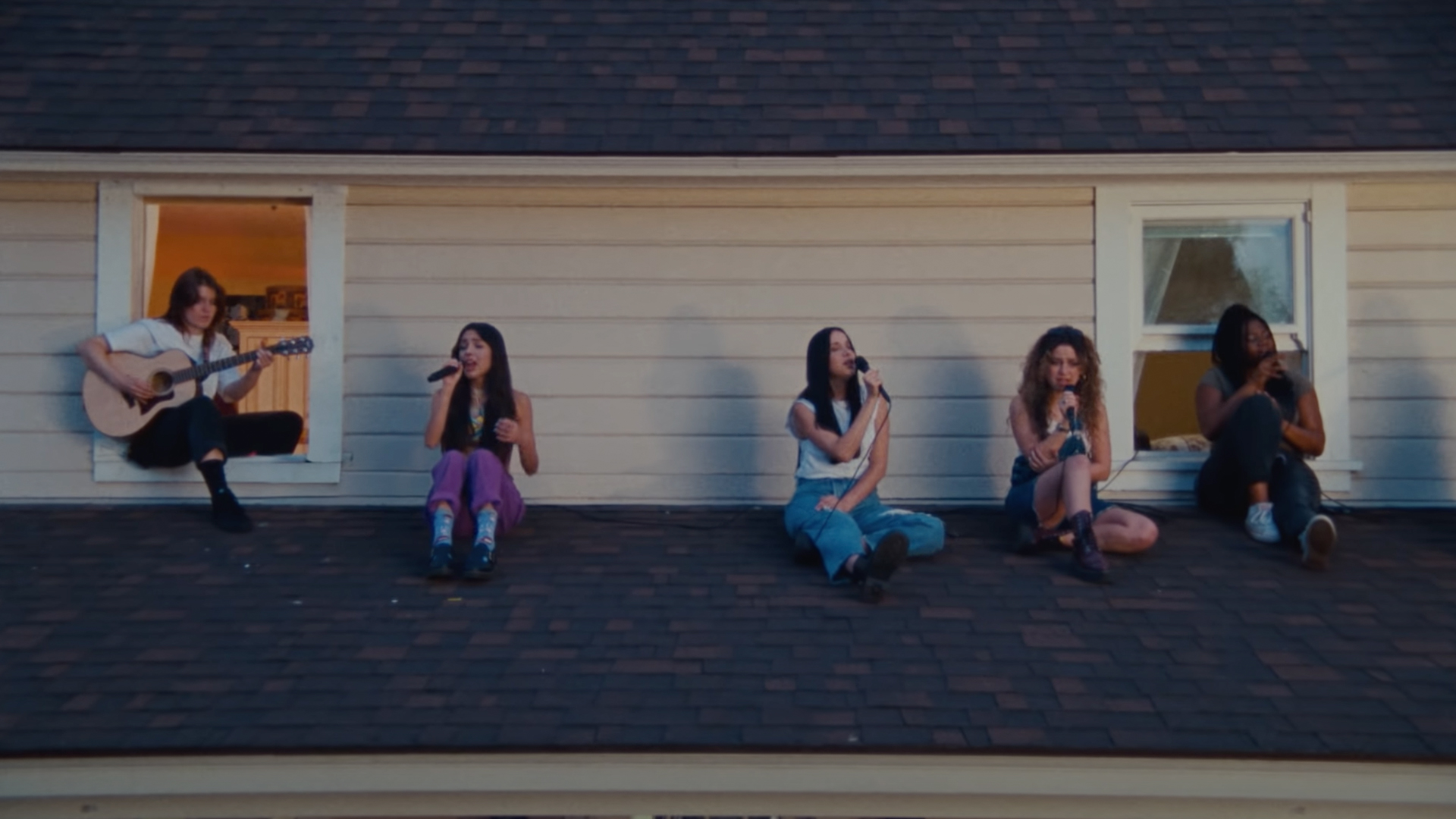 From left to right: Guitarist Liv Slingerland ('15) joins chart-topping artist Olivia Rodrigo alongside three backing singers from Thornton: Lily Elise, who studied at the school, and alums Georgia Greene ('18) and Tehillah Alphonso ('20). Behind the camera, was music direction from alums Aron Forbes ('07) and Derek Renfroe ('17). Slingerland most recently accompanied Rodrigo in her debut performance on Saturday Night Live where she was joined by yet another Thornton alum, Camilla Mora ('17). (Photo credit: Vevo LIFT)

USC Thornton is a community that grows, following students from the classroom into their professional careers. As their curiosity for learning expands, friendships between classmates become professional relationships, strengthened by the bonds of collegiality and collaboration. What's better than working with friends?
Every fall the senior class has organized a gathering as a way to welcome freshmen to the program. This year, as a result of social distancing and remote learning, the in-person party was given a new spin with an online version.
Recording and editing are skills that all musicians had to get up to speed on because of the pandemic. Robert Wang started learning about music technology last spring, when his fellow classmates were sheltered in place.
This year, The Voices Fund brought celebrated artists like jazz musician Roscoe Mitchell and mezzo-soprano J'Nai Bridges to speak in Thornton classrooms, furthering the school's commitment to amplify diverse voices across all musical genres.
As the city of Los Angeles and the country approach the one-year anniversary of the COVID-19 pandemic, USC has faced this unprecedented challenge together. Last spring, Keck Medicine of USC officials sent out a request for musicians to lend their talents to calm and support medical workers serving on the frontlines. The students of USC Thornton answered the call.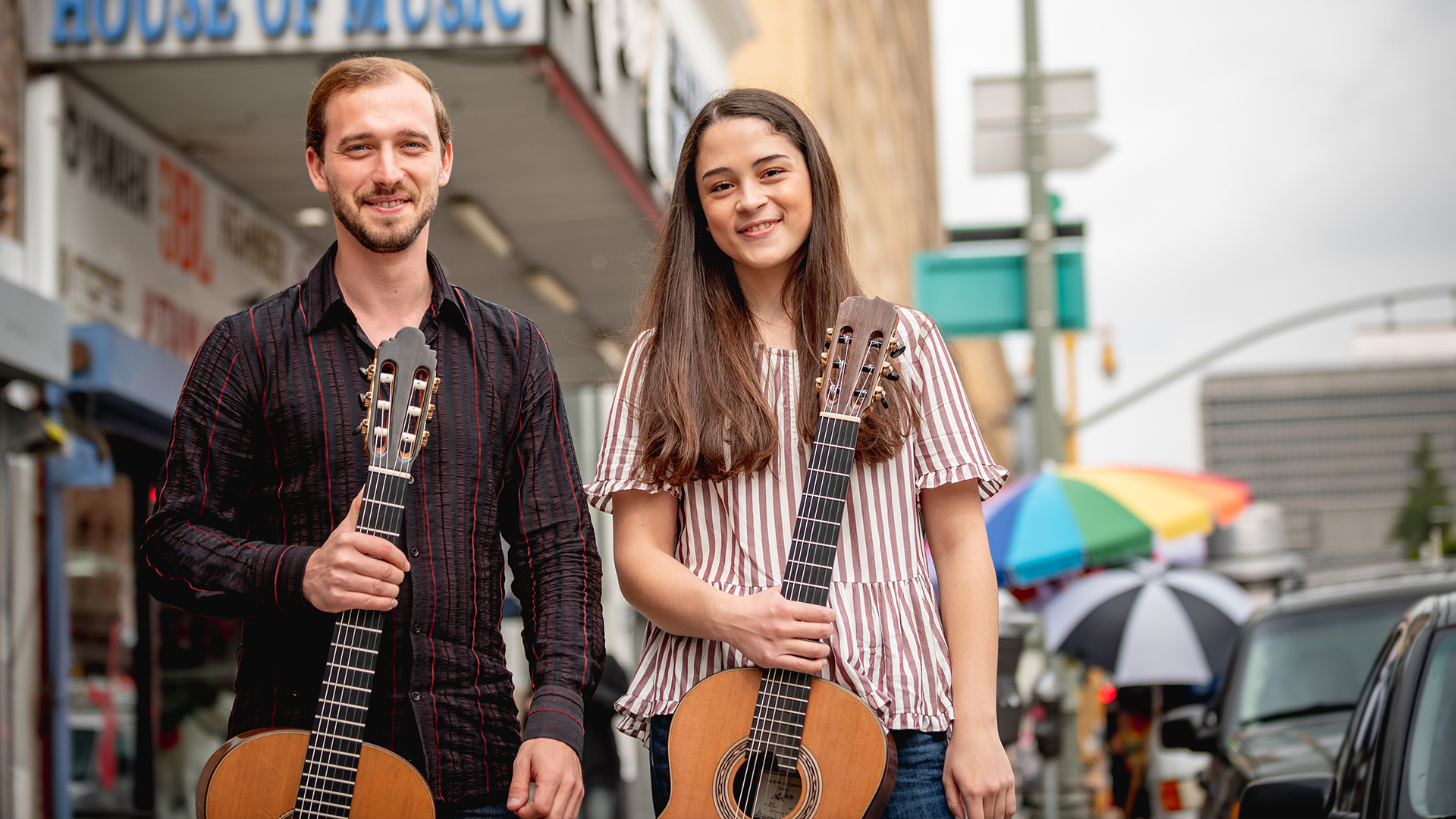 USC Thornton Classical Guitar student Francesca Boerio (pictured on right with doctoral student Mircea Gogoncea in downtown Los Angeles, 2019) was one of the many who sent video performances to encourage essential healthcare workers serving at Keck Medicine of USC. (Photo credit: Ben Gibbs)