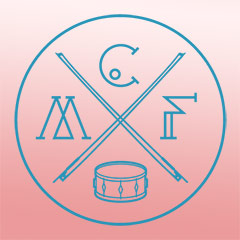 Strong Thornton presence among performers and composers at Carlsbad Music Festival
USC Thornton alumni will be widely represented at the annual Carlsbad Music Festival in the San Diego area this weekend (August 26-28). Among the festival's main stage artists is the HOCKET piano duo, which includes current Composition DMA candidate Thomas Kotcheff (MM '12, Composition) and Composition faculty member Sarah Gibson (MM '10, DMA '15, Composition). The duo will perform a work by distinguished professor Stephen Hartke and present a world premiere by Alexander Elliott Miller (DMA '10, Composition), among others.
The LA Percussion Quartet, which includes alumnus Nick Terry (DMA '11, Percussion), will also be featured on the festival's main stage. The SAKURA cello quintet – Jonathan Dormand (GCRT '14), Michael Kaufman (MM '12, DMA '15), Yoshika Masuda (GCRT '12), Peter Myers (MM '10, GCRT '13), and Sarah Rommel (GCRT '14) – and Ben Phelps' ( DMA '10, composition) B Band will both perform on the festival's free stage.
The Carlsbad Music Festival was founded by composer and alumnus Matt McBane (BM '02, film scoring) in 2004.