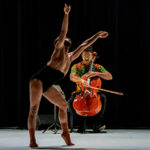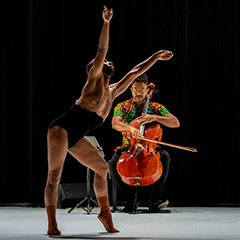 November 22, 2022
"Difficult Grace," by USC Thornton strings department faculty member Seth Parker Woods, has been named a Critic's Pick by The New York Times. An evening-long multimedia program at the 92nd Street Y's Kaufmann Concert Hall, the performance featured Woods performing a series of works with the choreographer and dancer Roderick George. "Woods was already a cellist of… Continue reading "Difficult Grace" by Seth Parker Woods named a Critic's Pick by The New York Times
---
November 16, 2022
USC Thornton strings department faculty member and cellist Seth Parker Woods has announced the world premiere of his multimedia concert, "Difficult Grace," which features film, spoken text, visual artwork and original choreography by Roderick George. According to Broadway World, the performance will premiere at 92NY's Kaufmann Concert Hall in New York City on Nov. 19… Continue reading Seth Parker Woods announces world premiere of multimedia concert tour "Difficult Grace"
---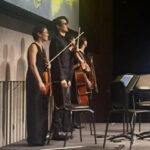 November 7, 2022
The Argus Quartet will accompany Jeanna de Waal and Cree Carrico's performance of "Insomnia", a new musical work composed by Blake Allen at Carnegie Hall's Weill Recital Hall on Nov. 8. The Argus Quartet, founded by USC Thornton alumna Clara Kim (DMA '15) includes violinist Giancarlo Latta, violist Maren Rothfritz and cellist Mariel Roberts.
---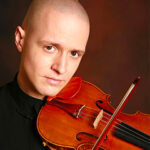 September 28, 2022
USC Thornton Strings Department alumnus Moni Simeonov (GC '07, DMA '18) has been appointed as the director of string studies with the Bob Cole Conservatory of Music at California State University, Long Beach. He also recently accepted the position of interim Edelman chair of chamber music with the Colburn School of Music.
---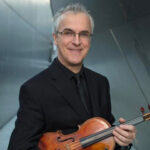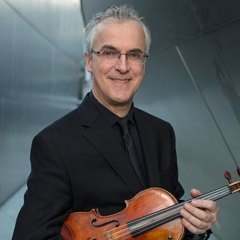 September 21, 2022
Los Angeles Philharmonic principal concertmaster and USC Thornton Strings Department faculty member Martin Chalifour won a SF Classical Voice Audience Choice Award in the Best Instrumental Recital category for A Chalifour Celebration at the LA Phil. This performance was held in February to commemorate Chalifour's 25th year with the orchestra.
---
September 15, 2022
USC Thornton Strings Department faculty member and acclaimed cellist Seth Parker Woods is featured in the score of Ken Burns' new documentary, "The U.S. and The Holocaust." Woods performs on the track "Prayer (From Jewish Life, No. 1)." "The U.S. and The Holocaust" is a three-part, six-hour series that examines America's response to one of… Continue reading Seth Parker Woods featured in score to Ken Burns film "The U.S. And The Holocaust"
---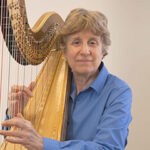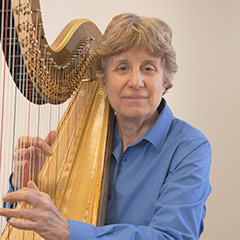 August 29, 2022
Celebrated harpist and USC Thornton Adjunct Professor JoAnn Turovsky was the focus of an L.A. Studio Legends episode of The Legacy of John Williams podcast on July 15. Turovsky can be heard playing the harp solos on the composer's film scores including Angela's Ashes, A.I. Artificial Intelligence, Munich and The Book Thief.
---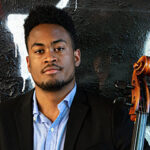 August 15, 2022
Cellist and Thornton alumnus Ismael Guerrero (M.M. '22) was named a 2022-23 Judith and Thomas L. Beckmen LA Phil Resident Fellow. The program trains early-career symphonic musicians who represent or serve historically underrepresented groups.
---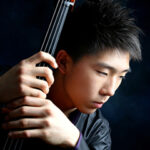 June 27, 2022
Cellist, current graduate certificate student and alumnus Taeguk Mun (MM '20) was named a finalist, or laureate, at this year's Queen Elisabeth Competition in Brussels. Mun has won first prize at various competitions, including the Pablo Casals competition in 2014, the Andre Navarra International Cello Competition and the National Sung-Jung Competition in Korea. He is… Continue reading Taeguk Mun named laureate of the 2022 Queen Elisabeth Competition
---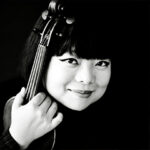 May 20, 2022
USC Thornton Strings Department Associate Professor of Practice Yura Lee was appointed principal violist of the Los Angeles Chamber Orchestra (LACO). Lee assumes her new post in the 2022-23 season. Lee is a recipient of the Lincoln Center's prestigious Avery Fisher Career Grant, and at age 12, she became the youngest artist to ever receive… Continue reading Yura Lee named principal violist of Los Angeles Chamber Orchestra
---