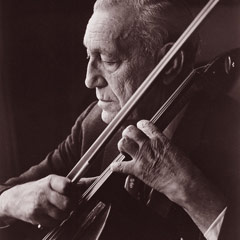 PICF '16: "The New Yorker" reflects on the Piatigorsky International Cello Festival
Alex Ross, music critic for the New Yorker, has published a review of the Piatigorsky International Cello Festival in the magazine's June 6/13 issue. Surveying the Festival's programming in the context of both repertory and style, Ross highlighted soloists Yo-Yo Ma, Mischa Maisky, Sol Gabetta, Zuill Bailey, David Geringas, Thomas Demenga, Jean-Guihen Queyras, Colin Carr, and Truls Mørk, among others, in performances at both USC and the Walt Disney Concert Hall.
The article also explored the influence of Festival artistic director and USC Thornton Strings chair Ralph Kirshbaum, who was instrumental in shaping the Festival's educational focus through masterclasses and workshops for student Fellows. Ross accounted in detail the experiences of two of Kirshbaum's students – Coleman Itzkoff and Annie Jacobs-Perkins – as they undertook masterclasses with Festival artists Thomas Demenga and Laurence Lesser, respectively.
Describing the Lesser masterclass, Ross said, "Some people in the audience may have wondered why Lesser was tinkering with an already gorgeous rendition, but he offered a credo: 'When someone plays as beautifully as you do, it's easy for me to be fussy, because no matter how far we are there's always more.'"
Ross also highlighted the SAKURA cello quintet, which includes five students from the studio of Ralph Kirshbaum, who created their own arrangements of madrigals by Gesualdo, as well as an improvisation workshop by the "renegade" Italian cellist Giovanni Sollima, and the spectacular 100+ cello premiere of Anna Clyne's composition, "Threads & Traces."