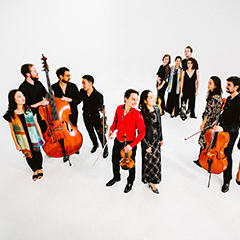 Thornton artists awarded San Francisco Classical Voice Audience Choice Awards
Multiple USC Thornton artists and alumni-founded ensembles were awarded San Francisco Classical Voice's Audience Choice Awards for the 2019-2020 season. This year was the first-ever Audience Choice Awards with a category dedicated to celebrating the vibrant classical music scene in Los Angeles.
HOCKET, the piano duo of alumni Sarah Gibson (MM '10, DMA '15) and Thomas Kotcheff (MM '12, DMA '19), was awarded "Best Chamber Ensemble" and "Best New-Music Ensemble," and the duo's much talked about new commission series, #What2020SoundsLike, was awarded "Best Discovery" and "Best Streamed Performance Created During the Pandemic." Kotcheff also received the award for "Best instrumental Recital Performance" for his Piano Spheres performance of Frederic Rzewski's Songs of Insurrection.
Choral Ensemble VOX Femina Los Angeles, currently led by founder and artistic director, Thornton alum Iris Levine (DMA '90), was awarded "Best Choral Performance." Chamber music ensemble Delirium Musicum, founded by non-degreed alum Etienne Gara and featuring many Thornton musicians, received the award for "Best Early/Baroque Performance" for the ensemble's December 2019 performance at USC's Brain and Creativity Institute.