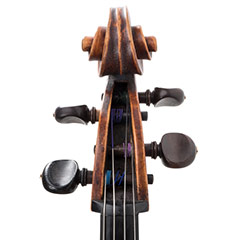 Three USC Thornton cellists save the day at Walt Disney Concert Hall
On Friday, January 19th, three USC Thornton cellists took to the stage of Walt Disney Concert Hall for a daring musical rescue mission, of sorts. When Los Angeles Philharmonic soloist Robert deMaine was unable to perform the U.S. premiere of Bernd Alois Zimmermann's daunting modernist Cello Concerto at the last minute, conductor Susanna Mälkki invited L.A. Phil associate cellist and Thornton faculty member Ben Hong, Calder Quartet cellist Eric Byers (BM '03), and Lyris Quartet cellist Timothy Loo (non-degreed alumnus), to divide the concerto's solo part.
According to an enthusiastic review by the Los Angeles Times, the three soloists received their scores on Wednesday morning, rehearsed with the orchestra on Thursday afternoon, and performed on Friday night, repeating the extraordinary feat in performances on Saturday and Sunday. Adding to the program's audacious theatricality was a "pas de trois" with three dancers from the Tero Saarinen Company.
Reviewer Mark Swed described the results of the last-minute musical shuffle, "utterly convincing."
"What proved most affecting of all was the sheer gumption of not giving up, but making the performance happen," he said. "The orchestra was at its flexible best."