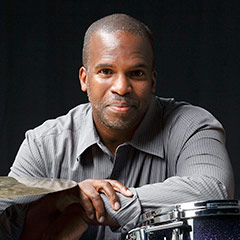 Watch Will Kennedy perform in Zildjian LIVE! video series
Will Kennedy, drummer and Popular Music program faculty member, was recently featured in an episode of Zildjian LIVE! performing his song "6 4 U" with band Ghost-Note. Kennedy invited USC Thornton drum students to attend the live taping to see his performance and get a behind the scenes look at the production. The song will be used in the future as a play-a-long with students as a teaching tool.
Zildjian LIVE! invited six of their celebrated artists to feature on episodes this year, Kennedy being the 5th. Watch his performance here.