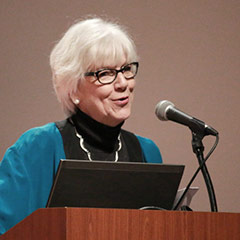 Cynthia Munzer speaks to KABC about her battle with lung cancer
Operatic mezzo-soprano Cynthia Munzer, who teaches on the USC Thornton Vocal Arts and Opera faculty, was recently interviewed by KABC-TV Eyewitness News about her 2013 lung cancer diagnosis and her path to recovery. Munzer underwent surgery to remove part of her lungs – and today Munzer works on behalf of the American Lung Association to advocate for cancer awareness, particularly among women.
In her KABC interview, Munzer said that "I've gotten my full life back, because I was diagnosed early enough. And I just hope that women will find it necessary to go and have lung screenings."
In April, Munzer hosted a vocal health event to coincide with World Voice Day and the USC Thornton Musician's Wellness Initiative. Bringing together singers and health experts, the event examined the extraordinary physiological forces that shape the human voice – and the challenges of keeping those elements in peak physical condition.
Munzer's interview with KABC-TV Eyewitness News can be viewed here.