Saturday, October 22, 2022
9:00 AM – 4:00 PM
Alfred Newman Recital Hall
USC University Park Campus
An opportunity for students to learn how to be better leaders in their choral ensemble by focusing on exceptional repertoire under the mentorship of an expert clinician.
Deadline to register: Friday, September 16, 2022
WORKSHOP DESCRIPTION
Choristers will participate in a festival choir of over two hundred other high school singers selected from around the Los Angeles area led by Dr. Jason Max Ferdinand. Singers will attend leadership sessions focusing on the individual singer's role in the success of a choral ensemble.
ABOUT OUR CLINICIAN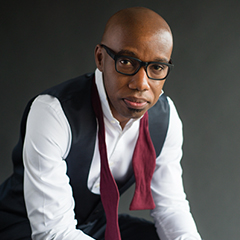 Jason Max Ferdinand is the director of choral activities, professor, and chair of the music department at Oakwood University. He directs the Aeolians of Oakwood University and, as evidenced by noteworthy awards, has distinguished himself on the national and international choral stages. In 2017, he earned the Outstanding Director and Choir of the World awards at the Llangollen International Musical Festival, in Wales. In 2018, his choir won three gold medals at the 10th World Choir Games held in South Africa, and also won the competition's overall championship in both the Spirituals and University Choir categories. He is a published composer with GIA publications, and is exhilarated about his new choral series with Walton Music. In 2018, he was named "Teacher of the Year" by Oakwood University. The Aeolians made their first appearance at the national conference of the American Choral Directors Association (ACDA) in 2019 and the term "they broke ACDA" was used to describe their outstanding presentation. Ferdinand holds non-terminal degrees from Oakwood University, Morgan State University, and a doctorate in choral conducting from the University of Maryland.
2022 CLW REPERTOIRE
Forever Music – Mark Hayes
We Remember Them – Susan Labarr
Sing Unto God – George Frideric Handel, ed. & arr. James J. Chepponis
I Sing Because I'm Happy – Rollo Dilworth
WHAT TO EXPECT
Performance by the USC Thornton Chamber Singers
Rehearsals, sectionals, workshops
Director's Lunch

Directors, chaperones, and accompanists are invited to attend the workshop and observe all of the leadership sessions. In addition, they will be provided a special lunch session with USC Thornton School of Music choral and sacred music faculty to allow for further discussion of leadership in the choral field.

Information session about USC degree programs & performance opportunities
WORKSHOP SCHEDULE
8:00 AM – Registration
9:00 AM – Welcome
9:10 AM – Performance: USC Thornton Chamber Singers
9:30 AM – Rehearsal #1
11:30 AM – Lunch
12:15 PM – Sectionals
12:15 PM – Director's Talk – Karen Parks: The Essence of Singing
1:30 PM – Rehearsal #2
3:05 PM – USC Information Session
3:15 PM – Performance: Choral Leadership Workshop Chorus
3:30 PM – Closing Remarks
3:35 PM – USC Campus Tours
COST
$45 each for students (includes lunch, t-shirt, pencil, and all music)
$20 each for directors/chaperones/accompanists (includes lunch and t-shirt)
Payment can be submitted by check to:
USC Department of Choral & Sacred Music
840 W. 34th Street, MUS 416
Los Angeles, CA 90089-0851
Checks should be made out to: "USC Department of Choral and Sacred Music"
---
HOW TO REGISTER
Registration is OPEN NOW!
Fill out our Online Registration Form.
Email our Festival Coordinator, Ali Sandweiss Hodges at ashodges@usc.edu with any questions.
Deadline to register: Friday, September 16, 2022