Any USC student or faculty can join a choir for credit or as an extracurricular activity. Regardless of your background or level of experience, we have a choir for you!
To join a choir, please click here. Do note that the USC Thornton Chamber Singers or Concert Choir are auditioned ensembles and would require a callback. You can get to our callbacks through a voice placement. You can also email us for any questions at uschoral@usc.edu.
Voice Placements for choirs are quick (10 minutes) and simple. A conductor will help guide you through a simple process and discuss any previous singing experience you may have. You don't need to prepare anything!
---
From the chair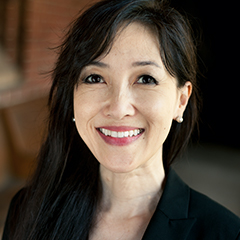 As Chair of the Choral and Sacred Music department, I look forward to cultivating a dynamic exchange of artistic and intellectual ideas in our community of choral music lovers. It's my hope that our courses, departmental concerts, degree recitals, regional choral festivals, and projects increasingly reflect our commitment to creating a space where all voices are heard. I have also found many Thornton faculty and students to be globally attuned artists who recognize the power of music to speak to shared human concerns. I am committed to supporting this passion for music as life-affirming!
The Choral and Sacred Music Department anticipates another robust year of activity as we welcome new and returning graduate and undergraduate students from around the world. Our students embody the lived experiences of underrepresented communities in the United States and globally, from South Korea, Singapore, Taiwan, China, and Malaysia, among others. Together, we create music that unites us. Join us in choral song!
Sing on!
Tram Sparks, D.M.A
---
Our Ensembles
Rehearses Monday & Wednesday, 2:00-3:50PM
​​The USC Thornton Chamber Singers is an auditioned, highly selective, mixed-voice ensemble conducted by Dr. Tram Sparks. This choir has performed around the world and is considered to be the premier ensemble, requiring a yearlong commitment.
---
Rehearses Tuesday & Thursday, 2:00-3:50PM
The USC Thornton Concert Choir is a fully auditioned, mixed chorus representing a wide range of majors and musical backgrounds. Under the direction of Dr. Cristian Grases, the group explores classical and global repertoire from the Renaissance through the 21st century.
---
Rehearses Monday & Wednesday, 4:00-5:50PM
The members of Apollo Chorus are a diverse group ranging from freshman to graduate students to faculty and staff who enjoy camaraderie and striving for excellence in performance of music from classical to contemporary a cappella bass-clef music.
---
Rehearses Tuesday & Thursday, 4:00-5:50PM
The USC Thornton Oriana Choir is a non-auditioned treble choir in which all USC soprano and alto singers – students, faculty, and staff – explore a wide range of choral music. Performances include early and modern choral music from around the world.
---
Rehearses Wednesday, 7:00-8:50PM
The University Chorus is USC's large, non-auditioned choir that offers singers an opportunity to perform quality choral music without a large time commitment. The ensemble usually contains anywhere from 70-120 singers and features a wide variety of backgrounds and experience levels, as it is open to undergraduate and graduate students, faculty, staff and community members alike.
---
View more videos on the Choral & Sacred Music YouTube channel.