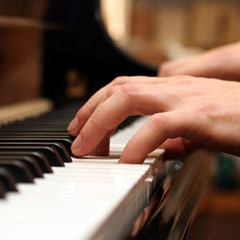 Keyboard faculty teach, conduct and perform across the U.S. this summer
Lucinda Carver, vice dean of the USC Thornton Division of Classical Performance and Composition, will conduct two programs at the Music in the Mountains festival in Northern California this month. On June 26, she will lead an all-Mozart program, followed on June 28 by a program featuring Holst, Vaughn Williams, and Dvořák.
This month, Carver also concluded the annual Centrum Port Townsend Chamber Music Festival and Workshop, for which she is the artistic director. The event included performances by the Calder Quartet, which formed at USC Thornton, as well as student violinist YuEun Kim (GCRT '15, ARTD candidate) and pianist Ben Hopkins ('12, GCRT '14, MM '16).
Alan L. Smith, chair of Keyboard Studies and director of the Keyboard Collaborative Arts program, will be heading off to the Tanglewood Music Center in Massachusetts, where he is coordinator of the Piano Program and a member of the vocal faculty, for eight weeks. Smith recently taught several masterclasses for the 20th annual SongFest at the Colburn School in Los Angeles and also returned to the Fall Island Vocal Arts Seminar in New York, where he serves as music director.
Stephen Pierce, director of Keyboard Pedagogy and Secondary Piano, recently participated in the SAVVY Musician in Action workshop at the University of South Carolina, an immersive program that encourages artists to development entrepreneurial skills. Next month, he will teach on the Piano faculty of the Interlochen Arts Camp in Michigan.