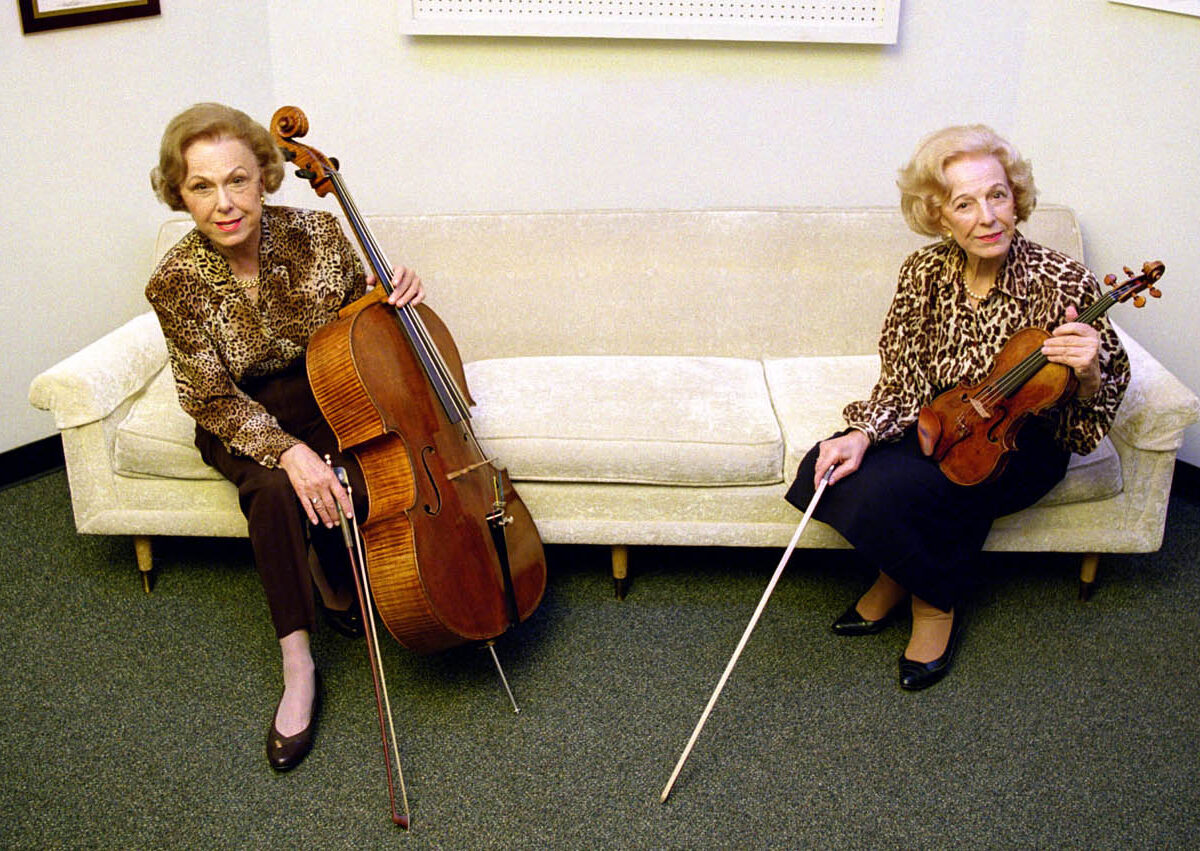 Remembering Alice Schoenfeld
USC Thornton mourns the loss of Alice Schoenfeld, Professor Emerita of Violin, who passed away on May 25 at the age of 98. An internationally celebrated violinist and noted philanthropist, Schoenfeld was a member of the USC Thornton faculty for 60 years and served as the Alice & Eleonore Schoenfeld Chair in String Instruction.
Schoenfeld and her sister, Eleonore Schoenfeld, a cellist, were fixtures on the faculty at USC for over 50 years. There is a faculty chair in their names as well as a building full of life and constant music, but how does one truly celebrate the legacy of the Schoenfeld sisters and all that they have meant to generations of musicians who have passed through USC?
"The passing of Alice Schoenfeld, whose strong musical presence and vibrant character proved so influential in the lives of her many students and in the development of the USC Thornton School of Music over a period of 60 years, is mourned by all of us who worked so closely with her in the Thornton Strings Department," said Ralph Kirshbaum, the Gregor Piatigorsky Chair in Violoncello and Chair of the Strings Department at USC Thornton. "She will not be soon forgotten."
In a wonderful remembrance in violinist.com, USC Thornton alumna Linda Wang '92, professor of violin and string chair at the University of Denver, remembered Schoenfeld fondly.
"I spent many of my formative years together with her, and she has been an extraordinary mentor and teacher to me, someone I could always turn to for advice," Wang said. "Our time together influences my studio teaching to this day."
Schoenfeld was born in 1921 in Yugoslavia and made her debut with the Berlin Philharmonic at age ten. She immigrated to the United States with her sister in 1952 and the siblings both joined the USC Thornton faculty in 1959. Eleonore Schoenfeld actively taught at the school until her death in 2007 while Alice Schoenfeld retired in the Spring of 2016. In addition to being colleagues, the Schoenfeld sisters toured the world together, performing for decades as a violin-cello twosome known as the Schoenfeld Duo.
A beloved teacher and mentor, Schoenfeld earned the USC Ramo Music Faculty Award for Excellence in Teaching and won the 2008 American String Teacher's Association's Artist Teacher Award. Her reputation helped attract many top students to the school, many of whom have gone on to have outstanding careers as soloists, as well as at the world's top universities and orchestras.
In addition to making a lasting impact on USC Thornton by dedicating her career to teaching, Schoenfeld also philanthropically supported the school. In 2013, she donated $10 million to the school, which, at the time, was the largest gift given to USC by a longtime faculty member. The donation underwrote the renovation of Alice and Eleonore Schoenfeld Symphonic Hall to a state-of-the-art orchestral rehearsal hall and created the Alice and Eleonore Schoenfeld Endowed Scholarship Fund, which supports USC Thornton strings students.
She also founded the Alice and Eleonore Schoenfeld International String Competition in Harbin, China and the Schoenfeld International Music Society.
Robert Cutietta, Dean of USC Thornton, reflected on the Schoenfeld sister's dedication to the school. "Alice and her sister Eleonore were at the heart of our school for decades and helped to make it the great school it is today," he said. "They will be greatly missed, but their legacy will live on through their exceptional students, many of whom are faculty members and are passing on the skills they learned to the next generation of strings students."
MEMORIAL INFORMATION
A graveside service will be held at 2:00 pm on Saturday June 1, 2019 at Mountain View Cemetery.
Mountain View Cemetery, Sunset Lawn, 2400 N. Fair Oaks Ave., Altadena, CA 91001
The service will be followed by a meal at China Red, 855 S Baldwin Avenue, Arcadia CA 90015.
Please RSVP if you plan on attending: auhaus@gmail.com

Details for a celebration of the life of Alice Schoenfeld are forthcoming.