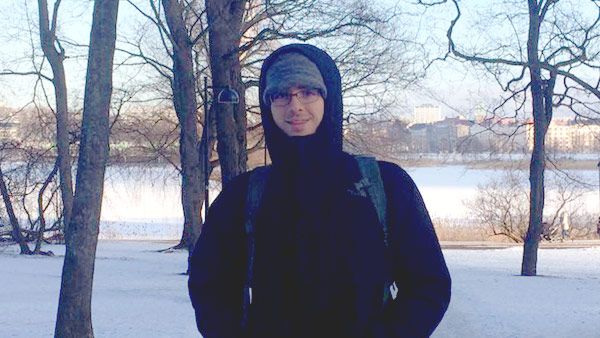 A Semester at the Sibelius
Curtis Green stood on the curb, hopelessly lost in Helsinki.
"I'd spent a really passionate few hours in a practice room," recalls the USC Thornton Composition major, "and stayed later than I should have."
It was only 5 pm, but the streets were already pitch dark. Stepping off the bus, Green realized he had no idea which way to go. His phone had frozen. Literally, a block of ice. Without it, Green couldn't find his way home, didn't even know what street to look for. He knew no one in town. Spoke no Finnish.
He found himself musing: "Will I spend tonight sleeping in the snow?"
Exchange students have been experiencing this sort of humbling epiphany since European universities first sprang up in the Middle Ages, but for American music students, it's never been an option. Until now.
Last spring, USC Thornton School of Music broke new ground when it established an exchange program with the Sibelius Academy in Helsinki, Finland.
Green, 20, now a junior, was its first envoy. As he traveled to Helsinki in January, USC Thornton welcomed Sibelius Academy student Veera Vallinkosk, a music production major, on the University Park Campus (Read about Veera here).
Over There
"Because of strong ties to individual teachers who provide one-on-one training, American music students traditionally have had few chances for international study," says Robert Cutietta, Dean of the USC Thornton School of Music. "USC Thornton is striving to be the first school in the U.S. to overcome this hurdle institutionally, and we have several new initiatives underway."
Three years ago, the school became a founding member of the Pacific Alliance of Music Schools, which promotes connections between Pacific Rim conservatories. USC Thornton is also one of only a handful of American members in the Association of European Conservatories, a springboard for partnerships abroad.
Moving these partnerships along is Mist Thorkelsdottir, head of International Programs in the Performing Arts at USC.
"Our goal is that every USC Thornton undergraduate student will have the opportunity to seek a meaningful international experience during their four years here," says Thorkelsdottir, who previously worked at conservatories in Sweden and Iceland.
Thorkelsdottir is currently exploring exchange programs with music schools in Germany, Austria, Norway, the Netherlands, England, France and Italy.
An American in Helsinki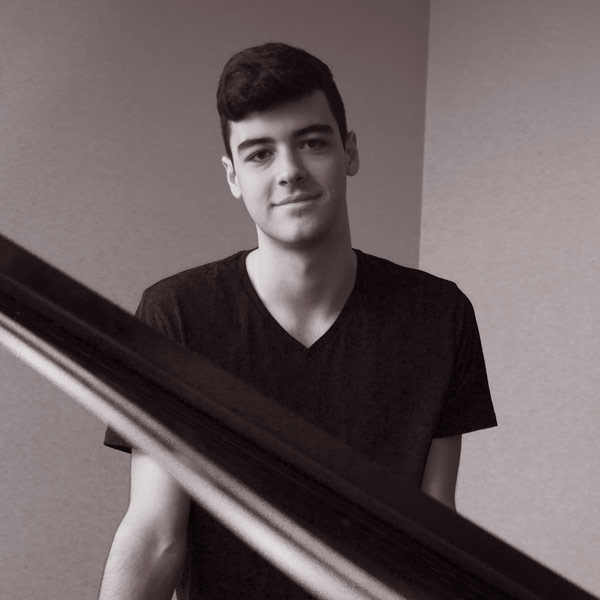 A jazz pianist raised in New York City, Green came to USC to train for a career in film composing. He'd chosen USC specifically because it's not a traditional conservatory model of music education.
"I didn't want to go somewhere I was going to be told to sit in a room all day," he says.
He had attended the progressive Dalton School on Manhattan's Upper East Side, playing piano and composing for the jazz band. He'd co-founded the school's first all-male choir and started a collaboration between its student composers and dance workshop program. Other passions included French lit and playing basketball.
"I saw Thornton as this place where all these things I wanted to do—that I had previously thought I couldn't put together—were going to be in total synthesis. Film, music, dance, the cultural vibe of LA. There's not much you can't do here. It's such a hybrid music school."
Green didn't have to go far to find his first music teacher. His piano teacher was his uncle, composer Chris Curtis, creator of the 2012 Broadway show, Chaplin: The Musical.
His parents were also artists. Green's father, Broadway singer-actor Colton Green, was in the original cast of Ragtime and Kiss of the Spider Woman. His mother, a choreographer, had been a national champion ballroom dancer.
"The first songs I learned to play," he says, "were my uncle's piano arrangements of movie themes. He taught me to love music first, why we love it, and why it touches us." By 13, he was playing chamber music, attending music festivals and composing his own music.
At USC, Green studies with jazz composer Vince Mendoza. He also sings with the Crescendo vocal jazz ensemble, and plays regularly with his own jazz trio. He has a part-time job assisting a prominent Hollywood film composer, and this past summer he started scoring his first feature film, an independent project with a friend from the USC School of Cinematic Arts.
With his eclectic tastes and unusual musical background, Green wasn't the most obvious candidate to be Thornton's inaugural exchange student at Sibelius Academy, precisely the kind of traditional conservatory he had shunned. But he was curious, and it would only be for a semester.
A Dance in the Mud
Helsinki turned Green's musical assumptions and expectations upside down.
"I compose emotion-driven, filmic music," he says. "When I hear something in my head, I don't question it too much. If it flows through my body and feels right, it's ready to go."
For his first meeting with composer Tapio Nevanlinna, his mentor at Sibelius Academy, Green brought a rough orchestral sketch he'd been working on a few weeks.
Staring at the pages of score, the Finish composer had murmured: "Wow. This is music."
Flattered, Green thanked him.
It wasn't intended as a compliment. Nevanlinna soon made it clear that he wanted far less music and far more thought.
For the next six weeks, Green tried to oblige, drastically winnowing his output. "But Tapio kept saying, 'Less, less, less,'" Green recalls. Midway through February, he showed up for a lesson with just four notes on his music paper.
"Yes!" Nevalinna rejoiced.
Green remembers thinking, "my God, this is insane." Based on those four notes, however, Nevanlinna guided his American student through a painstaking compositional journey. They debated whether and how often pitches should repeat, the purpose of octaves. "Every element was thought out—every note and every combination. A little too much thinking, in my opinion," he maintains. "My composition felt like a dance in the mud."
Tempted to write off the whole experience as needlessly mathematical and unmusical, Green eventually had a change of heart. "It turned into a really beautiful collaboration and mentorship," he says. "I'm glad that I embraced it and continue to make myself open to new ideas and new approaches. I still try not to question my musical ideas too much, but I'm really thankful for that experience with Tapio."
Nordic Ways
Finland challenged Green's assumptions in more basic ways. The hardy New Yorker thought he knew all about winter, but found he was mistaken. After going two weeks without seeing the sun, he felt "exalted" when it finally emerged. The arctic gales that whipped away its thick cloud blanket, however, rendered Helsinki "almost uninhabitable." Tears froze on his lashes when the mercury dipped to -20 F.
"And I was in the Miami of Finland," he says, with a self-deprecating laugh. Helsinki lies at the country's southern-most tip. Up north in Lapland, Celsius and Fahrenheit readings sometimes reach equilibrium. (That happens at -40, Green was helpfully informed by Finns who scorned to wear gloves in January.)
The extreme cold, Green believes, helps explain why Finns are such fine musicians. During the winter months, "there's really nothing more you can do than sit in a practice room all day and work on your craft."
The dreamy pace at Sibelius Academy also took Green by surprise.
"You can feel it in the way the Finnish composers talk and move through their days," he says. "There's a more hushed, temperate way of going about musical education," he says. "Finnish students have longer than is typical in America to complete their bachelor's degree. Their education is free, and the whole time they have subsidized housing from the government."
This low-pressure culture feeds into fundamental personality differences between Finnish and American artists.
"We're far more focused on our careers in the United States," Green says. "We're more proactive. Especially at USC, everybody is so driven—so keen on promoting themselves and collaborating. It's a very outward environment. The music environment in Finland is very calm and inward."
At the same time, Green found Helsinki to be a cosmopolitan European music capitol. Sibelius Academy takes many exchange students, so Green was thrown together not only with Finns but with Estonians, Germans, Swedes, Thailanders and South Koreans.
Only in the United States, he realized, do music teachers insulate their pupils from external influences. "In European conservatories, you're expected to spend at least a year, if not more, away from your home university," Green says. "It makes so much sense that they do that, and so little sense that we don't here in the U.S."
Cutietta and Thorkelsdottir were eager, upon his return, to pick Green's brain for tweaks to improve the Sibelius exchange program.
Among the things he loved:
The red lights outside every Sibelius practice room, indicating whether it's occupied.
Private lessons in orchestration.
And a special course the Finns call "satsi." This imitative approach to composition plunges student and teacher into the complete works of a single composer, with the goal of getting inside that composer's head. Green and his teacher chose Palestrina. "It was really cool to have this one-on-one time for something that's not your composition," he says.
Asked if he'd recommend the exchange, Green lights up:
"Oh, a thousand percent!" he says. "I have not heard of any other U.S. music school offering a full-semester study-aboard program. There are summer institutes and festivals around the world, but to sit in classrooms with young Finnish musicians and study alongside them? It's an incredible opportunity, unique to USC. The fact that Thornton set up this program is evidence of how on the cutting-edge it is and how tapped-in Dean Cutietta is. I'm just glad that I got to run the torch for a little bit of the journey."
---
To learn more about USC Thornton's International Exchange Opportunities, visit music.usc.edu/international.
Never miss a story
Subscribe to USC Thornton's e-newsletter
Subscribe