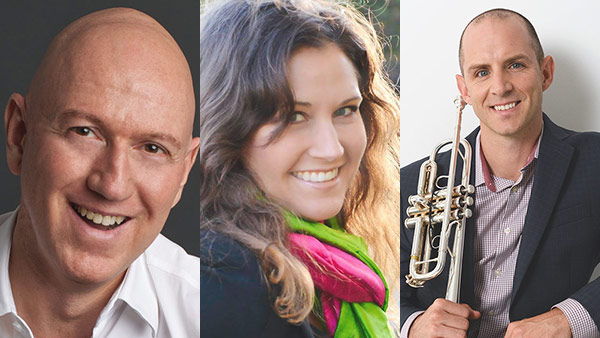 A Trio of Talent Joins the Classical Performance & Composition Division
The USC Thornton School of Music recently welcomed Thomas Michael Allen to the Department of Vocal Arts and Opera faculty. A lyric tenor described as "sweet of voice and dignified in presence," Allen has enjoyed a long and successful international career, performing in many of the world's premier venues, including the Théatre des Champs-Élysées in Paris, Zurich Opera, Cincinnati Opera and many others.
He joins a number of other significant new faculty members who have begun teaching at USC Thornton, including Thomas Hooten, the principal trumpet for the Los Angeles Philharmonic Orchestra, and saxophonist Jessica Maxfield.
Allen has been described as "an ideal Baroque tenor," but his impressive repertoire extends to romantic-era and contemporary works as well, such as quintessential Mozart roles and the music of Philip Glass and Hans Werner Henze.
"Having been a freelance artist for my entire career, I'm very excited by the idea of teaching at and being a part of a major U.S. university," Allen said. "Singing doesn't happen in a vacuum, and the fact that the Thornton School is a school of music within a greater university really stimulates and inspires me."
Allen said that he believes that singers can learn a great deal from instrumentalists, and notes that when he was a fellow at Tanglewood, "I learned as much from attending Yo-Yo Ma's masterclasses as I did from my voice lessons." "Similarly," he said, "musicians have the opportunity to learn and interact with the scientists and literature majors and all the rest of the large, diverse student body at USC in a way that students in a conservatory might not have."
Allen, who is returning to the U.S. after a career abroad, is excited for what lies ahead. "I'm fascinated by both the macro and micro possibilities that USC has to offer, and, of course, really curious about life in Southern California after many years in Northern Europe," he said.
Thomas Hooten
Thomas Hooten joined the USC Thornton Winds and Percussion faculty at the start of this academic year. He is Principal Trumpet of the Los Angeles Philharmonic, and served previously as principal trumpet in the Atlanta Symphony and assistant principal trumpet with the Indianapolis Symphony.
"Although I'm a full-time performer, I've always had an interest in the pedagogical side of music," he said. "I believe it's important to pass along the information I've gathered in my career."
Hooten strives to teach his students about discipline, professionalism and responsibility that will make them not only better musicians, but better citizens. "The really interesting part for me is figuring out what will help each individual student toward his or her next step," said Hooten. "That's different for each person."
In his teaching, Hooten emphasizes character development through music. "If somebody is trying to become a better trumpet player, a lot of the time what holds us back is a part of our character that needs to change in order for us to get better," Hooten said. "Sometimes that's maturing how we practice, how we use our time, or our judgment."
Jessica Maxfield
Like Hooten, Jessica Maxfield joined the Thornton faculty this academic year. Called "one of the brightest and most accomplished young performer/scholars in today's contemporary saxophone world" by celebrated pedagogue Frederick Hemke, Maxfield is a sought-after educator, clinician and adjudicator, with engagements throughout the world.
"This year has been a prolifically productive and exciting year for my students and me here at Thornton," Maxfield said.
The two semesters in her saxophone studio have been highlighted by numerous performances both on and off campus, distinctively challenging recital programs, and world premieres of new works written for or including classical saxophone.
"What excites me most about teaching at Thornton are the tremendous opportunities that exist for my students locally, nationally and abroad," she said.
Never miss a story
Subscribe to USC Thornton's e-newsletter
Subscribe