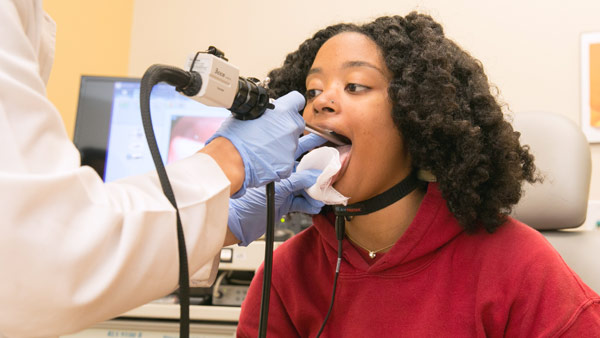 An Up-Close Perspective on Vocal Health
Picture a pair of tiny violin bows, each no longer than a thumbnail clipping, lodged horizontally in your windpipe. Halfway between the chin and collarbone, they dance and vibrate at your command. For higher pitches, they stretch thin. For lower tones, they shorten.
Meet your vocal cords. Because they're hidden from view, most people take them for granted. That's a luxury professional singers can't afford.
Lynn Helding holds out her thumbnails. "Imagine putting your entire career on two little structures that small," she says. "It's pretty scary. Singers very early on have to learn that it's all about prevention."
Few vocalists have seen their own vocal cords—or as they are more correctly described, your vocal folds—but Helding, an associate professor of vocal pedagogy at USC Thornton School of Music, is on a mission to remedy that. Together with Drs. Michael Johns, Karla O'Dell, and Lindsay Reder, laryngologists at the Keck School of Medicine of USC, Helding has been introducing voice students to their instruments through annual voice screening clinics—part of a health and wellness push that's catching fire at top-tier music schools.
There's a special synergy between vocalists and laryngologists, says Johns, who founded Emory University's interdisciplinary voice center before joining Keck's faculty as founding director the USC Voice Center.
"Vocalists are our athletes," he says, "and we are their sports medicine doctors."
A First Glimpse
On Friday, Sept. 15, 24 students in Thornton's Vocal Arts & Opera program streamed into the USC Voice Center at its new downtown facility on Flower Street. Reder, O'Dell, and Johns welcomed the students into a seminar room, where they explained the screening process. Throughout the day, a staff of speech language pathologists was made available to the students to answer questions.
For many of the students attending the screening, vocal cord imaging is no longer a novelty. Tenor Allan Pearcy Galeana was doing it for the fifth time. A junior in Vocal Arts, he had first glimpsed his vocal folds a year ago at the inaugural USC voice screening event. Bouts of laryngitis and strep throat have since brought him back for evaluations.
"Today I was doing a lot of 'einsatz' stuff—beginning pitches, when the vocal folds are together," he explains. The goal is to gently bring them together at the onset of singing. Jerky, aspirated starts can damage the muscle. "I wanted to see if I was doing that properly. Fortunately, I was," Galeana says, with a bright smile.
Voice Boxers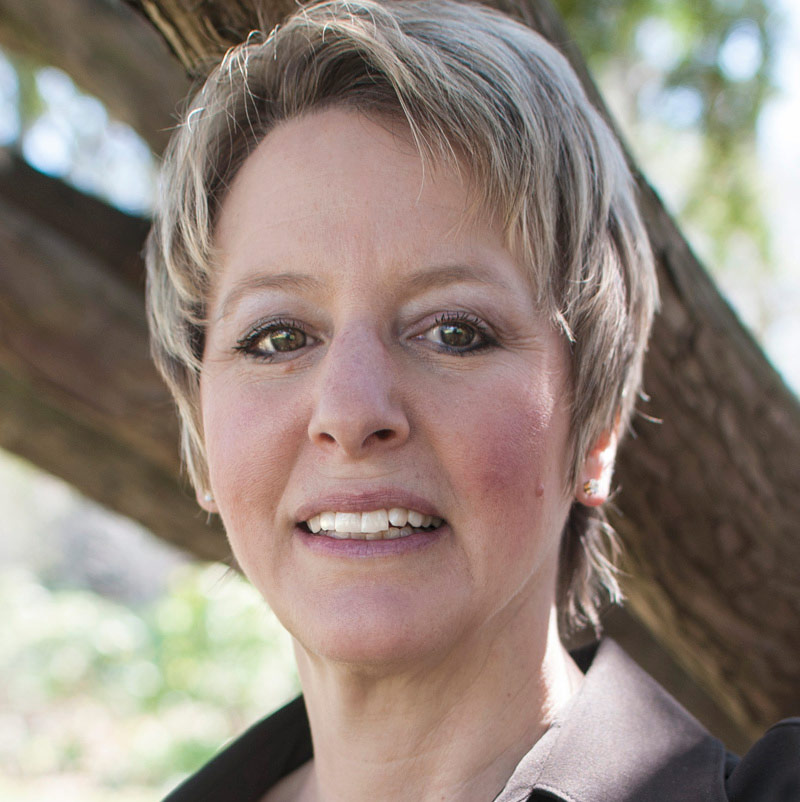 Lynn Helding, USC Thornton faculty member, vocologist and founding president of the Pan American Vocology Association.
The annual screenings are Helding's and Reder's joint brainchild. Both are active leaders in vocology—the interdisciplinary study of voice science.
Helding, besides being a university voice professor and former professional singer, is a vocologist and founding president of the Pan American Vocology Association. She joined USC's faculty in 2015 eager to collaborate with Keck's world-class laryngologists.
A subspecialty of otolaryngology, laryngology focuses on diseases of the larynx, or voice box. It's a small but important niche. Nationally, there are only about 200 laryngologists, with fewer than 10 based in Los Angeles. The USC Voice Center brings together an interdisciplinary team laser-focused on vocal disease and preventive health.
"If you get in trouble as a singer, you don't just go to your family physician," Helding tells her students. "You go to a laryngologist. You need to entrust your care to someone who really understands the voice."
Last year's inaugural free screening brought 24 students to the USC Voice Center's spacious new downtown headquarters, and the same number returned on Friday. Helding teaches a required course for Vocal Arts & Opera majors on the physiology and mechanics of vocal production, and many of the students at the screening were veterans of her class.
"It's cool to see, in our own body, what we've been learning about," says Kiley Hazelton, a Master's student at Thornton.
Almost Spiritual
The first encounter with one's vocal folds can be a powerful experience for singers. Helding describes it as a "revelation" and "almost spiritual."
It can also be very reassuring. Playing an invisible instrument no bigger than thumbnail clippings is nerve-wracking for the artist whose livelihood depends on it. "Unlike your elbow or knee, if you injure your vocal cords, you can't see the injury and you may not feel pain," says Reder, whose specialties, besides preventive care for high-end elite voices, include airway scarring, larynx cancers and unsedated laryngeal surgery.
Melissa Treinkman, a DMA candidate and working member of the L.A. Opera chorus, was nervous before her first USC voice screening in 2016. "I was afraid what they'd find," she recalls. "This year I wasn't nervous. I assumed everything was OK. I feel like I have very healthy vocal folds. I take good care of them."
Sing Wet
If the vocal cords are like tiny violin bows, then water is the rosin that helps them glide smoothly together, producing luscious sound. Sheathed in a jelly-like mucous layer that promotes vibration, vocal folds are meant to stay wet. At very high pitches, the mucosal edges are the only surfaces making contact. A dry larynx is a huge red flag.
Johns, the USC Voice Center's director and head of laryngology at USC Keck, illustrates the point by blowing a raspberry. "If your lips are dry, you can't generate the vibration you want. But if they're moist…" he says, licking his lips, "prrrrrrrrr." He produces an admirable Bronx cheer.
Which is why singers are seldom seen without their water bottles.
"Sing wet, pee pale," Helding says brightly—a phrase coined by pioneering laryngologist Van Lawrence that she drills into her student's heads. Sixty-four ounces a day is the minimum requirement for vocal health, and inhaling steam or saline is an excellent topical moisturizer.
"It's unfortunate, but when singers go home at night, they don't put their voice on the shelf," Helding notes. "They keep using it for everyday life. They have a responsibility to learn about their body and take really good care of it."
Voice health affects many other professionals besides singers. Teachers, actors, clergy and lawyers, to name a few. Any job that requires speaking six hours a day is hard on the larynx.
But singers are the thoroughbreds of the vocal world, pushing the boundaries of what's vocally possible. As scoping technology advances, look for mobile laryngology screenings to go on the road and backstage whenever there's a singer in distress.
The ability to visualize the vocal folds through hi-definition imagining gives today's vocalists a chance to keep their instrument in tip-top condition for life.
"I feel hopeful that I can keep improving my technique because I know more about my voice," says Hazelton, who recently landed a principal role in USC Thornton's fall opera, Handel's Alcina. "I've seen it, and I know how it work. I'm improving my art via science."
Never miss a story
Subscribe to USC Thornton's e-newsletter
Subscribe