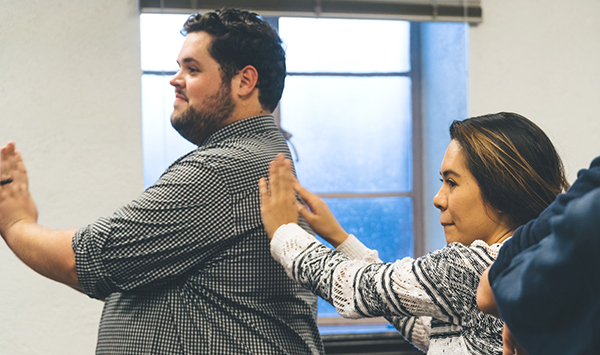 Artist-Teachers
From an early age, Ryan Williams '17 knew he wanted to teach music. He applied to eight different schools, seven of which offered undergraduate degrees in music education. As he filled out his application to the eighth school, USC Thornton, he was confused as to why music education wasn't an option at the undergraduate level.
So he reached out to the Dean and asked why.
A New Vision for Music Education
Robert Cutietta, Dean of USC Thornton, explained that the school wants to first and foremost turn its students into great musicians.
"We believe strongly in the idea of the artist-teacher," said Cutietta. "We shut down our previous music education program because it did not address our belief that teachers in public schools school be both solid musicians and inspirational and relevant teachers. What we have now is a program where musicians who are interested in teaching can study in an immersive program, and in one year learn and get certified as a music teacher."
Thornton's Music Teaching & Learning program equips teachers with the skills to make music education appealing and accessible. The program offers three degrees: the Master of Music and the Doctorate of Musical Arts in Music Teaching & Learning; and new professional Master's Degrees in Community Music.
When Williams was accepted to USC, he had to make a decision. "I figured I could spend eight years at another school to get an undergraduate degree, credential, and a Master's," he said. "Or do this five-year program with four years of undergrad and one year of a Master's credential program."
Out into the real world
Williams enrolled at USC, graduating in 2017 with a Bachelor's degree in Bassoon performance. He moved to Long Beach and began working as a substitute teacher in any subject he was assigned—nearly everything except music. Then, in February 2018, Williams got a call from the school district about an opening for a long-term substitute music teacher position. It spanned three schools and 18 classes ranging from 3rd to 8th grade.
"The school went through seven different substitutes before they got to me," Williams said, "so when I came in, the kids just didn't care. They didn't believe that I was sticking around. They didn't believe that I was their teacher."
The job was a crash course in the realities of teaching music in today's schools. He faced diversity of age, race, background, and culture, and he soon found he lacked the tools to engage his broad group of students.
"The whole time I was trying to find out how to fit in and relate to the students in order to garner respect," he said. "I fully believe you have to give respect to earn it." But the harder he tried, the more the students seemed to push back.
With no guidance and no lesson plans, Williams did what he could to keep the kids playing. He cycled through different pieces and gauged the students' responses. He fielded suggestions from them. When they expressed interest in learning popular film scores, he scoured the internet for resources. There was, of course, no budget to purchase official scores, so he got creative and arranged pieces he found for the hodgepodge of instruments present in his classes.
He had the artist part down, but the teacher still needed work.
Back to School
Grappling with how to combine his own culture and love for music with those of his students, Williams returned to Thornton for his Master of Music degree. He's gaining new tools in the program to better navigate his classroom.
"We are constantly trying to think about how to curate lesson plans that are derived directly from the student's lives," Williams said. "No one goes through the day without engaging in music in some way, and we are trying to change what is considered appropriate in music education. Why can't we discuss hip hop or R&B in a classroom setting?"
Through a series of intensive courses and experiences, Thornton students explore the sociocultural reality of music in the lives of today's children and youth: composition and improvisation as provocative platforms for creativity, informal learning models for large and small ensemble contexts, and community and entrepreneurial engagement beyond the classroom.
"We've looked into different philosophical views of education that seek to frame the class differently," Williams said. "Many of our lessons attempt to shift the notion that the teacher needs to set all of the rules or guidelines in the classroom."
In addition to this comprehensive curriculum, the program's focus on teaching in urban settings is invaluable for the modern music teacher. With wide differences in facilities and resources between school districts and neighborhoods, teachers need to be prepared to work in any situation.
"One of the classes I'm in at the Rossier School of Education really addresses how to decenter yourself as a teacher," Williams said. "It's no longer about, I'm the expert listen to me. Instead, they're trying to get us to think from the perspective of the cultures present in our classroom, to engage students through what they find meaningful."
Williams is learning how to make music education as inclusive as possible in a time when the status quo is anything but. Things have changed, and Williams is adapting, but he's not ready to throw away everything he learned as a teenager.
"During lunch, when I was in high school, my band teacher would let any students in his classroom, even if they weren't in his music class. I want to foster that same mentality. If I open up my classroom during lunch and you want to play piano, then please, play piano, and explore your musicality. We all have that within us."
Williams now has a more complete vision of himself as an educator. "I have learned so much already," he said while noting that he is still learning each day.
"I'm from a small town in Central California, and even enrolling at USC was a big change for me," Williams said. "I'm trying to find how to bridge the differences between myself and my students, and this program has changed my concern from wondering how I might fit in to how I can empower my students.
"It's not about me. It's about what I can do for the students that will influence the rest of their lives."
Never miss a story
Subscribe to USC Thornton's e-newsletter
Subscribe