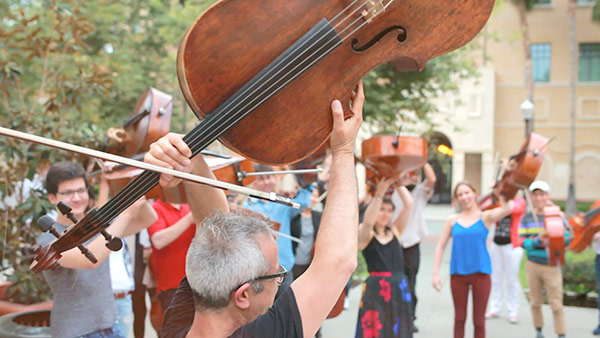 PICF '16: Celebrating A Cello Extravaganza
For 10 days in May, USC again became the world's center of cello. Twenty international artists, more than 30 student fellows and classical music fans from around the globe returned to Los Angeles for the Piatigorsky International Cello Festival.
"This particular festival is a remarkable expression of music at its ecstatic best," said festival artistic director Ralph Kirshbaum, chair of the Strings program at the USC Thornton School of Music.
The inaugural event in 2012 generated international attention, and the latest festival expanded on that acclaim, opening with three concerts by the Los Angeles Philharmonic at Walt Disney Concert Hall, including a performance with Yo-Yo Ma and the return of the Mass Cello Ensemble in a stunning performance involving more than 100 cellists on the Disney Hall stage.
The festival then moved to the USC campus for a non-stop schedule of masterclasses, networking and performances at Bovard Auditorium, and Thornton hosted the world's most famous cellists for more than a week as they mentored the next generation of superstars.
"USC has always been known as being a very, very strong place for cellists, back to the days when Piatigorsky was on the faculty," said Robert Cutietta, dean of USC Thornton. "It is truly an international celebration of the cello."
With so much firepower throughout the week, it was a smaller event that underlined the lasting influence of the festival. The Young Cellists Workshop returned from 2012 and featured teenaged cellists selected through an audition process. Anna Seppa, a senior at Lewis & Clark High School in Spokane, Washington, was one of those selected. She traveled to Los Angeles with her parents to attend every day of the festival while attempting to keep up with her schoolwork. Like many of the teenaged cellists in attendance, she was invited to perform with the Mass Cello Ensemble at Walt Disney Concert Hall. Her first rehearsal was something she will not soon forget.
"It was terrifying, honestly," said Seppa. "I knew I would be playing with some really great cellists. I walked in with the cello case on my back, and in the middle of the room was Mischa Maisky and I thought, 'OK, bye. I'm done. This is too much.'"
"Within two minutes, we had this," laughed Anna's mother, Kris Seppa, displaying a cell phone photo of her daughter smiling beatifically with the famous cellist. Needless to say, Seppa performed wonderfully and gained new friends among her stand partners and fellow musicians.
Niall Ferguson, who attended the Young Cellists Workshop in 2012, has gained some perspective on just how singular that experience can be. Along with his childhood friend Jeff Ho, the Santa Monica natives and current UCLA students both returned to the festival in 2016. Ho, one of the 37 student fellows at the festival, played for Thomas Demenga in one of the daily masterclasses. Ferguson led the Young Cellists Workshop performers from the podium in his arrangement of Debussy's Claire de Lune.
"Things like this that make you realize that there is a community. Having people like Jeff around, having other competitive and good and close allies makes the whole experience a lot better," Ferguson said. "When you go to things like this and meet people your own age who are separated by a lot of distance, to be all together, it's oddly comforting and motivating."
"It's so special," said Ho. "It's so interesting to have all of these different artists in one place. You get this sense of diversity."
"The juxtaposition is crazy," Ferguson added.
"You get this saturation of great artistry," said Ho. "It's something very special."
Artistic director Kirshbaum put the festival in perspective. "Gregor Piatigrosky was one of the most important musical figures, never mind cellistic figures, of the 20th Century," he said. "He really paved the way for all of us who have followed him. I would like to think that he's looking down on us and is very much in approval of what we're accomplishing in his name."
For more stories about the festival, visit USC Thornton's Festival Archive.
Never miss a story
Subscribe to USC Thornton's e-newsletter
Subscribe