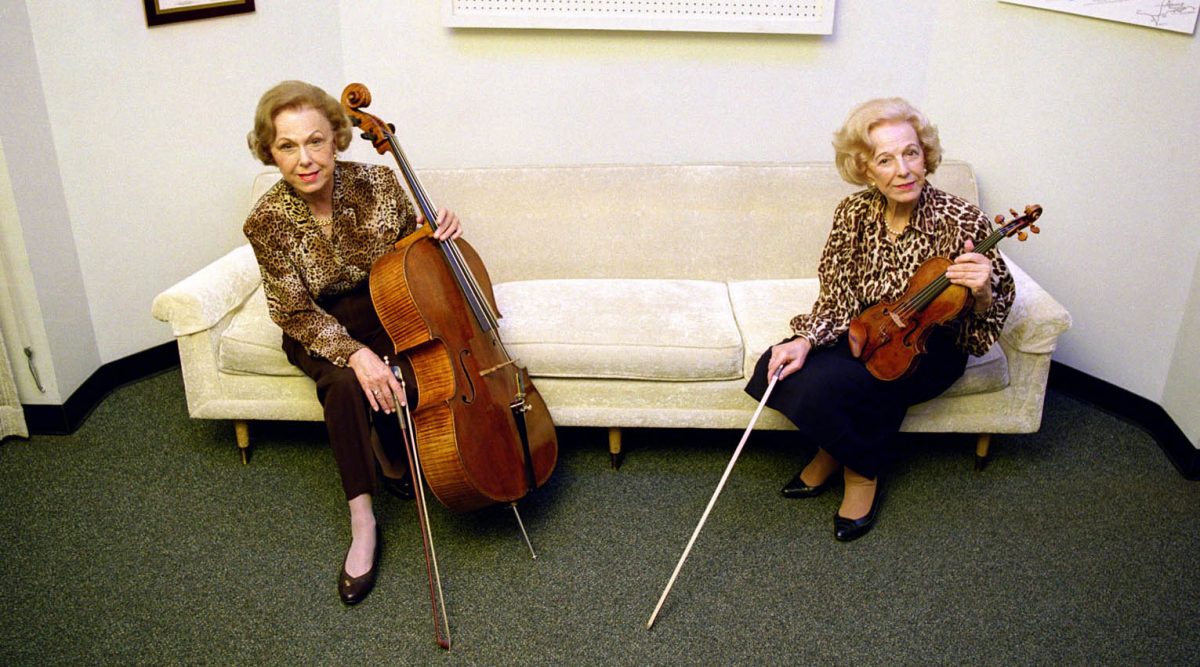 Celebrating Alice Schoenfeld
A celebration of the life of Alice Schoenfeld is scheduled for Sunday, July 28 at Pasadena Presbyterian Church.
Students, colleagues, friends and the general public are invited to attend a celebration of the life of violinist, teacher and philanthropist Alice Schoenfeld, Emerita Professor of Violin at USC Thornton, at 5 p.m. on Sunday, July 28, at Pasadena Presbyterian Church, 585 E. Colorado Blvd., Pasadena.
"Miss Alice" died May 25 at the age of 98.
Those in attendance are asked to wear festive clothing in honor of Alice, who often wore brightly-colored outfits.
Mary Au (BA '74, BM '75, MM '76, MBA '87), a former student, is organizing the celebration. She said that one of the musical selections at the tribute is a piece by J.S. Bach played by a string ensemble. She is hoping that 98 string players—violinists, violists, and cellists—will participate, in honor of "Miss Alice's" age at her death. If string players would like to be included, please contact Au at auhaus@gmail.com. In addition, please also contact Au to RSVP for the limited seating reception that will take place after the memorial at China Red at 855 S Baldwin Ave. in Arcadia.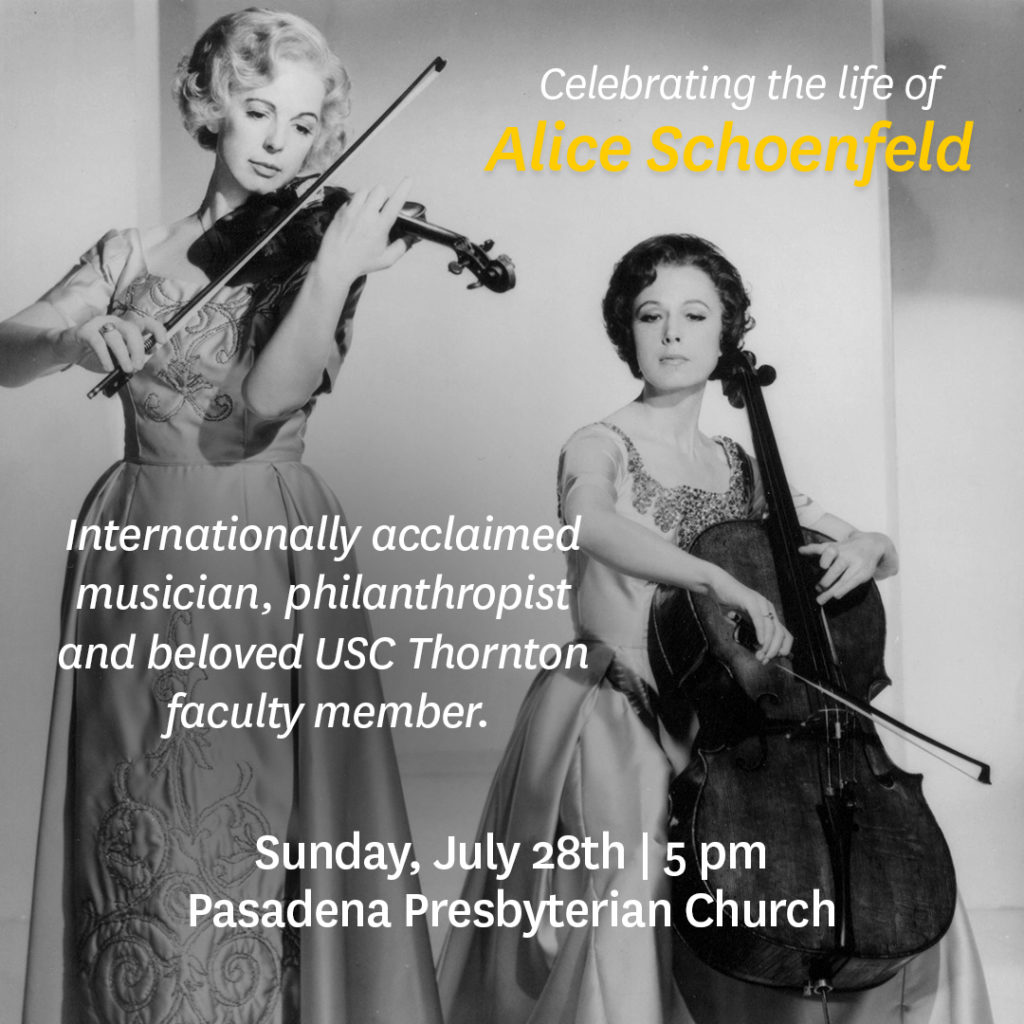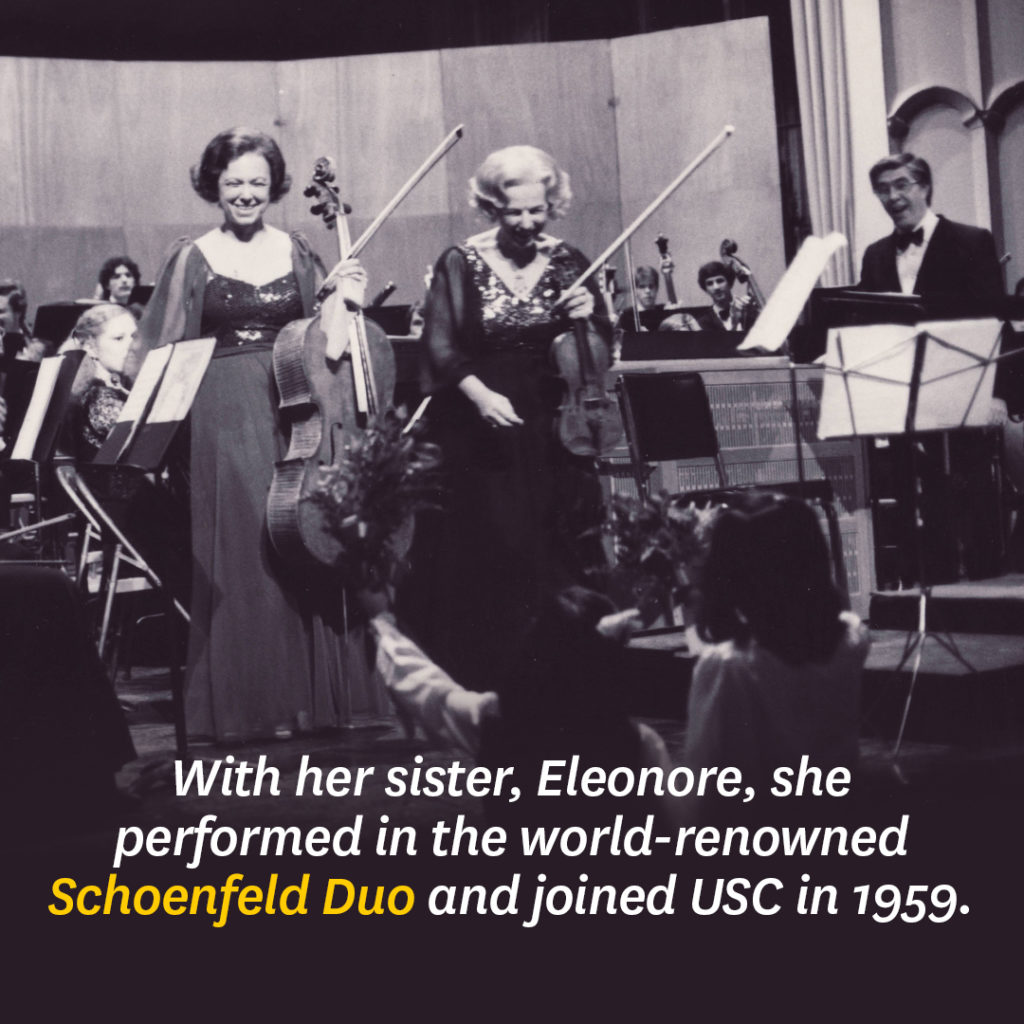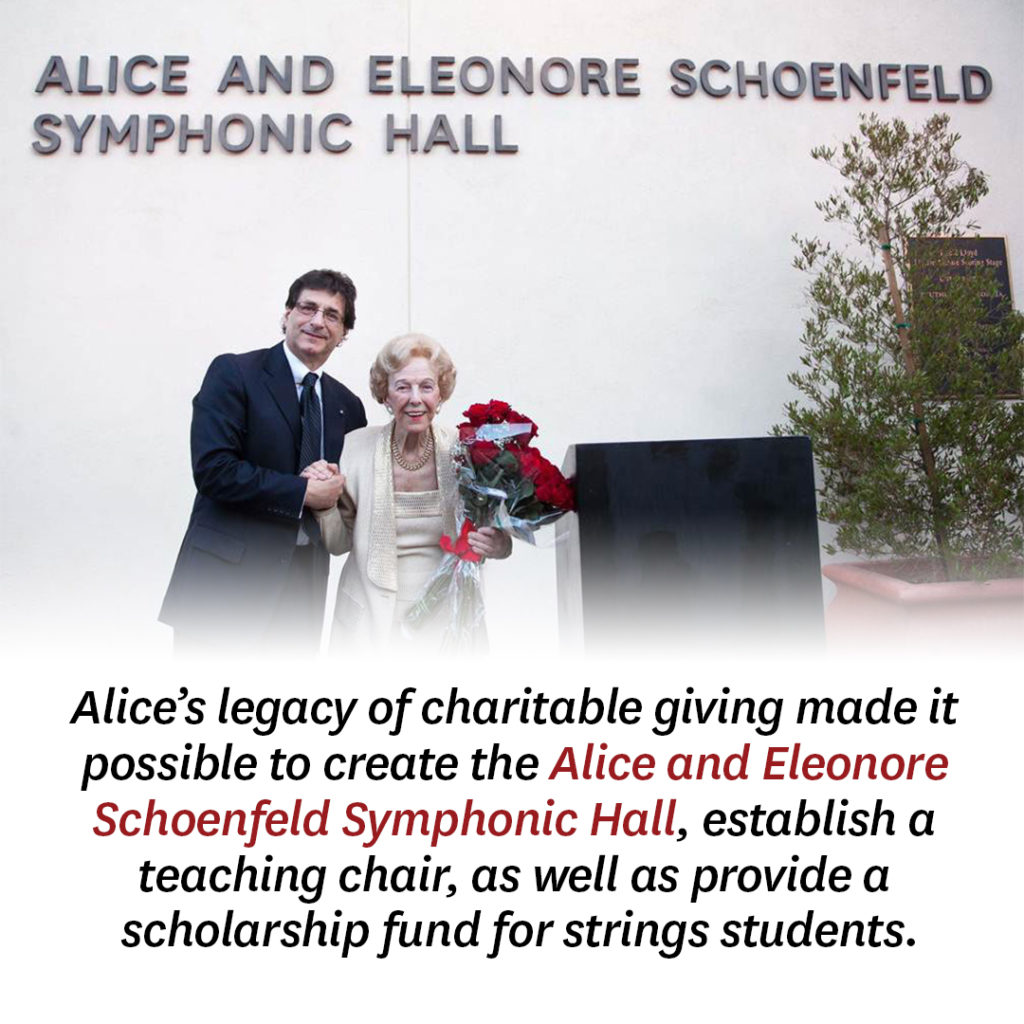 The Schoenfeld Duo
Alice was an internationally acclaimed musician who performed for decades in the Schoenfeld Duo with her younger sister, cellist Eleonore Schoenfeld.
The two women lived together, performed together and both had long, illustrious teaching careers at the USC Thornton School of Music, beginning in 1959. Eleonore taught until her death in 2007, and Alice remained on the faculty until retiring in 2016. Among past students was Michelle Tseng ('13, GCRT '17), a violinist with the Los Angeles Philharmonic, who studied with Alice privately before college and for four years as an undergraduate.
"Professor Schoenfeld was and will always be an idol of strength and grit for me," Tseng recalled. "She demonstrated and taught me the intensity of passion and commitment to everything you do. Whether it was just in a single note or even in silence, in the practice room or on the concert stage, in sitting in a chair or how you walk, she taught me to give meaning to everything you do.
"She is the strongest woman I have ever met, pushing me to always challenge my limits and give my all. I would not be where I am without her. I will forever be grateful for the time she gave me, and look up to her as an example of the strength of human willpower, and an example of how to really live."
Fresh Flowers
Alice certainly did make an impression. Always beautifully dressed and immaculately coiffed, she filled her home and USC studio with fresh flowers, often sent or brought by students and friends.
"Their students loved them both, and always supplied them with plenty of flowers," confirmed Mary Au, now a concert pianist on the faculty of California State University, Dominguez Hills. Both sisters taught Au chamber music. "If not for them, I would not have become a collaborative pianist."
Au said she asked some of Alice's students what her favorite flower was, and she heard a wide variety of answers: red roses, pink roses, and anything yellow. "When Miss Alice received some yellow daffodils from her caregiver, she was overjoyed and clapped her hands and said, 'This is my favorite flower.' Saying every flower was her favorite was a familiar response. Said Au: "Miss Alice was most considerate of the feelings of others and she would do anything to make others feel loved."
Alice spoke in a charming German-accented soprano, and stayed current on classical music events, traveling until well into her 90s to festivals and competitions.
One of those competitions was one in Harbin, China, that she co-founded with the help of former student Suli Xue. The Harbin Schoenfeld International String Competition is held every two years for violin, cello and chamber music disciplines.
The setting in China is significant, as the Schoenfeld sisters were among the first internationally known musicians to visit China in the 1980s after diplomatic relations had been established between the United States and the country.
A Lasting Legacy
Born in Yugoslavia, Alice was a child prodigy who played her first recital at age 5 and made her debut with the Berlin Philharmonic at the age of 10. She studied with the renowned Karl Klingler, who traced his musical legacy to Felix Mendelssohn. Klingler's teacher was Joseph Joachim, a 19th-century virtuoso. Joachim's teacher and mentor was Mendelssohn.
The sisters immigrated to Los Angeles in 1952 and continued to perform. Even after joining USC Thornton, the Schoenfelds kept up a busy schedule of concertizing, both in the U.S. and around the world, during summers and school breaks.
As teachers, both Schoenfelds received USC's Ramo Music Faculty Award for Excellence in Teaching. The American String Teachers Association named them joint winners of the Artist Teacher Award.
At age 92, after USC Thornton Dean Robert Cutietta checked with the beloved faculty member about her demanding workload, Alice made it clear that she was just fine. As she told the Los Angeles Times: "The dean has feelings that I should not overwork myself, but I still have more energy than all my students together."
One of Alice's early students, who studied with her at the Colburn School when she was young, was Anne Akiko Meyers. Meyers was quoted in Violinist.com after Alice's death: "You were the center of her undivided attention, which was an incredible life experience for a young student. A great lady, she and her sister carved the path and laid a strong foundation for many who continue to this day to carry their legacy with their inspired approach to music-making and respectful traditions."
Ralph Kirshbaum, the Gregor Piatigorsky Chair in Violoncello and chair of the Strings Department at USC Thornton, said that Alice's "strong musical presence and vibrant character proved so influential in the lives of her many students and in the development of USC Thornton over a period of 60 years." He said she will be mourned by him and all the others who worked so closely with her in the Strings Department.
"She will not be soon forgotten," he said.
The USC Thornton community will remember both Schoenfelds for so many reasons, including the substantial financial gifts Alice made to USC Thornton beginning in 2012. Her donations made it possible to renovate a building on campus into the Alice and Eleonore Schoenfeld Symphonic Hall, establish a teaching chair as well as the Alice and Eleonore Schoenfeld Endowed Scholarship Fund that covers tuition and other costs for strings students.
---
A Celebration of the Life of Alice Schoenfeld
Sunday, July 28, 2019, 5 p.m.
Pasadena Presbyterian Church, 585 East Colorado Blvd., Pasadena, CA 91101
Festive clothing requested in honor of Miss Alice who loved to wear brightly-colored outfits.
Reception to follow at China Red, 855 S Baldwin Ave., Arcadia, CA 91007
Limited seating. RSVP required. Please email: auhaus@gmail.com
Never miss a story
Subscribe to USC Thornton's e-newsletter
Subscribe